PIEDRAS NEGRAS, Coahuila — Authorities in this border state continue working to identify human remains discovered in a shallow grave near the Texas border.
The discovery was made by three ranchers near the rural community of Tio Pio. According to information provided by Coahuila state authorities, the community's leader Herminio Gonzalez along with two other ranchers had been walking around the rural area rounding up a herd of cattle when they came across a bushy area where they saw a red blanket that had been used to wrap the body.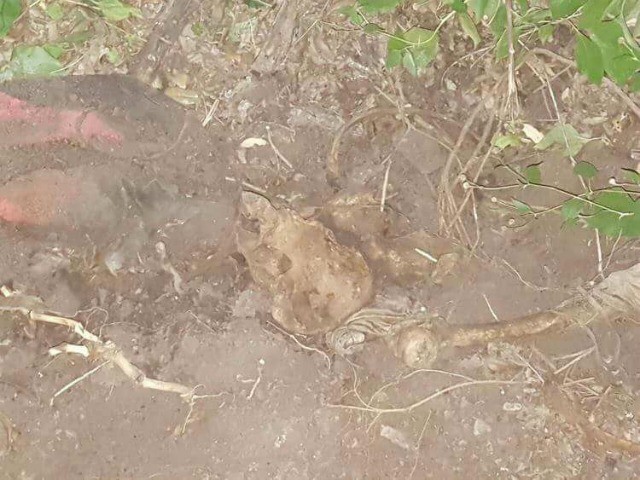 The ranchers called authorities who responded to the scene to collect the body and begin trying to identify the heavily decomposed remains. Next to the body, investigators found a cowboy boot.
The border state of Coahuila is the same region where from 2011 to 2013, the Los Zetas cartel was able to kidnap, murder and incinerate approximately 300 victims including women and children from a small rural community. As Breitbart Texas reported, the massacre had been covered up by the Coahuila government and largely ignored my Mexican news outlets and the U.S. mainstream media. Half of the victims were incinerated in the Piedras Negras state prison using 55-gallon drums. Top ranking state officials have managed to avoid prosecution for their role in helping Los Zetas.
Los Zetas cartel members have also used shallow graves to bury their victims in Coahuila. Last month, Coahuila authorities confirmed the discovery of more than 3400 bone fragments in a cartel killing field near the town of San Pedro.
The discovery of the human fragments pushed government officials to spin the story in an apparent effort to minimize the case. Officials made the claim that all of the remains belonged to three victims only. Forensic examination has revealed that the bones have been severely damaged due to extreme heat by the apparent use of fuels to incinerate the bodies.
Most recently, Coahuila has seen a spike in violence as rival factions of the Los Zetas cartel have begun to fight over lucrative drug territories and smuggling routes into Texas.
Editor's Note: Breitbart Texas traveled to the Mexican States of Tamaulipas, Coahuila and Nuevo León to recruit citizen journalists willing to risk their lives and expose the cartels silencing their communities.  The writers would face certain death at the hands of the various cartels that operate in those areas including the Gulf Cartel and Los Zetas if a pseudonym were not used. Breitbart Texas' Cartel Chronicles are published in both English and in their original Spanish. This article was written by "J.M. Martinez" from Piedras Negras, Coahuila and Breitbart Texas' Ildefonso Ortiz.