MATAMOROS, Tamaulipas — More than two years after their kidnapping, Mexican authorities have placed billboards offering a cash reward for any information that could lead to missing individuals.
According to the billboards, Mexico's Attorney General's Office will give the reward to anyone who provides information that helps locate two missing men; or leads authorities to the kidnappers.
Horacio Castillo Reyes and Horacio Castillo Herrera, father and son, have been added to the list of kidnapping victims who have gone missing in Tamaulipas, never to be heard from again.
Castillo Reyes, 47, and his son 21-year-old Castillo Herrera went missing on April 14, 2014 in the Santa Cecilia neighborhood of Nuevo Laredo. Even though the kidnapping took place in this state, the case was never reported by any news outlet. The only information as to the disappearance of the two men comes from citizen journalists who continue to share their identifying information in an attempt to locate them.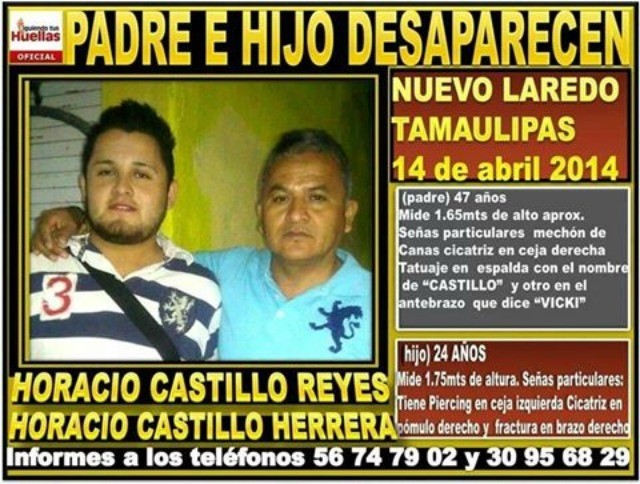 Editor's Note: Breitbart Texas traveled to the Mexican States of Tamaulipas, Coahuila and Nuevo León to recruit citizen journalists willing to risk their lives and expose the cartels silencing their communities.  The writers would face certain death at the hands of the various cartels that operate in those areas including the Gulf Cartel and Los Zetas if a pseudonym were not used. Breitbart Texas' Cartel Chronicles are published in both English and in their original Spanish. This article was written by "J.A. Espinoza" from Matamoros, Tamaulipas.