Citizen journalists in the rural communities of Chihuahua recorded scenes of despair caused by a fierce clash between members of the Juarez Cartel. The fighting left at least eight people dead and four police officers injured.
One of the videos shot by citizen journalists shows the magnitude of the gun battle as one crying resident huddles next to a window while thousands of rounds can be heard being fired near him. Initially, the man appeared to show some surprise as the gunfire could be heard in the distance, but that excitement soon turned into horror and despair as the battle ensued.
"Oh dear God please help us," the man cries out sobbing as the gun battle continues.
Armored SUVs and some with modifications to mount large machine guns were left along the various streets of Cuauhtemoc, Chihuahua. Videos taken by local residents show the various vehicles that had been heavily damaged by gunfire are believed to have started on Sunday afternoon and continued until Monday.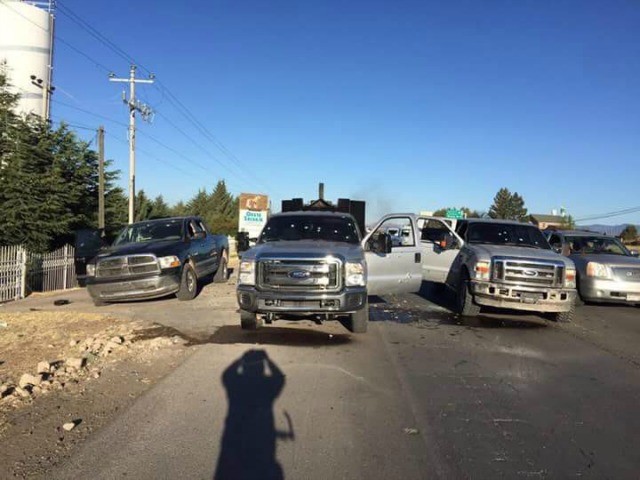 The fighting appears to have taken place between two rival faction of the Juarez Cartel also known as "La Linea". One group of gunmen were led by Cesar Raul "El Cabo" Gamboa Sosa and the other were by top plaza boss Carlos Arturo "El 80" Quintana. The internal conflict appears to have started last month when Gamboa's men allegedly murdered and beheaded one of Quintana's closest associates.
Quintana is currently a fugitive from the U.S. Department of Justice after having been charged in a criminal indictment out of New Mexico for his role as a key leader in the Juarez Cartel.
The effort by citizen journalists to record the aftermath of the fighting and share it on various social media platforms allowed for the information to spread in Mexico about the fighting and not be largely ignored as has happened in other areas like Tamaulipas, Coahuila, or Veracruz.
According to information released by the Chihuahua Attorney General's Office, the fighting led to the death of Gamboa Sosa and seven others. Authorities were able to recover 15 SUVs that had been left behind with multiple weapons inside.
Editor's Note: Breitbart Texas traveled to the Mexican States of Tamaulipas, Coahuila and Nuevo León to recruit citizen journalists willing to risk their lives and expose the cartels silencing their communities.  The writers would face certain death at the hands of the various cartels that operate in those areas including the Gulf Cartel and Los Zetas if a pseudonym were not used. Breitbart Texas' Cartel Chronicles are published in both English and in their original Spanish. This article was written by "J.M. Martinez" from Piedras Negras, Coahuila and "M.A. Navarro" from Ciudad Victoria, Tamaulipas.