April's issue of MAD magazine will examine just why individual strands of President Obama's hair decided to turn gray.
The parody illustration — which will be included in the magazine's upcoming issue due out on newsstands April 19 — is titled, "A Strand-by-Strand Examination of Obama's Gray Hairs."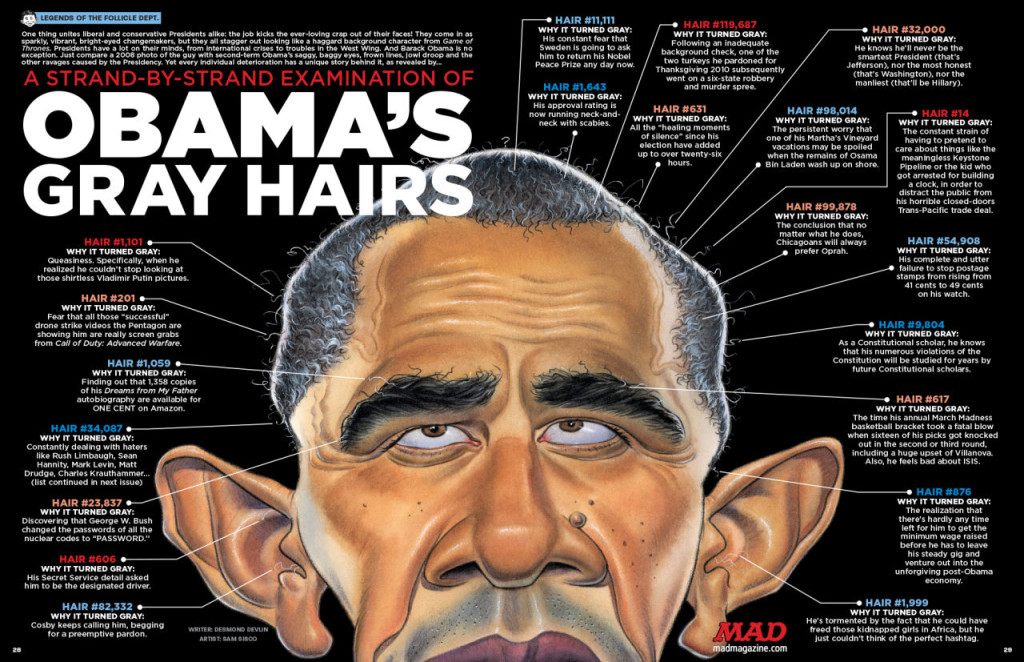 The graphic was authored by Desmond Devlin and illustrated by Sam Sisco. Click the image above to enlarge.
Below is just a small sampling of some of the "strand-by-strand" analysis of each of Obama's gray hairs:
Hair #9804 — Why It Turned Gray: As a Constitutional scholar, he knows that his numerous violations of the Constitution will be studied for years by future Constitutional scholars.

Hair #14 — Why It Turned Gray: The constant strain of having to pretend to care about things like the meaningless Keystone Pipeline or the kid who got arrested for building a clock, in order to distract the public from his horrible closed-doors Trans-Pacific trade deal.

Hair #1,059 — Why It Turned Gray: Finding out that 1,358 copies of his Dreams From my Father autobiography are available for ONE CENT on Amazon.

Hair #99,878 — Why It Turned Gray: The conclusion that no matter what he does, Chicagoans will always prefer Oprah.

Hair #1,999 — Why It Turned Gray: He's tormented by the fact that he could have freed those kidnapped girls in Africa, but he just couldn't think of the perfect hashtag.

Hair #32,000 — Why It Turned Gray: He knows he'll never be the smartest President (that's Jefferson), nor the most honest (that's Washington), nor the manliest (that'll be Hillary).
"Comedy is timing. And that's why this article needed to be written now," Devlin tells Breitbart News. "Because once Donald Trump is elected, you'll never hear a presidential hair joke ever again."
The upcoming issue of MAD also features riffs and analysis on the presidential race and a new, original nine-page spoof of Star Wars: The Force Awakens. Fan favorite artist Tom Richmond illustrated the issue's cover.
The issue is on newsstands April 19 and available digitally on April 8 at the magazine's website.
Follow Daniel Nussbaum on Twitter: @dznussbaum