In a now-deleted tweet, Fox's Ghosted star Adam Scott said Fox News Host Tucker Carlson is "doing the work of Goebbels."
Carlson tweeted a scathing indictment slamming former Obama administration officials and elite media members' coverage and response to the scores of people being apprehended at the U.S.-Mexico border.
"What's on TV is a political tactic but something else terrifying is going on," Carlson tweeted. "Formerly responsible ppl suddenly sound like extremists. Left's no longer working to convince those who disagree. They're trying to destroy those in the way. It's not a pose. They're sincere. It's war."
"You mean stuff like 'You are an irresponsible, lying twat doing the work of Goebbels,'" Scott replied. "That sort of thing?"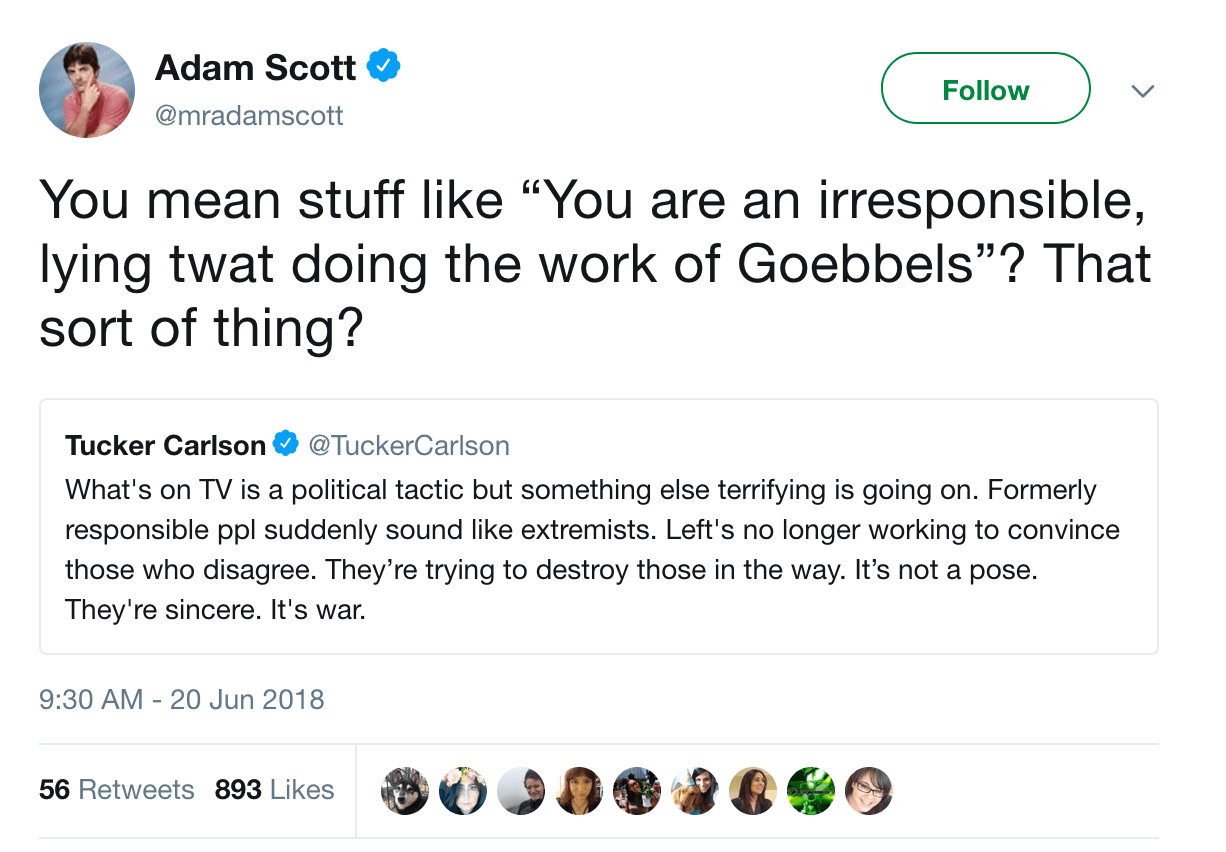 Scott was comparing Carlson to Nazi propagandist Joseph Goebbels, a devoted lieutenant of Adolf Hitler and the Reich Minister of Propaganda of Nazi Germany during the Holocaust. He is widely credited with the positive presentation of the Nazi regime to the German people during the mass slaughter of approximately 6 million Jewish people.
Scott is not the only celebrity outraged in the recent border security debate. Peter Fonda also deleted his own tweets, calling for United States Secretary of Homeland Security Kristjen Nielsen to be caged, pilloried, and whipped naked. He was reported to the Secret Service for another tweet, declaring that Barron Trump should be "[put into] a cage with pedophiles."
Celebrities on Twitter — Adam Scott included — remain silent on his words.