A political and cultural campaign group dedicated to preserving European identity has said 'Refugees Welcome' activists hands are "stained with the blood of Paris" after they staged a mock beheading in central Vienna yesterday.
The Identitarian movement, which shares some ground with the German PEGIDA protests, is a pan-European ideological movement that has been hitting the headlines with attention grabbing stunts and direct action. This year volunteers with the group have travelled to the frontiers of Europe to help erect border fences, and marches have created a human barrier at major border crossings.
Now the Austrian chapter of the organisation has caused "shocking images" in Vienna by staging a mock beheading execution, complete with make-believe Islamist killers, a black battle-flag and kneeling 'Refugees Welcome' activists. Taking place under the watchful eye of police officers, the stunt was allowed to go ahead, but the force did not at first intervene when the group were attacked by left-wing counter protesters.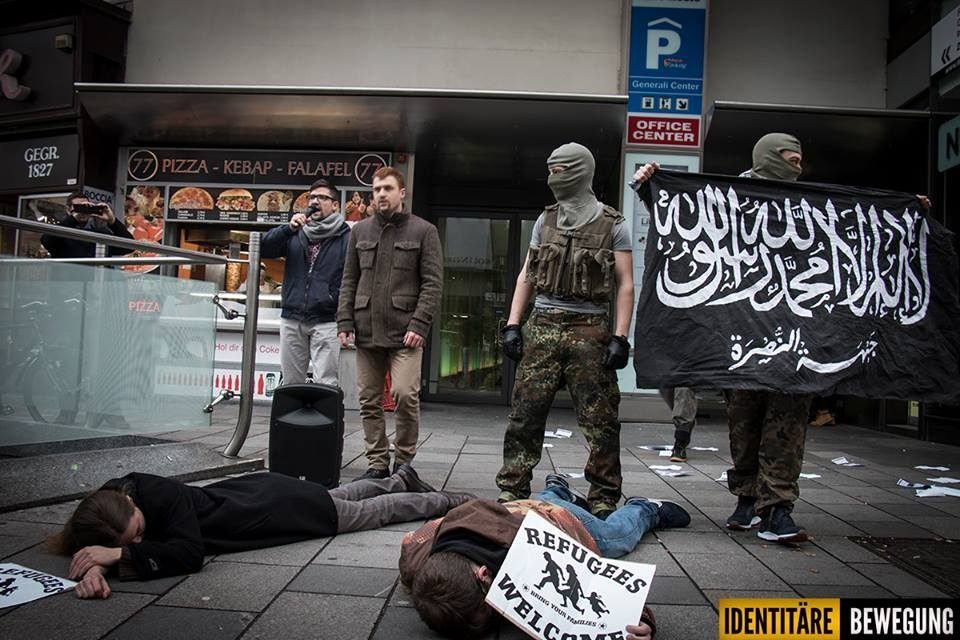 Austrian news group OE24 reported the event as shocking, but the group hit back in a statement, saying the political demonstration isn't shocking, but rather "the real deal in Paris is shocking. We find the fact that according to our politicians, only ten per cent of the illegal immigrants go through border control shocking".
Calling the execution a protest "against the import of jihadists through a policy of open borders", the group laid the responsibility for terror attacks in Europe at the feet of pro-migrant 'Refugee Welcome' activists, of whom they said "your hands are stained with the blood of Paris".
Leftist pro-migrant campaigners inadvertently inviting their own demise by welcoming refugees to Europe is a theme already emerging across the continent. Breitbart London reported earlier this year on the tragic, yet entirely avoidable case of a pro-migrant activist who was gang raped by a group of the men she championed.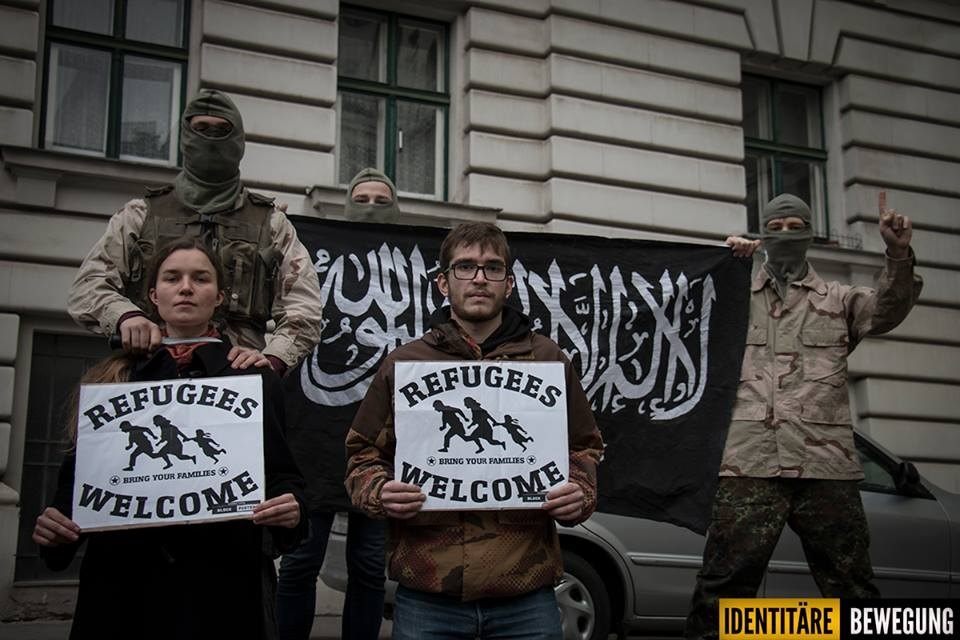 After the 30-year-old woman was trapped in a shower block in a migrant camp on the French-Italian border and was raped by the African newcomers while a loud party took place next door, she decided to hush up her own ordeal so not to harm the reputation of refugees in Europe.
Then in an act of spectacular understatement, another pro-migrant activist told reporters he was "very sad" after being jumped outside a pizza shop in Germany and near-fatally stabbed. The 29-year-old student and activist was stabbed twice in the back while waiting for friends in Dresden's trendy 'alternative' district at night. Police were said to be looking for a group of "north African" males in relation to the attack.
Follow Oliver Lane on Twitter:

Follow @Oliver_Lane

or e-mail to: olane@breitbart.com