Supporters of the Patriotic Europeans Against the Islamisation of the West (PEGIDA) have rallied outside the main train station in Cologne today, the location of nearly 200 migrant sex attacks on New Year's Eve.
Around 1700 PEGIDA supporters and 1300 counter demonstrators turned out, as well as a contingent of around 800 football hooligans. They were met by roughly 2000 German police. 
Those from PEGIDA carried banners and signs bearing slogans like "Rapefugees not welcome", waved German and British flags and chanted "Merkel out!"
Things went peacefully for the most part, but a smaller number of mainly football hooligans were involved in disturbances near the end as police blocked the path of the demonstration. There was ongoing disruption from the counter demon also. Pepper spray was used and water cannon deployed against the PEGIDA marchers at around 3pm, and an unknown number of arrests were made. 
Breitbart London's Oliver Lane is reporting live from the march alongside a Breitbart London photographer, who has this afternoon been hit by a firework as the protest became more violent and aggressive.
POLICE ORDERS SUSPENSION OF PEGIDA PROTEST IN COLOGNE, SCUFFLES BREAK OUT pic.twitter.com/v4lpgEXLfA (via @chefreporterNRW )

— Gregor Peter (@L0gg0l) January 9, 2016
Police in #Cologne used water cannon against #Pegida participants … #Koeln #koelnbhf pic.twitter.com/8yonmSEc2O

— Zbigniew Grabski 🇵🇱 (@GrabskiZW) January 9, 2016
Riot van loudspeaker: "If you do not follow the instructions of the police we will use force" pic.twitter.com/PPoPZ53gaw

— Oliver JJ Lane (@oliver_lane) January 9, 2016
In attendance was the coordinator of the recently launched PEGIDA UK and former leader of the English Defense League (EDL) Tommy Robinson. He addressed the crowd, calling for European solidarity against Islam.
"Merkel is handing out your birthright to Muslim invaders as you would throw sweets to children", he said.
Standing below double sided British / German flag @TRobinsonNewEra calls for European solidarity against Islam pic.twitter.com/593uXuw4TL

— Oliver JJ Lane (@oliver_lane) January 9, 2016
"Women should be free from being attacked by migrants" – Cristina, a mother of 4 speaks to the crowd #Koln pic.twitter.com/PKMBfUbAKx

— Oliver JJ Lane (@oliver_lane) January 9, 2016
A mother of four introduced as Christiane also told the rally: "These women who fell victim will have to live with it for a long time. I feel like my freedom has been robbed from me."
Continuing: "That's impossible. Frau Merkel, Frau Reker, you are women! Where is your solidarity? What are women worth in this society?" she said, referring to Henriette Reker, who is mayor of Cologne, and who was stabbed in the neck last October by a man with a far-right background.
"We are the people,"chanted the crowd as they began marching away from the train station. "Those who don't love this country should disappear", they shouted.
Some also heckled at the line of police officers standing guard, saying "where, where, where were you on New Year's eve?"
https://twitter.com/AfD_Patriot/status/685864752388653056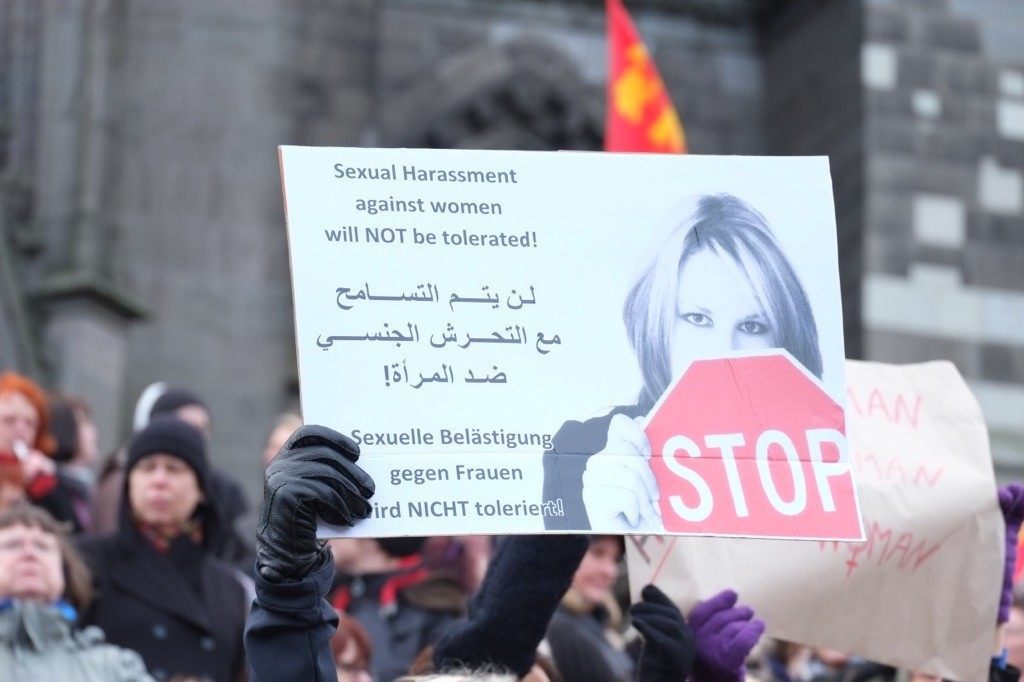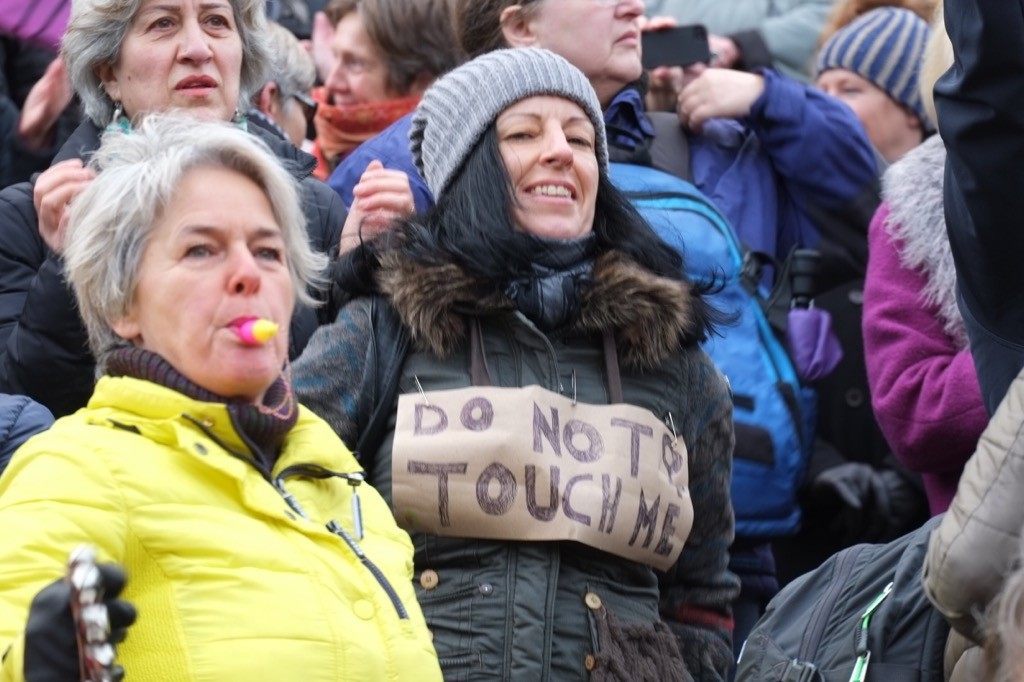 A helicopter circled overhead, and an occasional firecracker went off, adding to tensions as leftist demonstrators staged a counter-protest.
Kept at bay from the PEGIDA crowd by police they chanted "Nazis raus!" (Nazis out!).
"There is nothing right about Nazi propaganda," said a slogan on the sign held up by one protester, while another read "Fascism is not an opinion, it is a crime".
"We are there to tell them to shut up. It is unacceptable for PEGIDA to exploit this horrible sexual violence perpetrated here on New Year's day and to spread their racist nonsense," said Emily Michels, 28.
Half a dozen Iraqi and Syrian refugees were also part of the counter-demonstration group, with a Jordan-born woman running their local shelter, Dana Khamis, saying they had joined in the rally after hearing about the attacks.
"I told them that the demonstration is about women's rights and against sexism and against faciscm, and they said they wanted absolutely to be part of it," said Khamis, 27.
The assaults in Cologne have now been confirmed as committed by mostly refugees and migrants. Attacks of a similar nature also occurred in "every major German city" as well as in Switzerland, Sweden, Finland, France and Austria on New Year's Eve. 
(AFP contributed to this report. Photos: Rachel Megawhat/Breitbart London)
Got up high to show scale: from right to left, anti-Pegida protesters, police line, Pegida in distance #Cologne pic.twitter.com/1jHVCtNJxL

— Rossalyn Warren (@RossalynWarren) January 9, 2016