A Breitbart London straw poll of potential Conservative Party leadership candidates has resulted in the Brexiteering Andrea Leadsom receiving 50 per cent of nearly 8,000 individual votes.
The survey, which began this week, named potentials Boris Johnson, Andrea Leadsom, Liam Fox, Theresa May, Stephen Crabb, and Jeremy Hunt.
But the poll did not include Justice Secretary Michael Gove until 24 hours ago.
The results as of July 1st reveal: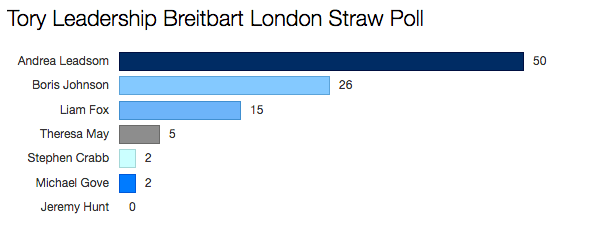 Andrea Leadsom: 50 per cent, Boris Johnson: 26 per cent, Liam Fox: 15 per cent, Theresa May: 5 per cent, Stephen Crabb: 2 per cent, Michael Gove: 2 per cent, Jeremy Hunt: 0 per cent
Breitbart London has now eliminated Mr. Hunt (not standing), and Mr. Johnson (not standing) and added for the first time for the full voting period, Mr. Gove.
You can vote here (poll closes on July 5th):