Muslims around the world are celebrating a British man, who murdered an innocent shopkeeper who they considered an "apostate", as an Islamist hero.
On Tuesday, Tanveer Ahmed was jailed for 27 years after driving more than 200 miles from Bradford to Glasgow to murder Asad Shah – a man who was targeted for "disrespecting Islam" by wishing Christians a happy Easter. Some of Mr. Ahmed's fans and family members shouted Islamic slogans in court and one supporter outside argued the sentence was not "fair".
Mr. Shah was an Ahmadiyya Muslim – a peaceful sect who are persecuted and classed as apostates in Pakistan. The Muslim Council of Britain – the largest and most influential Muslim group in Britain – was until recently officially affiliated to a group calling for "capital punishment" against the sect on posters in mosques and universities around the UK.
Now, Breitbart London has discovered numerous social media accounts celebrating Mr. Ahmed alongside his hero Mumtaz Qadri, a fellow religiously motivated murderer from Pakistan.
Their faces appear alongside one another on a Facebook page called ST-Mujahid News. A 'mujahid' is one who "struggles" for the sake of Allah and Islam – also known as a jihadi.
The page uses Hindi, but many of the comments below the image are in English. Sonya Khan wrote, "we proud of both". Ch Haseeb added: "Great man".
A page titled "We Support Tanveer Ahmad" has nearly 3,000 likes and posts sinister content about Mr. Shah and Ahmadiyya Muslims, which could easily be interpreted as incitement to violence.
Another page in Arabic dedicated to the killer has more than 9,000 likes.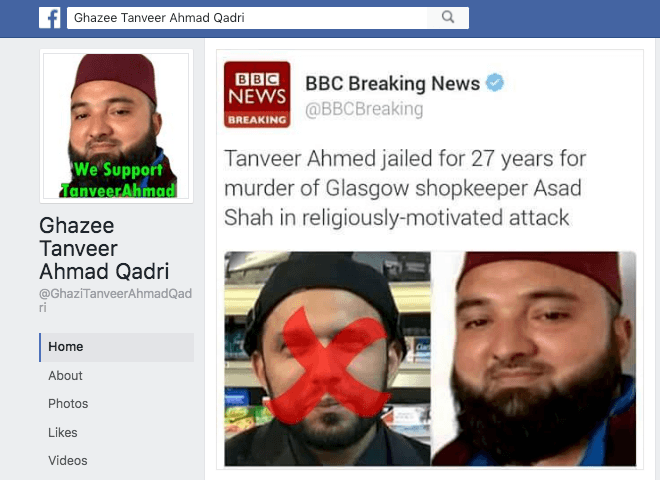 The Glasgow killer Tanveer Ahmed's idol, Mumtaz Qadri, killed moderate Pakistani politician Salmaan Taseer because he had "insulted Islam" by opposing Pakistan's blasphemy law.
Mr. Ahmed's brother told the BBC that he used to write letters to Qadri. He even called Qadri's brother after committing the murder in Glasgow to boast about it.
Since being executed for the crime, Mr. Qadri has become a cult figure in Pakistan with hundreds of thousands attending his funeral, including many British Muslims, imams, and clerics.
The imam of Glasgow Central Mosque was just one of many to praise him, calling him a "brother" and "true Muslim". A prominent imam from Bolton flew out to his funeral and a mosque in High Wycombe was accused of "hate preaching" after allegedly praising Mr. Qadri. 
Many British Muslims support Mumtaz Qadri + Tanveer Ahmed. Plenty of evidence. BBC: https://t.co/XJNjlbGGuN pic.twitter.com/DpDruDAC6w

— uberfeminist (@uberfeminist) August 12, 2016
Shaan Taseer, son of Mumtaz Qadri's victim, told the BBC that he was concerned the fundamentalism and hatred so prevalent in Pakistan is now spreading to the UK. "When my father was murdered, to see his murderer garlanded with flowers was shocking," he said, continuing:
"But somehow it wasn't so surprising knowing that Pakistan has since the 1980s been undergoing a state-sponsored radicalisation. To see something similar in Britain which is the birthplace of the Magna Carta, the crucible of parliamentary politics, was a very depressing sight, a very unhappy sight and extremely sobering."
He also explained that if Muslims continue to venerate killers, more people will inevitably be killed. "To glorify a murderer is not to glorify the individual but to glorify his actions and to call on someone to emulate them. It is essentially a call to action.
"So when a man like Mumtaz Qadri is glorified then sooner or later a man like Tanveer Ahmed will commit murder. This is therefore a very dangerous idea. It is an idea that will lead to murder in the society. It is therefore an idea that must be addressed."