Twitter and YouTube refused to take down posts by hate preacher Anjem Choudary even after he was arrested for swearing allegiance to Islamic State, and despite the best efforts of the British authorities to force them to do so, it has emerged.
Jurors at the Old Bailey heard how the authorities made repeated efforts to have the social media content posted by Choudary removed, but had no power to force the corporations to do so even if the content contravened UK anti-terror laws, the Independent has reported.
London-born Choudary and an associate, Mohammad Mizanur Rahman, 33, were convicted last month of pledging support for Islamic State and for urging their followers to follow suit in a series of videos posted to YouTube, it was revealed yesterday.
Choudary also used a Twitter account to spread his message of hate to more than 30,000 followers.
As part of the evidence, jurors were shown a series of YouTube videos posted to his account, including one in which he proclaimed Islamic State as a legitimate Caliphate and said Muslims had an "obligation" to show "obedience to the Caliph."
But the court heard that the police had no jurisdiction to force the social media companies to remove the accounts or their content, despite clear breaches of anti-terror laws and the platforms' own community guidelines.
An open-source researcher from the National Counter Terrorism Police Operations Centre (NCTPOC), who was referred to in court only by a number, said in a statement read to the court that it was up to the companies to decide which content to remove, as "the police do not have the capability to remove any material from any platform".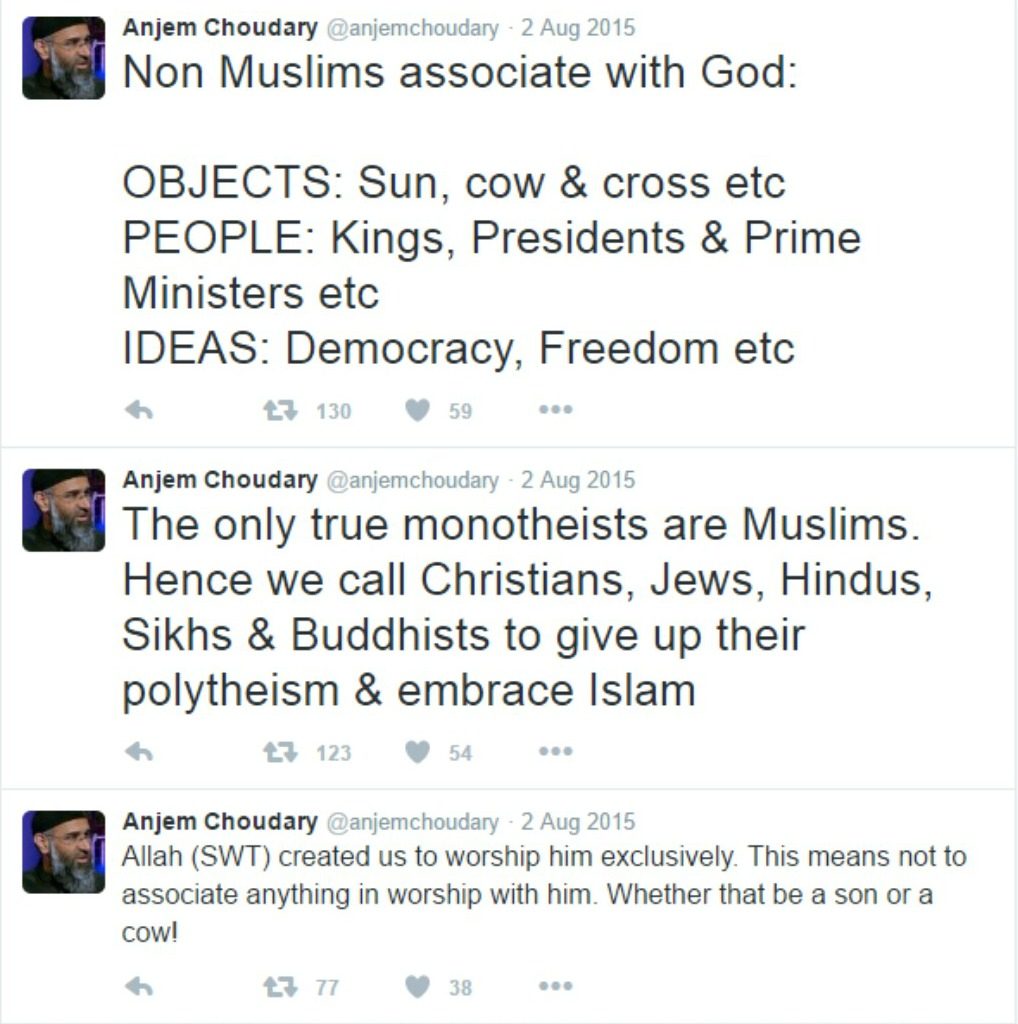 He argued that Choudary's Twitter account contained materials in support of Islamic State, contrary to section 12 of the Terrorism Act 2000 and which breached Twitter rules on "threatening or promoting terrorism". Yet Choudary's account is still live on the site.
Similarly, a request lodged by police on June 23 this year with YouTube for the removal of a video entitled "Duties of the Kilafah by Anjem Choudary" was refused, as was a separate request to remove a video entitled: "The Caliphate will expand into Europe and US."
The latter was left on the site as YouTube considered it to be journalistic material, thanks the Middle East Media Research Institute (MEMRI) sharing it on their website. The Institute bills itself as exploring "the Middle East through the region's media."
Meanwhile Rahman's Twitter account was deleted by the company, though the officer noted: "it does not appear to have been from our referral due to the time elapsed from the original email we sent to them".
A request lodged with Facebook to have Rahman's account deleted was successful, but multiple requests lodge with YouTube to have various videos posted by Rahman were met with mixed results.
On March 17 this year the police sent a request to YouTube to remove two of Rahman's videos, one entitled 'The real meaning of jihad' and the other: 'Using fire as punishment'. One was removed for contravening community guidelines, but the other was left up to allow for "religious debate".
A request to remove Rahman's video: "Can you join Kuffar army just to get some training" was also denied, although four other videos were removed by YouTube without any request from the police.
Labour MP Keith Vaz, who chairs the Home Affairs Committee, has called for a review of current anti-terror laws to ensure that hate preaching is no longer tolerated under the guise of free speech, the Telegraph has reported.
"It is deeply worrying to see the extent of his activities," he said.
"While congratulating the police in bringing this case to a successful conclusion we now need to look again at the law to ensure that it allows no gaps that permit preachers of hate to undertake their activities under the cloak of freedom of speech exercised in a democracy.
"In future we need to show zero tolerance to those who act and behave in this way."
Alluding to the two-year investigation which brought about the conviction, Lord Carlisle, the former Independent Reviewer of Terrorism Legislation, also called for a clarification of the law in order to better hold those promoting terrorism to account
"This conviction shows the sometimes long march of the law," he said. "Whilst those remote from terrorist crime should be prosecuted with caution, there should be greater legal clarity to enable the prosecution of those whose clear aim is to exhort terrorism and the destruction of our way of life."
Follow Donna Rachel Edmunds on Twitter:

Follow @Donna_R_E

or e-mail to: dedmunds@breitbart.com