The final days of Manchester bomber Salman Abedi are ones of apparently extensive international travel, picking a route back from Syria through Turkey and Europe to northern England.
Investigators are still piecing together the events leading up to Salman Abedi's deadly attack at Manchester Arena, but a clear picture of his origins, and last movements before he detonated a bomb that killed 22, is emerging. Salman's father, Ramadan Abedi, was a Libyan migrant granted refugee status in Britain after fleeing Colonel Muammar Gaddafi's regime.
According to acquaintances in Manchester, he was a senior member of the Libyan Islamic Fighting Group (LIFG) – an organisation linked to al-Qaeda and proscribed as a terrorist organisation by the U.S.
A number of LIFG members, who opposed the comparatively secular Gadaffi regime and wanted to see it replaced by an Islamist state, made their way to the United Kingdom as refugees around that time.
Ramadan denies this, saying he commended LIFG but never joined it. Nevertheless, he returned to his native country in 2011, when Islamist groups were in the ascendant, to participate in Gaddafi's ouster. After the collapse of the Gadaffi regime, Ramadan became an administrative manager in the Central Security Force in Tripoli.
He sent for his sons, who remained in Britain, several times, and posted pictures of them armed with weapons on social media, calling them "young lions".
Both he and a surviving son, Hashem, have now been detained by the Special Deterrence Forces, a militia serving Western-backed authorities. A third son, Ismail, was arrested in the UK following police raids.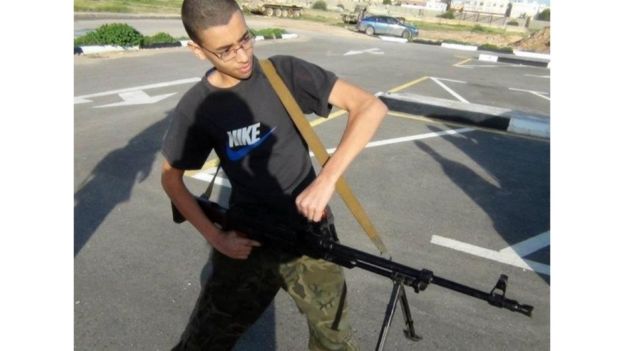 Hashem Abedi (Facebook)
2011: Becoming Radicalised
Abedi grew up in Manchester at various addresses in Moss Side, Fallowfield, and Whalley Range, finishing Burnage Academy for Boys in 2011 and attending college.
Acquaintances say that it was during this period that he began to become "more and more religious", and he was reported to the authorities in two separate calls.
A community support worker who wishes to remain anonymous claims he heard Abedi say that "he was supporting terrorism" and "being a suicide bomber is OK" in public.
2017: Manchester to Libya, Libya to Syria
Abedi is believed to have travelled to Libya to visit relatives within the last month, and there were initial concerns he made his way to the south of the country, where the Islamic State maintains a presence.
However, the French interior minister Gerard Collomb has since revealed that British investigators are focused primarily on a possible onward journey to Syria, where the Islamic State, al-Nusra and other jihadist groups hold a substantial amount of territory.
Collomb said the French authorities had been informed that Abedi was a "British citizen of Libyan descent, but who grew up in Great Britain, and suddenly, after a trip to Libya and then probably to Syria, [became] radicalised and [decided] to carry out this attack".
May 18th 2017: Istanbul to Manchester via Düsseldorf – and Prague?
German outlet Focus cites sources within the German security establishment as saying that Abedi travelled to Düsseldorf from Istanbul four days prior to the attack, for a connecting flight to Manchester.
It seems that Abedi was known to the Turkish authorities, who claim to have passed a file on the suicide bomber to British officials on May 24th.
German authorities do not believe Abedi left the airport transit area in Düsseldorf – but he is thought to have made a previous stopover in Frankfurt in 2015.
Scotland Yard is supposed to have told the Germans, on that occasion, Abedi was returning from training with Syria-based jihadists, although he was not any watch lists.
Germany is now concerned that Abedi may have been in contact with the highly active Islamist scene in North Rhine-Westphalia, which played a role in radicalising Anis Amri – an illegal migrant from Tunisia who killed a number of people in Berlin after driving a lorry into a bustling Christmas market.
"The [Islamist] scene is closely intertwined internationally," the source told Focus. "We need to clarify whether Abedi met people in Germany he had previously met with in Syria."
Confusingly, the BBC have reported that Abedi also spent time in Prague before his flight out from Düsseldorf, suggesting a more complicated return journey than Focus suggests.
The Aftermath
Greater Manchester Police Chief Constable Ian Hopkins has confirmed that "It's very clear this is a network we are investigating," and a number of arrests have taken place across the country following police raids supported by special forces.
The terror threat level remains at 'critical', which indicates that an attack is or may be imminent, and armed police are being deployed to trains.
Follow Jack Montgomery on Twitter:

@JackBMontgomery