The anchor of "impartial" Channel 4 News has been urged to resign after refusing to deny he chanted "fuck the Tories" at Glastonbury music festival.
Channel 4 is publicly owned and broadcast news is covered by strict rules on impartiality by regulator Ofcom in the UK, insisting presenters avoid ­political bias.
However, Jon Snow was photographed with student Danny Millea at Glastonbury over the weekend, who tweeted the image along with the caption: "Boss place that Glasto. Having a dance with Jon Snow and hearing him shout f*** the Tories is what dream are made of."
"Boss when he turned around just after he got off [sic] and sarcastically went 'I'm supposed to be neutral'," Mr. Millea also claimed. The tweets were later deleted.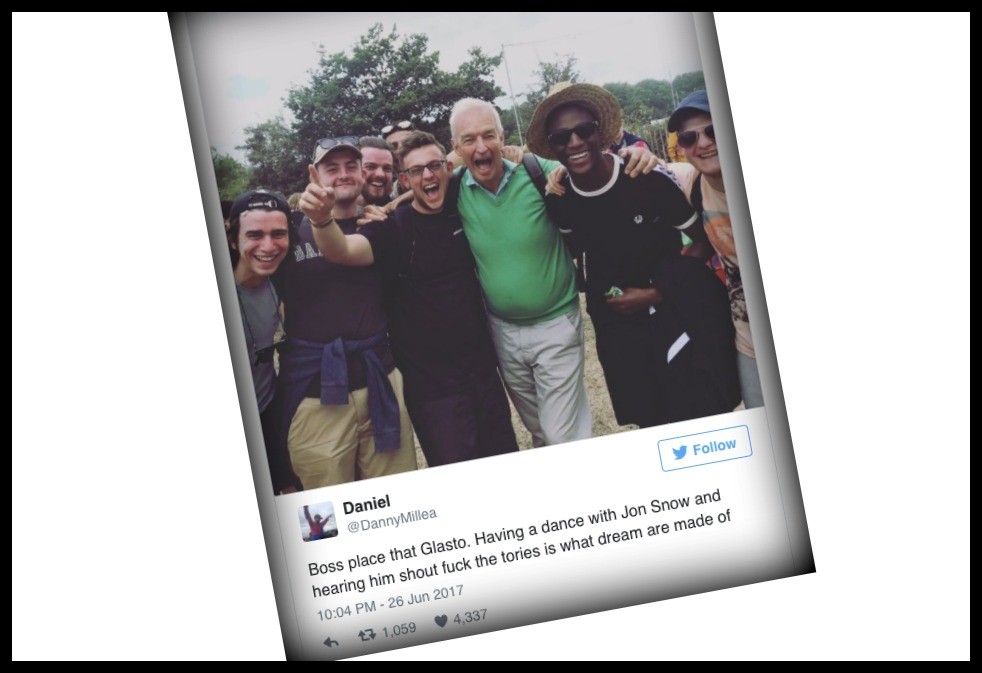 Another user of the social media site, Craig Forshaw, added: "So jon snow just watched radiohead with us at glastonbury. Got on our shoulders and sang the Jeremy corbyn song! Best night of my life."
Mr. Snow re-tweeted footage of the crowd erupting into the song, with tens of thousands chanting, "Oh, Jeremy Corbyn!" to the tune of the song Seven Nation Army.
During the festival, he also wrote on Twitter that it was "amazing to be among 200,000 at Glastonbury amid a real energy for a better politics", adding that festival-goers had "a longing for decent politics".
Mr. Corbyn and his supporters often refer to their ideological outlook as a "new", "decent", and "better" type of politics.
Amazing to be amongst 200,000 at Glastonbury amid a real energy for a better politics

— Jon Snow (@jonsnowC4) June 23, 2017
Responding to the claims he had aggressively berated the Tories, Mr. Snow did not deny joining the chants.
"After a day at Glastonbury, I can honestly say I have no recollection of what was chanted, sung or who I took over 1000 selfies with," he said in a statement.
However, Tory MP Andrew Bridgen was not impressed. He told The Sun: "I think it's time Channel 4 told Jon Snow where to go."
And ex-Tory minister Rob Wilson said Mr. Snow had "no credibility now for impartiality".