The European Union (EU) has proposed that billions more in aid be pumped into Africa including a €10.5 billion "Peace Facility" which could be used to purchase weapons for use in crisis areas.
EU High Representative on Foreign Affairs Federica Mogherini told media on Thursday at the launch of the 'Neighbourhood and the World' programme that increasing the bloc's budget commitment to international aid to €123 billion was "first and foremost a political statement in favour of a stronger European Union in international affairs", reports Euractiv.
The European Commission, the unelected executive branch of the EU, defended its plan to increase contributions by nearly 30 percent for the 2021-2027 budget period, saying: "In times of uncertainties all over the world, the EU strengthens its role as global player that is reliable, responsive and predictable – politically as well as financially."
Spending in sub-Saharan Africa is set to see the biggest increase, from €26.1 billion to €32 billion over the seven years, and €9 billion is to be earmarked for mass migration-related spending.
On migration-related spending, Interim Brussels Director for the African poverty charity ONE Emily Wigens said that "Europe's leaders must recognise that there can be no long-term solution to the refugee crisis without a visionary and ambitious new partnership with Africa"  – echoing the words of France's globalist President Emmanuel Macron who said in April that "Europe has its destiny bound with Africa".
While those in support of the massive increase in aid may contend that it will stabilise nations and stop the flow of economic migrants from Africa, others, like U.S. economist Michael A. Clemens, believe that aid helps to drive migration by improving the ability to pay for direct costs of emigration.
Mogherini also proposed the establishment of a €10.5 billion "European Peace Facility" – separate from the bloc's budget – which would aim to finance EU military operations in "partner countries" such as Somalia and the Central African Republic.
It is aimed at supporting their "armed forces with infrastructure, equipment or military assistance" which Mogherini confirmed could include the purchase of weapons.
One named region earmarked for support was the G5 Sahel belt in West Africa. Last year, Burkina Faso, Chad, Mali, Mauritania, and Niger agreed to set up a joint force to counter jihadists in the region. France's Operation Barkhane, where some 3,000 French troops are stationed in Chad, has been active since 2014.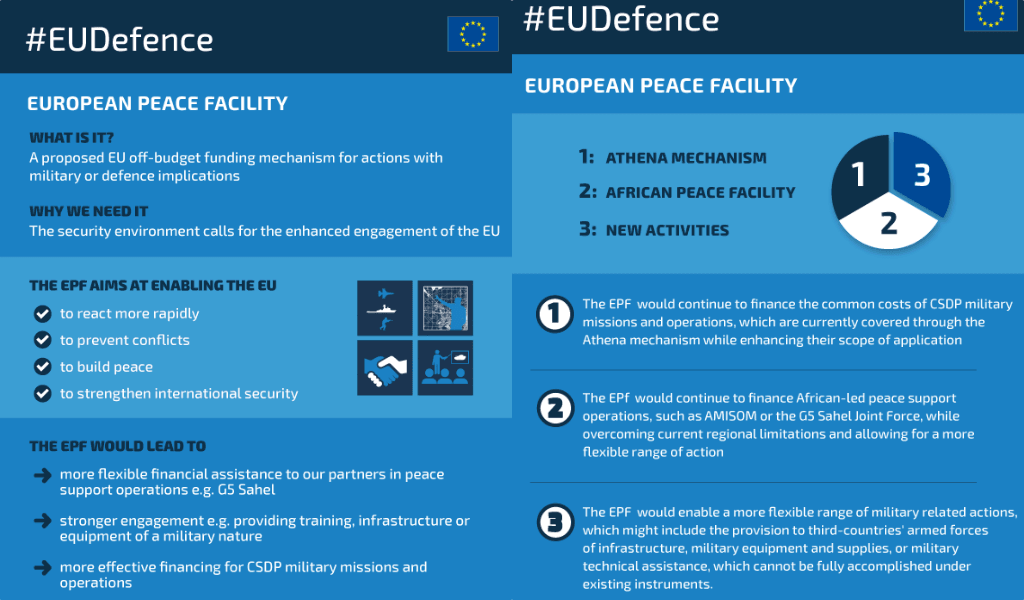 According to the Commission, the EPF would be "complementary" to other EU security and defence programmes including the €13 billion European Defence Fund which was launched on May 2nd, paving the way for closer EU military integration and an eventual EU army – plans once called a "dangerous fantasy" by anti-Brexit Remainer Nick Clegg.
"The world is living in difficult times and this calls for a European Union responsibility and role on the global scene," Mogherini said and blamed "Terrorist attacks, wars, and instability on the borders of Europe, tensions with Russia, [and] the unpredictability of US President [Donald J.] Trump's policy" for the EU's military expansion into Africa.
The text on both the aid budget, part of the bloated €1.279 trillion budget announced by the Commission in May, and 'peace fund' will be debated by governments and the European Parliament in the coming months.