Several Democrats running to succeed veteran Rep. Henry Waxman (D) in California's 33rd congressional district have released their first television advertisements. First among the ten Democrats to take to the airwaves was Matt Miller, the Clinton administration official-turned-public radio host whose ad, "A Different Choice," began running on local cable Apr. 24. The ad features Miller in various locations in the district.
On Wednesday, fellow Democrat David Kanuth launched two advertisements. One, "Kanuth for California," features Kanuth introducing himself and his positions on the issues. The other, "I Stand," features residents in the district explaining why they are supporting Kanuth. Mike Dorsey, spokesperson for the Kanuth campaign, told Breitbart News that the ads will be running on both cable and broadcast television networks.
Democrat Wendy Greuel, a former Los Angeles city controller who is positioning herself as Waxman's loyal successor, has not begun running television ads. However, she is active on social media and weighed in this week on Facebook on the controversy surrounding Los Angeles Clippers owner Donald Sterling: "Let these comments be a lesson to all of us that we still have work to do to fight against bigotry and racism," she said.
Beyond the Democrats, other candidates are also ramping up for the June 3 primary. Independent candidate Marianne Williamson has not yet begun advertising on television. However, her yard signs and bumper stickers have been the first to appear across the district, and her volunteers are a visible presence.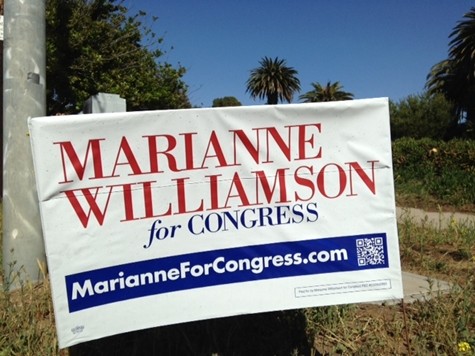 Republican Kevin Mottus has launched robocalls, one of which reached this reporter's cell phone–ironically, since Mottus's number one issue is combatting radiation from cell phones and other transmissions.
Fellow Republican Elan Carr launched the first TV ads of the campaign earlier this month.