Bakersfield, California — More than one hundred Latino activists, organizers, and farm workers offered their support for Vermont Senator Bernie Sanders during a back-and-forth discussion in the Harvest Hall at the Bakersfield Fairgrounds.
The open discussion drew a sharp contrast with the heavily staged and managed public events put on by Bernie's primary competitor, former Secretary of State Hillary Clinton.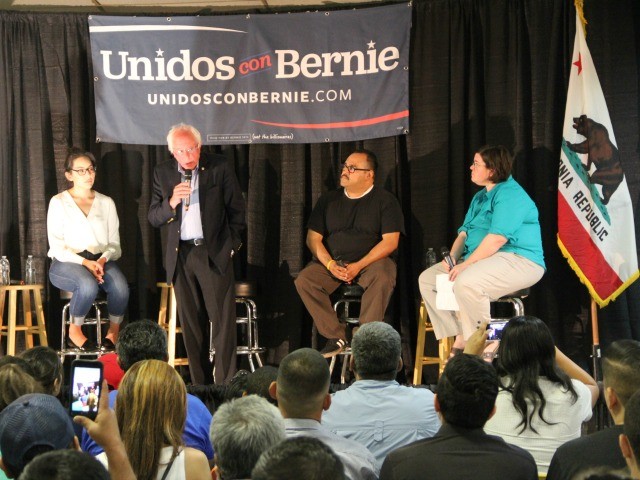 Many of the activists took issue with the United Farm Workers Union's endorsement of Secretary Clinton.
"The only union that is supposed to help us has left us out to dry," a man who identified himself as an "undocumented worker" told Sanders in reference to the union United Farm Workers of America (UFW), which has endorsed Hillary.
"That's why we're organizing. That's why we're community grassroots organizers that are now taking that job that some of the unions were supposed to do. That's why we're coming to you. That's one of the reasons we are busting are butts just for you too … We love you! I honestly love you!"
After the meeting Senator Sanders was introduced to a rally of thousands by David Villarino, a former bodyguard and son-in-law of labor hero Cesar Chavez. Chavez was instrumental in forming the UFW but Villarino told the crowd that if Chavez were still alive, he believed that he'd be campaigning for Sanders.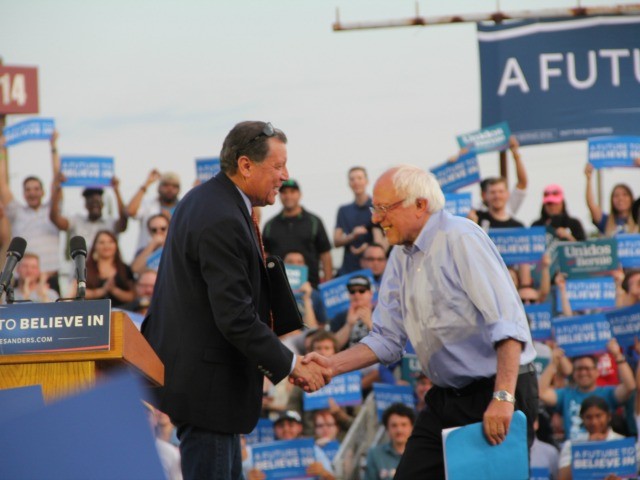 The activists in attendance wanted Sanders to know how hard they were working to help him win in California, despite the UFW endorsement.
"I wanted to tell you that I grew up in the United Farm Worker Union," another man who identified himself as a physician told Senator Sanders during an emotional exchange. "You have plenty of representation from the farm workers and you have representation from a United States Navy veteran as well.. You're leading in the polls and your going to be leading even more because, guess what, you inspire us with that fire. You talk about the issues that all of us care about."
Sanders seemed genuinely outraged as the group of activists described the issues concerning them regarding toxic tap water, illness from pesticides, and working conditions.
"You know what? I don't think anyone in America knows this stuff," Sanders said after being told that over twenty-thousand people in one community could not drink their tap water.