Janet Napolitano, the chancellor of the state-wide University of California, is dumping American information-technology professionals to hire cheaper H-1B contract workers from India.
She already has a lot of experience in the H-1B white-collar outsourcing program, after having been in charge of its implementation while working as the federal secretary of Homeland Security for President Barack Obama.
The University of California is both the top ranked public university system in the world with 10 campuses, with a combined student body of 238,700 students, but it is also a huge employer, with 19,700 faculty members and 135,900 staff members.
As the most liberal large American university system, the faculty and staff currently are the top contributors to Democrat Hillary Clinton's 2016 presidential candidate committee. The UC was also Barack Obama's largest contributor in both 2008 and 2012.
Despite all of UC's social justice credentials, its San Francisco campus just announced it will dump 17 percent of its IT staff by February 2017. Those cuts will eliminate 67 permanent UC employee positions — complete with great pensions — as well as 20 American contract workers.
The campus is facing "difficult circumstances," partly because of Obamacare, said Joe Bengfort, the Chief Information Officer for the UCSF campus. Obamacare has increased the volume of patients while limiting hospital reimbursement to around 55 cents on the dollar. Obamacare also mandates electronic medical records, so IT operating expenses have doubled from 3 to 6 percent of total hospital expenses amid more spending on IT security and analytics.
The fired American professionals will be expected to train foreign H-1Bs, under a 5-year, $50 million outsourcing deal with India's HCL Corp.
UCSF will also relocate some IT equipment to Dell's cloud data center in Quincy, Washington, and enterprise-security will be outsourced to FireEye, another user of Indian, Pakistani, and Chinese H-1B workers.
The outsourcing agreements are expandable to cover all of UCSF's 565-member centralized IT department staffing. They can also be used by any of the 10 campuses, five academic medical centers, and 17 health professional schools to replace any existing IT worker in the UC system. UCSF expects to save $6 million a year by contracting for IT services with HCL.
On campus, the UC system has already hired thousands of H-1Bs to replace American lecturers, doctors, and scientists, according to MyVisasJobs.com. There is no legal limit on the number of H-1Bs that universities may hire, and there is no requirement to interview Americans or even announce the jobs before they are outsourced.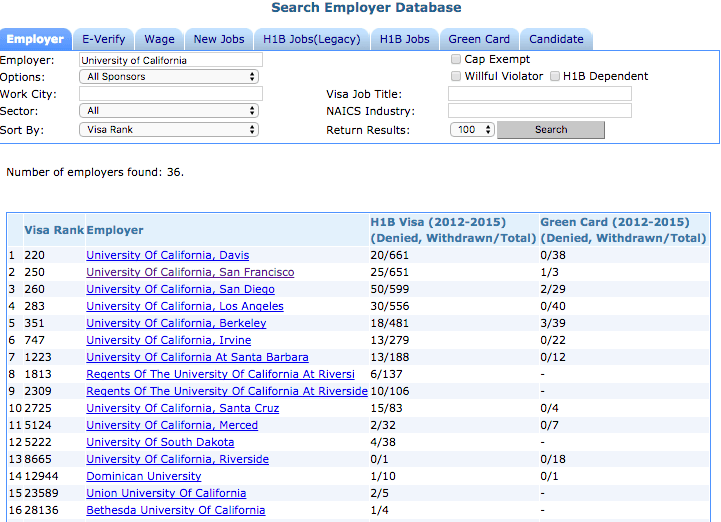 Universities and allied contractors already employ roughly 100,000 H-1Bs in place of 100,000 Americans professionals. Nationwide, about 650,000 H-1Bs are working in American jobs, ensuring they are becoming a partisan issue in the 2016 election.
The white-collar outsourcing deal follows the outsourcing of 100 blue-collar custodial employees, as well as $2 million of annual work, to outside contractors. A&E got the work at UC Davis, and Impec Group picked up the work at UCSF. The outsourced contract labor earns $10.74 to $15 an hour and do not receive union benefits, cutting the UC's labor cost by more than half.
The July 2013 nomination of former Homeland Security Secretary Janet Napolitano to be UC president was bitterly attacked by the UAW 2865 – UC Student-Workers Union. The union said she was disqualified after DHS deported a record 1.5 million undocumented immigrants, regardless of her lack of the academic qualifications, scholarly expertise, or other experience in education useful in running the world's premier public university system.
The latest outsourcing deal comes a year after Sen. Ricardo Lara (D-Bell Gardens) – a friend of labor and critic of Napolitano – carried a bill for the American Federation of State, County and Municipal Employees, the university's largest union, to effectively push the University of California into adopting the $15 minimum wage.
Napolitano had testified in Sacramento that the university's budget was stretched to breaking and that the $15 minimum wage would cost the university another $14 million annually.