The Met has moved a Neo-Nazi rally planned for
this Saturday

from Golders Green – which is 25% Jewish – to outside the Prime Minister's London residence, Downing Street. The "proud anti-Semite" responsible for organising it has been remanded in custody after appearing in court

on Monday 

charged with inciting racial hatred and publishing anti-Semitic material online (see picture below thought to be the subject of police complaints).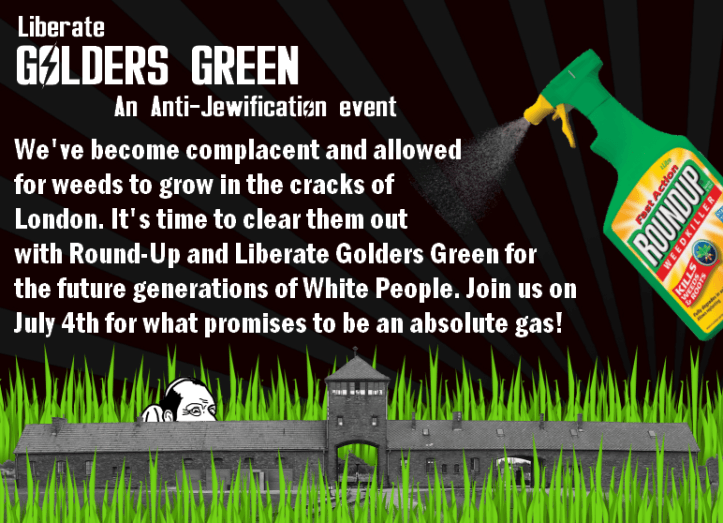 Unemployed Joshua Bonehill-Paine, 22, of Yeovil, Somerset, was denied bail. The Campaign Against Anti-Semitism UK preemptively released a statement last week via their facebook page claiming he was under investigation. His next court appearance will be at Southwark Crown Court on July 13th – so, crucially, he will definitely miss the planned rally.
Weeks of talks between Scotland Yard, Barnet Council, the Home Office and various Jewish groups including the Board of Deputies of British Jews and the Committee Against Anti-Semitism resulted in the march moving. Jewish groups have expressed relief as they will be able to spend the Sabbath – their Holy Day – in peace. The Met said in a statement:
"After carefully considering all the facts surrounding this protest and counter protest activity, including the impact on the Jewish and wider community of Golders Green, it is the assessment of the MPS that the presence of these groups in the same area at the same time is likely to result in serious disorder, serious disruption to the life of the community and intimidation of others. As a result, conditions have been imposed on the anti-Shomrim protest group under Section 14 Public Order Act 1986.

"Those conditions are that anti-Shomrim protestors must assemble (hold a rally) at Richmond Terrace, Whitehall, London, SW1 in a static assembly for 60 minutes from 1pm to 2pm. The assembly point will be positioned on the east footway of Whitehall opposite Downing Street.

"By imposing these conditions, the MPS is attempting to strike a balance between the right to peaceful assembly and peaceful protest and our duty to prevent crime & disorder and protect the communities of Golders Green."
The rally this weekend follows a similar planned demonstration for April 18th in Stamford Hill, also organized by Bonehill, which was abandoned. He was banned from travelling inside the M25 as part of his bail conditions after being arrested in February.
In February 2014 Bonehill appeared in court in Yeovil on charges of malicious communications made on Facebook about UK Independence Party leader Nigel Farage MEP the previous October. In February this year he was arrested and bailed following a barrage of anti-Semitic tweets sent to Labour MP, Luciana Berger.
He wrote in a blog post last week: "I am literally on my last legal legs as so to speak (sic), should Hertfordshire police move to arrest me then we can expect the Crown Prosecution Service and Magistrates to remand me in custody."
Bonehill, pictured below, is a self-styled "Fascist, theorist and author… [who] is not afraid to point the finger at the Jew." He has written in blog posts that he "take[s] issue with the fact that we have effectively a fully operational Jewish State within London and oppose all elements of Jewification."
He has a habit of referring to himself in the third person, and wrote in his bio that he has "declared himself as MP for the constituency of Bassetlaw in Nottinghamshire. Under Bonehill's National Liberation, the duty of MP is a 'Member of the People' as opposed to the traditional democratic meaning."