President Donald Trump's lawyers are defending President Barack Obama's claim that every administration can displace U.S. professionals by granting work permits to an unlimited number of foreign white-collar workers.
Obama's claim of unlimited outsourcing power creates multiple headaches for Trump's Attorney General Jeff Sessions as he tries to shut down the 2012 'DACA' program which also provided work-permits to the 800,000 illegals who were also granted "prosecutorial discretion" to stay in the United States.
The legal problem will be showcased February 20 when lawyers will ask a panel of three D.C. judges to shutter the fast-growing "Optional Practical Training" program which provides work permits to at least 300,000 foreign graduates of American colleges each year — and also allows U.S. companies to pocket their OPT employees' Social Security and Medicaid taxes.
Administration officials must shut down the OPT rule and program because it violates the law — 8 U.S. Code § 1324a — which bars foreigners from working in the United States, said John Miano, the lead lawyer in the decade-old case brought by the Immigration Reform Law Institute on behalf of white-collar professionals.
DoJ spokesman Devin O'Malley told Breitbart News that the Justice Department lawyers will not address Miano's 1324a claim, but will instead argue that Miano does not have the legal cause — or "standing" — to bring a court, case, and will urge the appeals court to dodge the issue. He said:
We are not making an argument that the government does or does not have authority to issue the OPT Rule, but instead [will] argue that the court of appeals should not reach that issue, especially because the district could did not do so.
"What they are arguing for is delay, delay, delay, to keep what is in place… [and] if they keep things in place, they are essentially keeping the Obama programs in place," Miano told Breitbart News. Under Obama, officials expanded the OPT program to raise the supply of white-collar workers sought by U.S. companies.
The DoJ's position contradicts' President Trump's Inauguration Day promise of a "Buy America, Hire American" policy.
"What I've heard is that Justice Department lawyers say they can't give up this power," said Miano. They are stalling in court so DHS lawyers can write new rules which will protect the OPT program by temporarily shrinking its scale, he added. Once the furor passes, the outsourcing program can continue growing, he added. "They don't want to get rid of OPT," Miano said.
The case is Washington Alliance of Technology v. U.S. Dep't of Homeland Security, No. 17-5110 in the U.S. Court of Appeals for the District of Columbia Circuit.
The appeals court's decision on OPT could have a huge impact because it goes to the heart of the claim by Obama that he had the legal authority to provide work permits to the 800,000 'DACA' illegal immigrants who he also exempted from enforcement laws. In a separate case, the Supreme Court is expected to study the DACA claims and issue a decision in June about whether the President has the authority to grant a quasi-amnesty to so many illegals.
Two of the lower-court judges who recently upheld the DACA program noted that the administration had not renounced Obama's claim that the administration has an unlimited power to provide work permits. In the February decision, Vidal v. Nielsen, the judge blocked the administration's ending of the DACA amnesty, and also said:
Additionally, recipients of deferred action may apply for authorization to work legally in the United States, provided that they "establish[] an economic necessity for employment." 8 C.F.R. § 274a.12(c)(14); see also 8 U.S.C. § 1324a(h)(3) (excluding from the definition of "unauthorized aliens," who may not be knowingly employed in the United States, aliens "authorized to be . . . employed . . . by the Attorney General").
"The courts nailed them," said Miano.
Miano's focus, however, is the OPT program which allows companies to hire foreign graduates instead of American graduates.
If the judges agree with Miano, they will end the OPT program and will help deliver well-paying jobs to the 800,000 young Americans who graduate each year with skilled degrees in business, health, design, architecture, science, computers and engineering — and often, with large debts.
But the three judges could instead side with their high-status peers who run American colleges and universities, and who profit from selling work-permits to their foreign customers.
That OPT decision could also push the Supreme Court to endorse the DACA work permits, and would leave Trump — and all future presidents — with the unlimited power to reward or punish companies by opening or closing their access to replacement white-collar workers.
The OPT program is politically powerful because it is a bonanza for the universities and white-collar employers in the United States.
The program offers work permits to an unlimited number of foreign workers, allowing them to work for up to three years after their graduation in the United States in a very wide variety of jobs. That program allows U.S. universities to effectively sell work-permits to foreign customers and it encourages more college departments to get their program included in the OPT program.
Companies also profit because the foreign OPT workers are often willing to accept lower wages in the hope of getting U.S. residency — so forcing down wages paid to Americans. Also, companies do not need to pay Social Security and Medicare taxes when they hire foreign OPT graduates instead of American graduates. That 15 percent tax break is worth several billion dollars every few years to company shareholders.
The OPT program is huge — and growing rapidly. In June 2017, the Department of Homeland Security provided participation data to Breitbart News.

If the 2014 to 2016 trend continued through 2017, the OPT program would have outsourced more than 400,000 white-collar jobs in 2017.
American white-collar journalists have almost entirely missed the economic threat caused by the rapid outsourcing allowed by the OPT program. Instead, journalists have been nudged to focus their emotion and attention on the roughly 700,000 blue-collar 'dreamer' illegal immigrants who are seeking jobs sought by blue-collar Americans.
The OPT outsourcing program grew rapidly during Obama's tenure partly because his deputies extended the OPT work permits up to three years, amid lobbying pressure by U.S. technology companies. The companies view the OPT program as a way to hire cheap, high-IQ foreigners in place of Americans, and as an entry ramp for foreign students into the H-1B and EAD outsourcing programs.
The OPT program operates alongside the H-1B, L-1, TN and J-1 programs, which together keep an estimated population of more than 1 million foreign white-collar guest-workers working for low wages in American jobs. The similar "Employment Authorization Document" rules allow another 2 million workers — including many graduates — to take jobs in the United States before they get green cards.
DHS officials also cited the 1324a claim in a 2017 decision and their plans for 2018 rule-making: "Section 274A(h)(3)(B) of the INA, 8 U.S.C. 1324a(h)(3)(B), recognizes the Secretary's discretionary authority to extend employment authorization."
These various outsourcing programs are hidden by complexity and media passivity. For example, many media outlets report that the H-1B program brings in only 85,000 people a year, even though the program keeps a population of at least 450,000 white-collar workers in the United States.
In general, companies want to maximize the supply of foreign graduates because the extra supply reduces the wages paid to their white-collar workforce. For example, many companies are now backing a proposed law by GOP Sen. Orrin Hatch that would allow U.S. companies to hire an unlimited supply of foreign graduates in place of American graduates and their college-trained children. The white-collar outsourcing has been very successful, and white-collar wages have remained flat for many years while profits and stock values have zoomed upwards.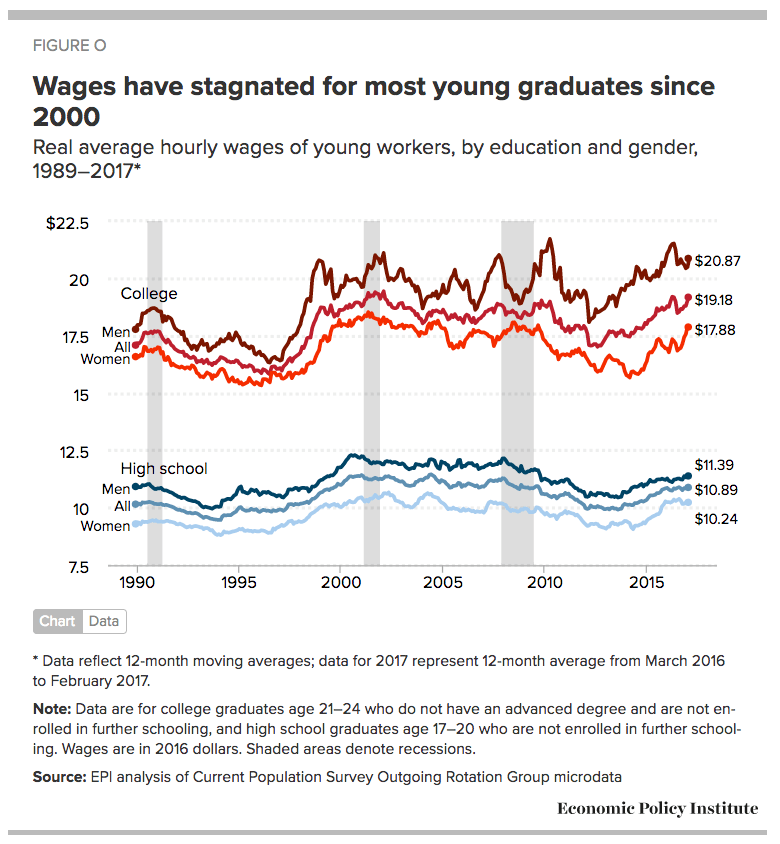 Foreign students openly say they pay tuition to American universities because they also get OPT work permits. "The primary reason I chose the U.S. was exactly that it offers better opportunities than other countries, whose immigration policies may be stricter," Maggie Tang, a 2015 graduate of Rice, told the university newspaper. "I knew I had a chance to stay here and work, to earn back some of that tuition and gain experience," she said. Tang's LinkedIn account says she now holds a job at Google.
While she was paying tuition at Rice, Tang and other Chinese students lobbied the U.S.  government to preserve the OPT and similar visa programs, including the better-known H-1B program, according to the university newspaper. "In response to a proposed rule regarding the post-graduation employment program for international students, the Rice Chinese Students and Scholars Association started an online campaign encouraging students to participate in public comment submission to protect their career prospects in the United States."
The newspaper for California's Pomona College reported in November 2017:
Economics major Jody Baik PO '19 said [Obama's 2016 OPT extension] was good news for her, especially as a junior international student starting to think about life after college.

"Employers might be more willing to hire international students majoring in economics because they do not have to worry about sponsorship for three years of OPT instead of one," Baik said. "Moreover, once I get a job offer, I know now that it'll be less difficult for me to stay in the U.S. for two more years."
A small industry of job-brokers has emerged to steer OPT recipients into a variety of jobs throughout the United States.
The legal problem for the universities and high-tech companies is the complete lack of any law creating the program or negating the law against the employment of foreigners, said Miano. But the problems for Americans graduates is that judges have refused to decide their claim, and have instead dodged the decision for ten years, Miano added.
The law is fairly simple. It says:
(1) In general It is unlawful for a person or other entity —

(A) to hire, or to recruit or refer for a fee, for employment in the United States an alien knowing the alien is an unauthorized alien (as defined in subsection (h)(3)) with respect to such employment …
But sharp-eyed lawyers noted a "miscellaneous provision" tucked into the end of the law, which says:
(3) Definition of unauthorized alien

As used in this section, the term "unauthorized alien" means, with respect to the employment of an alien at a particular time, that the alien is not at that time either (A) an alien lawfully admitted for permanent residence, or (B) authorized to be so employed by this chapter or by the Attorney General.
Obama's lawyers — and now Trump's lawyers too — argue that definition allows the Attorney General to provide work permits to an unlimited number of foreigners.
That argument is baseless because it swallows the stated purpose of the entire law, said Miano. The "miscellaneous exemption" was included to recognize that the AG has the limited authority to grant some work permits for limited programs described in the law, he said.
The OPT program was created by Microsoft lobbyists in cooperation with President George W. Bush's Bush's homeland defense secretary, Michael Chertoff, according to a legal history of the program prepared by Miano. He wrote:
In 2007, Microsoft concocted a scheme to use OPT as a means to circumvent the H-1B [work visa] quotas. Microsoft's plan was to extend the duration of OPT from a year to 29-months, so that the duration would be sufficient to serve as a guestworker program, rather than just an internship-type program. Microsoft proposed this scheme to the Homeland Security Secretary Michael Chertoff at a dinner party at the home of the owner of the Washington Nationals baseball team. (See pp. 229-230 in my book Sold Out, co-authored with Michelle Malkin.) From there, DHS worked in absolute secrecy with industry lobbyists to craft regulations implementing Microsoft's plan.

In a classic example of Washington cronyism, the first notice that DHS was even considering such regulations came when they were promulgated as a fait accompli, without notice and comment, on April 8, 2008 (73 Fed. Reg. 18,944).
The OPT lawsuit has dragged on for ten years as government lawyers and judges duck and dodge the plain language of the 1324a law, said Miano. Now, even after the 2016 election, he said, agency lawyers "are trying to do a little song and dance … They are not going to say they don't have that [outsourcing] power."