GOP Rep. Kevin Yoder has been downgraded to a "toss-up" candidate amid voter concerns over his pro-migration votes and rising Democratic enthusiasm, according to an election-tracking firm.
"Yoder took an underwhelming 68 percent against two opponents who hardly spent any money," said the Cook Political Report's analysis of Yoder's primary race in Kansas' third district. It added:
At least one [not-for-attribution] Kansas observer attributes his weak showing to blowback against a late July amendment he sponsored in the 2019 appropriations bill designed to overturn Attorney General Jeff Session's new policy on asylum claims.
Yoder's dramatic move to revive the catch-and-release policies imposed by former President Barack Obama, however, was just one of several cheap-labor giveaways to business interests which Yoder included in the draft spending plan for 2019.
Rep. Yoder outlines fix for his revival of Obama's catch & release border policies. But he & 29 GOP Reps silent on their curbing migrant-detentions, growing 2 cheap-labor visa programs, risky giveaway to 200K visa-workers in Indian w-collar outsourcing biz https://t.co/tT29D05pdW

— Neil Munro (@NeilMunroDC) August 3, 2018
The Cook Report missed the importance of Yoder's July 25 vote to put 200,000 Indian visa-workers on a fast track to citizenship, even though those workers were hired to take white-collar jobs from American college-graduates — including several hundred graduates in his own Kansas district.
Roughly 44 percent of people in Yoder's district aged 25 or older earned college degrees — and many are threatened by the salary-cutting expansion of visa-enabled outsourcing into a wide variety of college-grad jobs.
"That 44 percent, they're the people that are replaced by recipients of H-1B visas," said Robert Heath, an Americans software engineer in Boynton Beach, Fla. Heath runs the H1Bfacts.com website which collates data about the location of H-1B workers, including those in Yoder's district.
Nationwide, roughly 1.5 million college-graduate jobs are occupied by cheap visa-workers, most of whom are from India, and many of whom are employed by Indian-owned outsourcing firms, dubbed "body shops."
Yoder is using his chairmanship of the House homeland-defense appropriations panel to remove the "country caps" that prevent migrants from any one country getting more than 7 percent of the 140,000 Employer-Based green cards which are awarded each year to employees of U.S.-based firms. If the caps are removed, roughly 200,000 Indian visa-workers — plus roughly 200,000 family members — will be put on a fast-track to getting green-cards.
His plan would also allow U.S. and Indian outsourcing firms to expand their visa-outsourcing business by recruiting more low-wage Indian workers with the promise of green cards after a decade of grueling work.
American corps. are outsourcing healthcare jobs to Indians via the H-1B progam. Rep. Kevin Yoder's 'country caps' amendment will let them turbocharge healthcare outsourcing by offering green cards to Indians (& Filipinos) who will work the L-1 visa program https://t.co/xm0cQ0g570

— Neil Munro (@NeilMunroDC) August 2, 2018
Yoder said July 25 that the country caps are discriminatory against Indian visa-workers, but "if he is concerned about discrimination, he should fight these Indian body-shops which are discriminating against U.S. workers," said Heath, adding:
I'd be concerned with the fairness of companies that have forced [U.S.] workers to train their foreign [H-1B] replacements. Where was Kevin Yoder talking about fairness then?
Most of the Indian outsourcing workers are allowed to work because they have three-year H-1B visas. But a 2000 law allows visa-holders to stay and work for many years in the United States if their employer sponsors them for a green card. That change has allowed roughly 300,000 Indian visa-workers — plus roughly 100,000 Chinese and Filipino outsourcing workers — to work in outsourced jobs while waiting several or many years for green cards.
At least 300 of those H-1B outsourcing workers hold jobs in Yoder's district of Overland Park, Kansas, according to MyVisaJobs.com. A least 69 H-1B workers hold jobs in the neighboring town of Olathe, which is also in his district.
The site shows government data about annual corporate requests for new H-1B visa-workers, such as 367 requests for Overland Park jobs in 2018. Only about a third of those new requests get visas, and the MyVisaJobs.com site does not say which requests received a visa.
However, the site also shows the number and workplace of visa-workers who request three-year continuations in their current U.S. jobs. The site shows that employers submitted 300 government-certified requests for continuation visas in 2015, 2016 and 2017 for jobs in Overland Park, Kansas. Nearly all of those requests would have been approved because, until 2018, certified continuation-requests were rubber-stamped by officials working for Obama.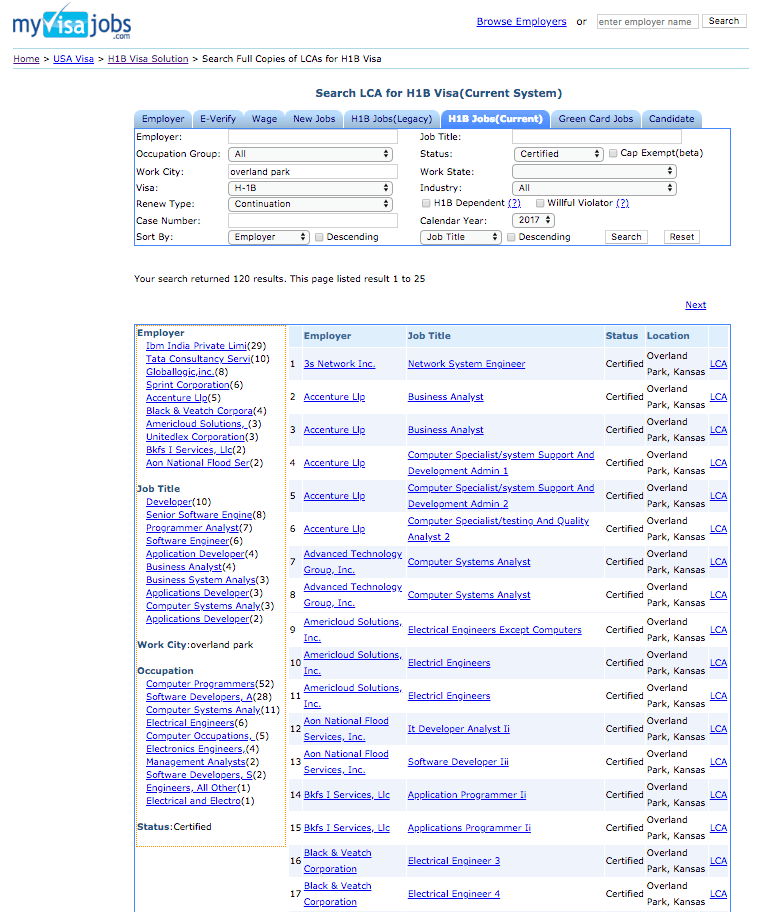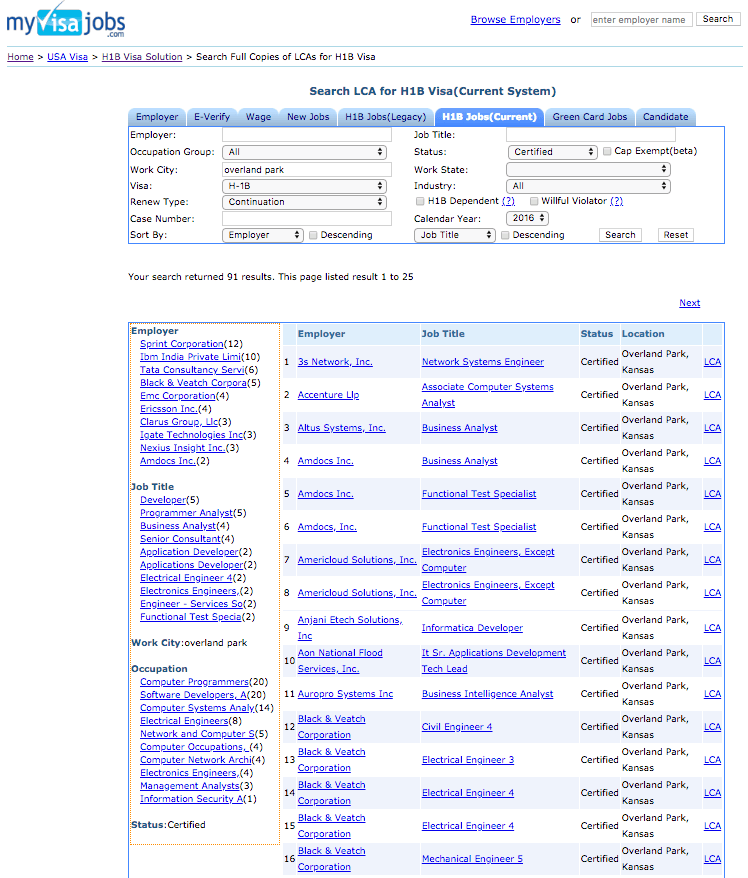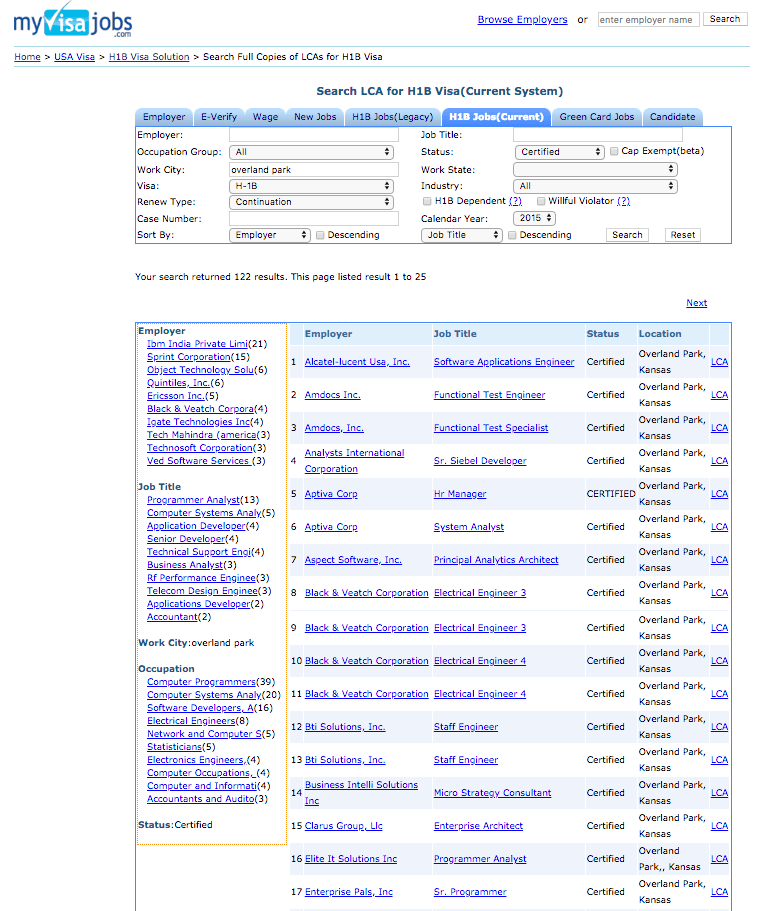 Heath's website, H1BFacts.com, shows companies asked in 2018 for 881 visas for jobs in Overland Park. His number is higher because his site includes requests for new, extended and job-change visas.
Heath's site shows the promised pay for Overland Park H-1B visas ranged from $400,000 a year for a surgeon, down to $33,000 for a catering manager, $35,000 for a soccer manager, and $43,000 for an accountant, according to his site.
MyVisaJobs.com shows some of the same data for Overland Park, including the request for a $36,000 manager at an Indian restaurant, "Kansas  Kurry."
Most of the American jobs outsourced to H-1Bs are upwardly mobile technology jobs, including business analysts, electrical engineers, and software developers, which pay more than the district' average household income of $65,000.
Yoder's district includes the Olathe campus of Kansas State University, which offers a post-graduate course in systems engineering. The main campus, outside his district, produces a steady flow of young computer science and computer engineering graduates.
Similarly, the H-1B charts show that firms asked for three H-1Bs to hire more foreign visa-workers, but Baker University in his district offers a post-graduate degree in "human resources."
In Yoder's district, one of the largest local consumers of H-1B visa is IBM India, which is an Indian spin-off of IBM Corp.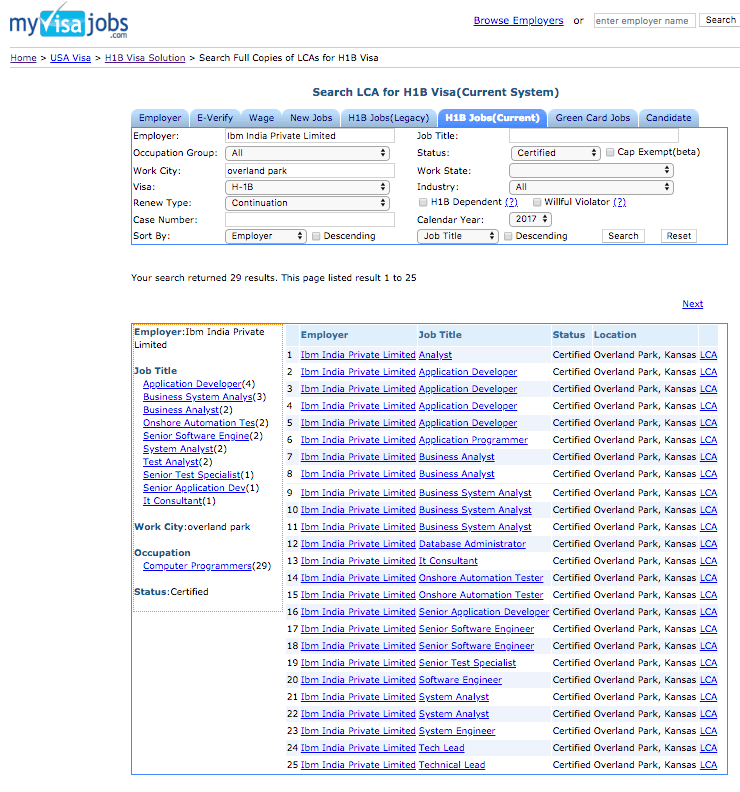 However, Americans universities also employ at least 70,000 H-1Bs in a wide variety of prestigious jobs. For example, Kansas State University is a heavy user of H-1Bs, having requested 177 visas from 2015 to 2017.
As a non-profit, the university is exempt of the notional annual cap of 85,000 visas per year, so it likely got most of the requested visas. Most of the university's imported workforce was used as research aides in the main campus at Manhattan, Kansas, likely displacing many young American women scientists.
Four million Americans turn 18 each year and begin looking for good jobs in the free market — but the government provides green cards to roughly 1 million legal immigrants and temporary work-permits to roughly 3 million foreign workers.
The Washington-imposed economic policy of economic growth via immigration shifts wealth from young people towards older people by flooding the market with cheap foreign labor. That process spikes profits and Wall Street values by cutting salaries for manual and skilled labor offered by blue-collar and white-collar employees. The policy also drives up real estate prices, widens wealth-gaps, reduces high-tech investment, increases state and local tax burdens, hurts kids' schools and college education, pushes Americans away from high-tech careers, and sidelines at least 5 million marginalized Americans and their families, including many who are now struggling with opioid addictions.
The huge influx of cheap labor has helped to stall Americans' wages since the 1970s:

Business groups and Democrats tout polls which prod Americans to declare support for migrants or the claim that the United States is a "Nation of Immigrants." The alternative "priority or fairness" polls — plus the 2016 election — show that voters in the polling booth put a much higher priority on helping their families, neighbors, and fellow nationals get decent jobs in a high-tech, high-immigration, low-wage economy.
College-grad salaries are growing slower than blue-collar wages in what seems to be a full-employment economy. Why? Maybe b/c there is a hidden workforce of 1.5 million+ foreign college-grad visa-workers eager to work low-wage jobs in hope of a green card. https://t.co/EwqcQK2LUF

— Neil Munro (@NeilMunroDC) July 7, 2018
Contact the author at NMunro@Breitbart.com, or via @NeilMunroDC
Clarification: An early version of this article did not make clear that Kansas State University has a satellite campus in Olathe.