This past July, in a formal request it filed with the prosecutors of Maryland state and the city of Baltimore, a left-leaning organization known as Velvet Revolution urged prosecutors to press criminal charges against James O'Keefe and Hannah Giles for what it says was a violation of Maryland's Wiretapping and Electronic Surveillance Act. But the letter also went a step further, naming Andrew Breitbart as a conspirator in masterminding the whole operation.
The accusation against Breitbart is of course patently false and baseless. No evidence exists to even suggest such an accusation, because it simply did not happen that way. Then again, this story's not about Andrew Breitbart. It's about Velvet Revolution, the source making the claim.
Progressives are also rallying behind Velvet Revolution for another of its most recent campaigns – AmericanCrossRoadsWatch, which, to the delight of familiar folks like Karoli at Crooks and Liars, has offered a $100,000 bounty "for information leading to the arrest and conviction of Karl Rove or any principal of American Crossroads for money laundering, election rigging, or felony campaign finance violations." It features a WANTED poster:
Interesting, that the words "felony" and "Wanted" would be used. Again, considering the source.
You see, while Velvet Revolution has inspired quite a flurry of excitement from its progressive partners these days, who seem to be frolicking in their apparent muckraking efforts, their glaring omission and utter hypocrisy is absolutely astonishing. With so much dirt digging going on, one would be very hard pressed to believe that none of Velvet Revolution's cheerleaders had any idea whatsoever that a convicted violent felon is one of its co-founders. In an environment today when the left has repeatedly falsely accused most opposition of being racist, hateful and violent, how convenient that progressives would fail to acknowledge the hypocrisy of their own implicit support of real violence and law-breaking.
The story behind Velvet Revolution begins with musician-activist turned immigrants' rights defender turned voting rights activist, Brett Kimberlin, who also runs the "Justice Through Music Project (JTMP)." According to journalist Brad Friedman of the Brad Blog, he and Kimberlin co-founded Velvet Revolution together, a detail Friedman has specifically noted in a number of posts such as this one from 5/31/2007.
Once dubbed "The Wizard of Odd" by Time Magazine, you may recognize the name Brett Kimberlin for much more than Justice Through Music or Velvet Revolution, especially if you're from Indiana. That's because in 1981, Kimberlin, then the owner of vegetarian restaurant Good Earth, was finally convicted of a week-long bombing spree in Indianapolis, IN in which eight separate bombs caused extensive property damage, destroyed a police cruiser, and severely maimed a man, which eventually led to the man's suicide. Kimberlin's story has so often been overlooked or understated by the national media, which unfortunately all but failed to follow up on what were later proven by the same journalist who first reported on his story to be mistruths. But locals to IN know exactly what happened and have never forgotten it since. It's time the public got the full story.
---
Brett Kimberlin, Speedway Bomber
Infamously known as "The Speedway Bomber," Brett Kimberlin exploded his eighth and final bomb on September 6, 1978, which nearly blew off the right leg of his victim, Carl DeLong, and seriously injured the man's left leg and right hand, causing his leg to be amputated. DeLong committed suicide two years later, unable to cope with the pain and devastation of his injuries. The victim's wife Sandra later won a civil judgment against Kimberlin for $1.6 million.
Police had immediately suspected Kimberlin in the bombing case. He'd been in trouble since high school, was a suspected drug trafficker and he was already the suspect in a murder that had occurred only months earlier. As the Indianapolis Star recounted recently:
On July 29, 1978, Speedway resident Julia Scyphers, 65, answered a knock at her door. A man she didn't know was standing on her stoop asking about items she'd recently tried to sell at a yard sale. She let him into the garage to look at the items and he shot her in the head.

Mrs. Scypher's husband, Fred, 68, heard the bang and came out in time to see a car pulling out of the driveway. He would later tell police he'd gotten a glimpse of the man who'd come to the door.

When police began looking for a motive in the Scyphers slaying, they found there'd been a recent family clash. Julia Scyphers' daughter, Sandra Barton, had become involved with a man who seemed to Mrs. Scyphers to be inordinately close to one of Barton's young daughters. Mrs. Scyphers told friends she was so concerned that she'd arranged for both of her granddaughters to come live with her. Whether or not Mrs. Scyphers' fears were correct (no charges were ever filed to that effect), this incident led investigators to start looking at Brett C. Kimberlin.
Investigators had learned that Sandra Barton's pre-teen daughter had accompanied Kimberlin, in his 20's, on several out of state trips. When the girl moved in with her grandmother as a protective measure on the family's part, Kimberlin threatened to commit suicide.
But police still needed to collect more evidence in both the bombing and murder cases. After he was identified by a store-owner who'd unwittingly sold him the timer for one of the bombs, Kimberlin was subsequently reported to the U.S. Army by a nearby print shop owner who had become suspicious when Kimberlin wanted to reproduce military driver's licenses. And when he returned to that print shop wearing a security guard uniform with an illegal Department of Defense insignia, an Army investigator was present to bust him for violating the law. Police used the opportunity to obtain a warrant to search Kimberlin's vehicle, where they found the same timers and explosive chemical used in the bombs. A search of his family's property also turned up a buried steel tank that contained 1,000 lbs of marijuana. Investigators later found that Kimberlin and some construction workers had purchased explosives in 1975 to blast away the area so they could bury the tank. Those explosives were the same as those used in the Speedway bombings.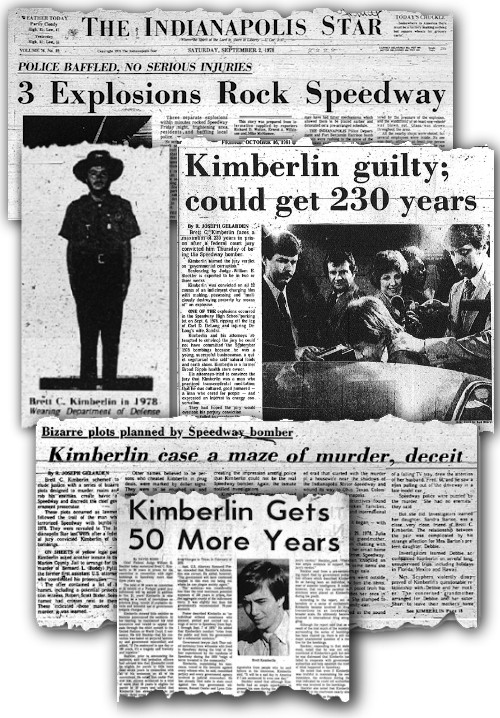 While police continued to strengthen their case against him for the bombings, Kimberlin got arrested on drug charges in 1979 in Texas after a plane delivery of 10,000 pounds of Colombian marijuana went awry. He and several others had been building a makeshift landing strip in the middle of the desert and rented a small airplane to collect their cargo, which had been abandoned by its scheduled pilot due to bad weather. When caught during the drug arrest, police confiscated an arsenal of weapons that included a TASAR (brand new technology at that time), pistols with silencers, AR15 rifles, poison tipped bullets, and makeshift security guard uniforms.
The incident gave investigators additional time to piece together more evidence from the bombing case, as well as the details of the murder case in which Kimberlin was a suspect.
Eventually, in three separate trials, Kimberlin was convicted of the bombings and sentenced to a fifty-year term of imprisonment for manufacturing and possessing a destructive device, and malicious damage by explosives with personal injury. He received a concurrent twelve-year sentence for impersonating a federal officer, illegal use of a Department of Defense insignia, and illegal use of the Presidential Seal, and a five-year term for receipt of explosives by a convicted felon. He was also given a four-year sentence by the United States District Court for the Southern District of Texas on an earlier, unrelated conviction for conspiracy to distribute marijuana. Kimberlin's sentences were aggregated by the Bureau of Prisons and treated by the Commission as a single aggregate sentence of 51 years, six months, and nineteen days.
The Scyphers murder case however has remained open. One suspect was identified and charged at the time, but the victim's husband, the only witness in the case, died of cancer two weeks later, leaving the authorities without a living witness.
Despite the evidence authorities were gathering, Kimberlin never would be formally charged with the murder. Still, he did serve nearly 17 years in prison for both the bombings and the drug case. After the conviction, more details were revealed about the case that unraveled a complex and creepy series of additional crimes that Kimberlin planned against numerous targets, most notably the chief government prosecutor, Bernard (Buddy) Pylitt, who happened to have political ambitions for governor. Indianapolis Star reporter Joseph Gelarden thoroughly documented the entire plot based on information and documents that were provided by the investigators after Kimberlin's conviction. It reads like a fictional made for TV movie, complete with a hit list of "six to be killed, two or three to be roughed up and one or two to be robbed," according to the article.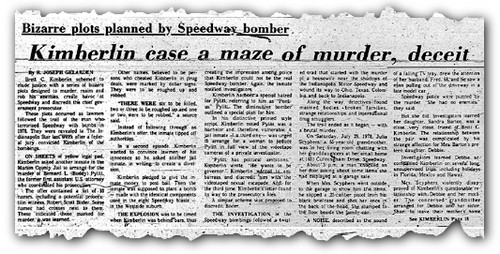 During his time in prison, Kimberlin certainly made a name for himself in a variety of other ways. His claim to fame as "the guy who said he sold pot to Dan Quayle" eventually hoisted him into the fictional character of political prisoner and supposed "victim" of the Republican establishment, a character the left was all too eager to create just before the presidential election of the senior George H. W. Bush. And while the pot-smoking allegations were later dismissed by the public as fiction, Kimberlin continues to this day to recycle that myth to the left.
As the Indianapolis Star recounted on September 2, 2010:
Five years later, in 1988, Kimberlin vaulted himself into the national news when he claimed he'd once sold pot to Dan Quayle, then a U.S. Senator and candidate for vice president. Quayle vehemently denied the charge and Kimberlin produced no proof except his own word, which wasn't worth much to those who knew this story. But most people outside of Indiana had never heard of Kimberlin and the national political press gave it some play for a while.

Kimberlin was paroled in 1994 after serving about 13 years of his 50-year sentence. But when he made no effort to pay the DeLong judgment his parole was revoked in 1997 and he went back to prison for about four more years, released again in 2001. Where is he now? Last we heard he was living in Bethesda, Maryland.
And living in Bethesda, Maryland he is. So what's Kimberlin doing today?
---
After Prison: Brett Kimberlin, Progressive Activist
Before being returned to prison in 1997 for violating his parole, Kimberlin had been lobbying Capitol Hill in 1994 on behalf of a fellow prisoner friend, David Sushansky, an illegal immigrant of the former Soviet Union, using his new-found fame to wrangle top legal support for Sushansky's "rights" as he waited in limbo in an INS detention camp. Sushansky's former country refused to take him back due to his heroin conviction.
Having been released from prison again in 2001, Kimberlin now runs the Justice Through Music Project (JTMP), which describes itself as "an organization that works with famous bands to inspire youth to participate in the political process by voting and supporting civil rights." IRS records identify JTMP as a community foundation "which receives a substantial part of its support from a governmental unit or the general public 170(b)(1)(A)(vi)," under the classification of "Voter Education and Registration." According to its most recent 990 Tax-Exempt Organization filing for 2008, on which Kimberlin is listed as a director, JTMP has received a total of over $1.3 million in public gifts and grants since 2005 for these efforts.
As we know, Kimberlin also co-founded Velvet Revolution with Brad Friedman of BradBlog. This organization is funded by, among others, the notable Tides Foundation. By 2007, Kimberlin had received notoriety as an "election and campaign reform activist," monitoring voting processes and raising electronic tabulation issues. He runs the very organization that today is demanding the prosecution of Andrew Breitbart, Karl Rove, and many others who happen to oppose progressive policy, while often basing accusations on little else than opinion.
Between the time he was released from prison and today, Kimberlin has been involved in a number of progressive causes through his organizations. Among these are election and campaign finance reform, electronic voting investigation, immigration rights, anti-war activism, and a variety of other civil rights causes.
Together with other progressives, Kimberlin's Velvet Revolution even championed the call to investigate the death of Michael Connell as a potential homicide. Connell, a former IT consultant for Karl Rove who'd also developed Internet strategies for the 2000 and 2004 Bush-Cheney campaigns, was killed in December 2008 when the plane he was piloting alone crashed on his way home to Ohio from Washington DC. Velvet Revolution and other progressive sites like BradBlog have insisted it was a deliberate act of sabotage to protect White House "secrets." Official NTSB reports eventually showed that there was no evidence of sabotage, and cited the pilot's spatial disorientation as the cause of the crash.
Some progressives maintain to this day that Kimberlin was persecuted by a Republican conspiracy hell-bent on silencing him from speaking to the press about his allegations that he sold Dan Quayle pot. It's conspiracy theory that has since been spun into urban legend. But court records from the US Court of Appeals, Sixth Circuit clearly spell out the truth.
As for Kimberlin's allegations about Vice President Quayle supposedly creating an appearance of political vindictiveness in the Commission's decisions, the district court correctly concluded that Kimberlin, not the Commission, created this appearance. He has neither proven nor alleged that the Commission's decisions were actually influenced in any way by his statements about the Vice President–indeed, Kimberlin's counsel did not mention Quayle during oral argument. In the absence of proof or an allegation of actual vindictiveness, no lawful basis exists to set aside the Commission's sentence. Alabama v. Smith, 490 U.S. 794, 799-800, 109 S.Ct. 2201, 2204-2205, 104 L.Ed.2d 865 (1989) (where Pearce presumption does not apply, burden remains upon defendant to prove actual vindictiveness). Were it otherwise, any prisoner could make public accusations prior to a Commission's decision, and then argue that the decision was tainted by an appearance of vindictiveness.
Supporters insist that Kimberlin was exonerated under a "special secret deal" of some sort with the Justice Department then his parole revoked as a conspiracy by Karl Rove and the first Bush administration to keep Kimberlin quiet. The truth of the matter is that Kimberlin's parole was revoked in 1997, as noted earlier, because he refused to make payments on the DeLong judgment in relation to the Speedway bombings. No such exoneration exists.
Much of this history and Kimberlin's creative imagination is captured in the book by Mark Singer, "Citizen K: The Deeply Weird American Journey of Brett Kimberlin." Singer, who initially believed Kimberlin's story and reported on his claims to have sold marijuana to Dan Quayle while a student in law school, eventually realized he'd been conned and wrote a repentant book in response. Kimberlin also received a portion of the advance for the book. In a review for Salon, Charles Taylor summed up the book as follows:
The farce Mark Singer describes in Citizen K might be called a journalist's version of the Stockholm Syndrome, the psychological phenomenon where captive bonds with captor. The irony in this case is that Singer's "captor" was himself a prisoner, Brett Kimberlin, a suspected murderer and bomber and a convicted pot smuggler and dealer. In the weeks before George Bush's 1988 election, Kimberlin told the press that one of his early '70s customers was then-law-student "Danny" Quayle.

In 1992, Singer, a New Yorker staff reporter, wrote a 22,000-word article for the magazine detailing Kimberlin's claims that Bureau of Prisons officials had denied his constitutional rights by preventing him from making his claims about Quayle to the press. The article led to the deal for this book, a deal that gave Kimberlin a cut of the profits. But, as Singer investigated his subject's drug-running past – and transformation into a jailhouse lawyer with a prodigious taste for litigation as well as a would-be player on the national political scene – he felt a dawning certainty that he had been had.

Citizen K – the title refers both to Kimberlin's view of himself as Kafkaesque victim and to his talent for the noble posturing of Charles Foster Kane – is a very sly piece of work. It's not often that journalists, the most defensive of professionals, admit to being conned. Singer alerts us from the start that there's something off in Kimberlin's stories, but by allowing him the room to spin his tales, he lets us experience Kimberlin's seductive powers. Singer's public revelation that he was a willing sucker will almost surely prompt other journalists to claim that they would never have been fooled. But his demonstration of how easy it is to be taken in by a master prevaricator like Kimberlin should also make them uncomfortable. Here is a con man who can convert every evidence of his guilt into proof of his innocence, who can flatter the press and lawyers who take up his case that they are serving not only their profession but American justice…
---
Repudiation?
Today, the impact of Kimberlin's influence can easily be seen online in progressive initiatives. He's often praised for his efforts to bring about peace in the world, his anti-war song/video "Happy Springtime: Bush is Over" frequently touted on progressive websites. Be sure to note the "BrettSongs/Innocent Music" credit at the end. (Does anyone else see the irony in this?)
[youtube Jco4etlHwaE nolink]
If you take a look at the AmericanCrossRoadsWatch website, an initiative of Kimberlin's and Brad Friedman's Velvet Revolution that intends to intimidate the right-leaning political advocacy organization American Crossroads, you'll see that its partners include notable groups like StopTheChamber.com, an anti-Chamber of Commerce group initiated by Change to Win unions, and Democrats.com, among many others. The buzz of going after these Velvet Revolution targets has got everyone from Rachel Maddow to David Axelrod jumping on the bandwagon to try and expose what they perceive as the evil, scary "Shadow RNC."
So how is it that 18 years later, here we are again, the media, and now the blogosphere, are being fooled by the same character? While the left falsely accuses the Tea Party and similar groups of being racist and violent, here they have organizations founded by a convicted terrorist leading progressive campaigns that are smearing the right, once again.
Has anyone in the mainstream media or in the progressive blogosphere bothered to take notice that this infamous character who once fooled noted journalists into launching a false right-wing smear campaign is now at the center of a number of progressive campaigns to stifle the right?
Is anyone challenging the popular progressive bloggers from sites such as Crooks and Liars and BradBlog who have been riding the coattails of Kimberlin while at the same time hiding behind the anonymity of his organizations' names? While some have pushed stories that have been suspected to have been sourced by Kimberlin, the media turns a blind eye to this individual's long, criminal history of lying and spinning tall tales. Perhaps we should be revisiting some of those stories and their sources.
And how about the famous bands and musicians who team up with his organizations? Are they even aware of Kimberlin's history?
Why are notable left wing philanthropy organizations like The Tides Foundation (which also funds Media Matters) funding a group associated with a convicted domestic terrorist?
While the left-wing media spends countless hours of its production time trying to create the picture of impropriety around topics like American Crossroads and Andrew Breitbart, why not spend even just one hour researching the groups accusing such impropriety?
Will anyone come out and repudiate their association with a convicted terrorist? In the end, this isn't so much about Kimberlin, but about the hypocrisy of the left.
And of course, what must the citizens of Indianapolis think about Kimberlin's recent success, all of the money his organizations have been awarded by donors who seemingly embrace a convicted criminal who caused their community such devastation and heartache? What must DeLong's family think? In 2007, when Time Magazine featured Kimberlin in its "Wizard of Odd Story," noted Indianpolis Star reporter Joe Gelarden, who closely covered all of the Kimberlin cases in great detail at the time, had something to say about the public's embrace of Kimberlin:
Brett Kimberlin is a terrorist. While I firmly believe in the doctrine of redemption and conversion, I remember a few things about Brett that give me great pause.

First, he was convicted of perjury – in federal court – before he got out of high school. Think about that for a moment.

Second, he was not convicted of smoking a couple of joints when he was in high school. He was a major drug dealer who officials believe got into terrorism to throw officials off the trail of a murder.

Third, he planted a series of bombs in Speedway, Indiana that not only endangered a lot of lives, but, when a guy bent over to pick up a gym bag in a school parking lot – Carl DeLong just wanted to turn in the bag to the school because he thought it contained a pair of $50 sneakers – it exploded.

The blast shattered DeLong's body and that of his lovely wife Sandra.

These assertions are not just words on some blog, they are in the record of the state and federal courts…
I think that pretty much says it all, from a respectable Indianapolis journalist who lived through the story himself.
---
Follow the entire Kimberlin history as it happened at the Indianapolis Star:
"The Speedway Bomber Part 1" and "Part 2."
"Kimberlin Guilty; Could Get 230 Years" – The Star, 10/16/1981
"Kimberlin case a maze of murder, deceit" – The Star, 10/18/1981
"Kimberlin Gets 50 More Years" – The News, 12/30/1981
"Mystery Still Clouds Kimberlin Case" – The News, 12/31/1978