The Islamic State's affinity for social media takes another grim turn, as users of an ISIS message channel can now download graphics of Islamist flags, beheadings, and immolations to spice up their chat sessions and text messages.
The Foreign Desk reports that ISIS has been making use of a messaging app called Telegram Messenger, which includes security features such as end-to-end encryption, relative anonymity for users, and messages that delete themselves over time, plus the ability to transfer very large files, which is appealing to the purveyors of jihad videos. At least one of their channels is meant for English-speaking users.
"ISIS has been posting frequent updates using the app, showing everyday life under the Caliphate, the battles, the martyrs, the implementation of Sharia law – public punishments, burning cigarettes, seizing and destroying alcohol, while at the same time encouraging subscribers to invite friends to join the channel," writes TFD.
A warning from the Middle East Media Research Institute (MEMRI) says that Telegram's channels cannot be monitored or disrupted, and new jihadi channels are multiplying rapidly, attracting thousands of followers.
An October 12 article at International Business Times found ISIS doubling its number of followers on Telegram in less than a week. The very fact that security officials, such as FBI Director James Comey, have complained about Telegram in public is said to have inspired jihadis to use it. MEMRI notes that jihadis have been using their accounts on other social media platforms, such as Twitter, to direct audiences to their secure Telegram channels.
MEMRI contacted Telegram about the situation, and was told that while the service considers all chat sessions the exclusive private property of the participants, they would investigate "sticker sets" (i.e. graphics collections) and bots that might be illegal.
That is where the jihad sticker sets come in: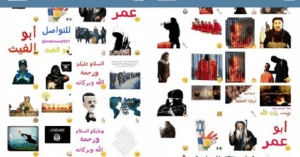 Among the images in the collage above is the beheading of American hostage James Foley, and the burning of Jordanian pilot Moaz al-Kasasbeh while he was imprisoned in a cage.
MEMRI has a full list of jihadi Telegram channels and bots here, including several bots that constantly push out propaganda from known ISIS and al-Qaeda sources, along with helpful information for supporters, such as tutorials on graphic design… and military training for aspiring "lone wolf" attackers.