Lou and Linda Pelletier took their daughter Justina to Boston Children's Hospital on their doctor's advice to see one of his colleagues who specializes in gastrointestinal disorders. 
Once Justina was admitted, a new doctor took the case instead, concluded that Justina's symptoms might be phantoms caused by a psychological disorder – possibly caused by the parents – and brought in government agents who persuaded a judge to commit Justina to the hospital with almost no contact with her family.
That was thirteen months ago, but most Americans have never heard of this heart-wrenching story because Judge Joseph F. Johnston of Suffolk Juvenile Court also issued a gag order: the parents and their lawyers were forbidden from speaking to the media.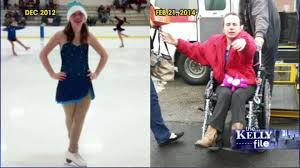 Breitbart News interviewed attorney Mat Staver, the chairman of Liberty Counsel, about this case. He explains the plight of Justina Pelletier, who was fourteen years old when this all began. Justina – now age fifteen – was a competitive ice-skater and seemed healthy, albeit with some learning issues resulting from her premature birth. However, she started experiencing fatigue and then couldn't eat, so her parents took her to Tufts Medical Center.  
These are the facts as relayed by Staver, parts of which Breitbart News has corroborated with court documents and with a Boston Globe story. 
Staver begins:
Prior to her admission to Boston's Children's Hospital, Justina was being treated by Dr. Mark Korson associated with Tufts Medical Center, and being treated under a working diagnosis of mitochondrial disease. Korson explained, as does the Mayo Clinic, that your cells are not transmitting enough energy, and the lack of energy impacts different parts of your body in different ways.
Korson referred Lou and Linda to his former colleague, Dr. Alejandro Flores, who had previously worked on Justina's case and was now at Boston Children's Hospital. When the parents got there and Justina was admitted, a new doctor took the case before Flores could see Justina. 
According to Staver:
Boston Children's Hospital is a teaching hospital for Harvard. Children who are 'wards of the state' are by state law subjects of research for teaching hospitals. So a young doctor and a pediatrician disagree with Justina's treating physicians and come up with somatoform disorder, which is where a person convinces herself that she's sick. They change the diagnosis from physical to mental, and suggest it's all in her head.
Breitbart News was told the first physician is Dr. Jurriaan Peters, a neurologist who had finished his medical training just seven months earlier. Peters brought in Dr. Simona Bujoreanu, a psychologist. Although Tufts had been treating Justina for a physical condition for a year, Peters and Bujoreanu began to believe the problem was mental rather than physical.
Peters evidently never called Korson or Flores, and the situation became very tense with Lou and Linda as the new doctors explained they wanted to discontinue some of Justina's medical treatments (of which there were several).
As the situation deteriorated, a pediatrician, Dr. Alice Newton, was brought in on the case. Breitbart News is told it was Netwon who made the diagnosis of somatoform disorder.  
According to Staver, on Feb. 14, 2013, hospital staff told the parents that the treatment would focus on psychological treatments, not medical, and that the parents were not permitted to seek a second opinion. When Lou and Linda expressed grave concern about this situation and their repeated requests for Dr. Flores to see their daughter were not granted, they told hospital staff they wanted Justina discharged so they could take her back to Tufts.
The staff said no. They expressed concern about Linda's assertive behavior regarding specifics of Justina's treatments and claimed that Justina's symptoms seemed to worsen when Linda was present. They called in the Massachusetts Department of Children and Families (DCF), opening an investigation into possible child abuse.
At that point Lou called 911, saying that the staff was attempting to kidnap his daughter by not letting them take her from the hospital. When police arrived, DCF asserted its jurisdiction, and Justina stayed another night at the hospital. The matter went to court, where Judge Johnston allowed Boston Children's Hospital to keep Justina.
When Staver heard about the situation, his first reaction was, "Is this the parents? Is there something else going on here? But the more I investigated the more it became clear that DCF is out of control."
Describing the situation, Staver sums up, "So this psychologist raises the possibility that Justina's symptoms were fake, and the parents must be responsible, when all they are doing is following the advice of their expert physicians."
When local media showed up in the courthouse lobby before a hearing, Johnston dropped the hammer, issuing the following order obtained by Breitbart News:
I will issue a gag order. No one is to talk about this case at all to any media, whether it is local here or local to the family in Connecticut. I will ask [officers] to inform if media come that I am doing this now, and the order is that they are not to be in this building.
There are likely constitutional problems with such an order. It should violate the First Amendment to tell a party and their lawyers that they cannot publicly discuss this situation at all for a prolonged period of time. Even if such an order is ever permissible, it should violate the Fourteenth Amendment Due Process Clause to impose it without any advance notice or opportunity to express legal arguments against such an order.
That's why so few people have heard about this case. Staver flew to Boston last Monday to be admitted as an additional lawyer on the case. DCF objects, which ironically is the only reason that Staver is currently not bound by the gag order and that he can talk to Breitbart News and other media outlets.
Staver explains that the family is only allowed to see Justina for one hour per week and only under strict supervision. Last week during that one hour, there were four DCF workers and a police officer all present when Linda was with Justina. They are not allowed to take photos or use a cell phone.
Nor are they allowed to go in as a full family. The 92 year-old grandparents have not seen Justina for thirteen months, and one of Justina's sisters (she's the youngest of four) has not seen her since May.
Staver adds, "She's now two full grades behind her class. She has gone from ice-skating competitions to being in a wheelchair." 
The family is Roman Catholic, yet Staver says Justina has not been allowed communion for this entire thirteen-month period.
The Juvenile Court has scheduled a hearing on Justina's status and care for Mar. 17, though Staver says the family is gravely concerned about her deteriorating health in the meantime. The judge has also scheduled a hearing regarding the gag order for Mar. 24.
Staver argues, "If her condition were not real, if it were mental and not physical, then she should have gotten better; instead she has gotten worse." He says he asked the parents, "What do you want out of this situation?" He recounts they answered, "We want to take our daughter back to Tufts Medical Center so she can receive the treatment she needs. And we want our daughter to be reunited with the family."
Ken Klukowski is senior legal analyst for Breitbart News. Follow him on Twitter @kenklukowski.