"Young niggas such as myself are fully hell bent on inciting riots," and Donald Trump's election in November would mean there "aint no more rules," say messages on Twitter to "white people," from Tef Poe, a noted pro-Palestinian rap-artist and Black Lives Matter activist.
Mr. Poe's recent Tweets read in full.
https://twitter.com/TefPoe/status/710167227627147266
Trump wins aint no more rules fammo. We've been too nice as is.

— Tef Poe the ὁ (@TefPoe) March 16, 2016
"Fammo" is likely a reference to Mr. Poe's associates and extended family members.
Mr. Poe was a prominent Ferguson activist who was closely associated with Ashley Yates. Mr. Poe and Ms. Yates are the co-founders of the social justice Hands Up United, who also sell T-Shirts and accept donations on their website.
Ms. Yates recently posted a flyer on Twitter that described appropriate clothing to wear in the riot. As Breitbart News reported, that flyer was written in both English and Arabic.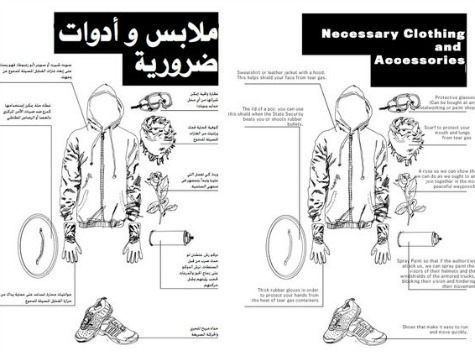 Mr. Poe travelled to the Middle East as part of a "solidarity demonstration" with prominent Black Livers Matter activists in 2015. That trip
A description of a video for their trip reads:
In Nazareth, the delegates decided to do a solidarity demonstration as a call for support of the Boycott, Divestment, and Sanctions (BDS) campaign that was called for by Palestinian civil society in 2005.

This demonstration was coordinated by Patrisse Cullors, co-founder of #BlackLivesMatter, and features "Ella's Song" by Sweet Honey in the Rock, sung by Charlene Carruthers, National Director of the Black Youth Project 100 and Dream Defenders' Executive Director Phillip Agnew; poet, artist, and New York Justice League member, Aja Monet; rapper and Ferguson/Hands Up United organizer Tef Poe, and Ferguson/ Hands Up United organizer, Tara Thompson. Dream Defenders Ciara Taylor, Steven Pargett, Sherika Shaw, and Ahmad Abuznaid, journalist Marc Lamont Hill, New York Justice League organizers Cherrell Brown and Carmen Perez, and Maytha Alhassen, a University of Southern California Doctoral Candidate, are seen preforming the debke, a traditional Palestinian folk dance.
In 2014, Hands Up United co-founders. Poe and Yates took over a rally. As the description for this video says:
Toward the end of a #FergusonOctober event with a slew of clergy, black leaders and a keynote by Dr. Cornel West, a group of #Ferguson youth interrupted the speeches in protest of their lack of inclusion. They yelled out "Let us speak, let us speak!" With speakers on the program still left, they gave up their speaking time to give the youth the opportunity to grace the mic.
The video's description says that it "vividly express gritty street level frustration and unrelenting rebellion against the widespread systemic patterns of racial oppression and police brutality-you will never get closer to the heart of the Ferguson protest than this!"
In the video, Tef Poe gets applause when he suggests that the Ferguson protests needed more gang members, including the Bloods and the Gang, saying "When we out there in the street, it ain't the brother in the suit that's protecting me."
At another point, discussing the police shooting of Mike Brown that led to the riots, arson and looting in Ferguson, Mr. Poe says he believes Brown's friend Darnell about the shooting and the claim that Brown said said, "Hands up, don't shoot." Mr. Poe says, "Darnell told me that he died with his hands up, so I believe Darnell. So I don't need Don Lemon to confirm what happened."
The Department of Justice found that Mike Brown did not, in fact, have his hands up but that instead, he had assaulted a police officer and that incident led to his shooting death while he charged at the police officer.
Mr. Poe is currently in Austin, Texas doing a number of gigs connected to the South by Southwest music festival. For those interesting in attending, a complete schedule of his appearances is linked here Mr. Poe will be appearing with fellow artists such as The Knuckles and Black Spade.
Follow Breitbart News investigative reporter and Citizen Journalism School founder Lee Stranahan on Twitter at @Stranahan.