Indiana women have formed an activist group called "Periods for Pence" to protest an abortion law signed by Gov. Mike Pence (R).
They encourage women to call his house to discuss their menstrual cycles.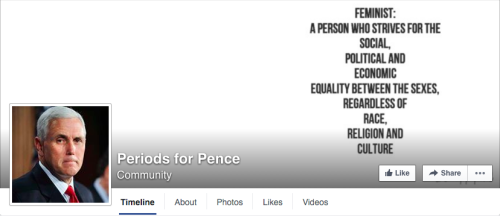 HEA 1337 states that officials must inter or cremate "the remains of aborted or miscarried fetuses." It also does not allow a woman to abort her baby "solely due to fetal abnormality, including Downs syndrome, as well as sought solely on the basis of race or gender."
We're one on one w/ a fan of the "Periods for Pence" Facebook page… It's a talker. I'll tell you more @ 10 @FOX59 pic.twitter.com/fnt7oiQDtI

— James Gherardi (@JamesGherardi) April 1, 2016
"The people who are joining this website or this Facebook page weren't going to vote for him anyhow," explained Republican Strategist, Mike Murphy. "Right to life in this state is a winning issue, hands down. Everybody believes in women's rights surely, but what they forget is there's a life there who's not being spoken for."
The governor's office confirmed they received phone calls. The "Periods for Pence" Facebook page claims the office eventually shut down their phones.
Others have posted their conversations with the office.
"We are always willing to take calls from constituents who have questions, concerns or are looking for assistance," Pence's office told the media.