In 2011, Republican 'Young Guns' former Majority Leader Eric Cantor, Kevin McCarthy, and Paul Ryan went to Facebook's headquarters to meet with Sheryl Sandberg and Mark Zuckerberg.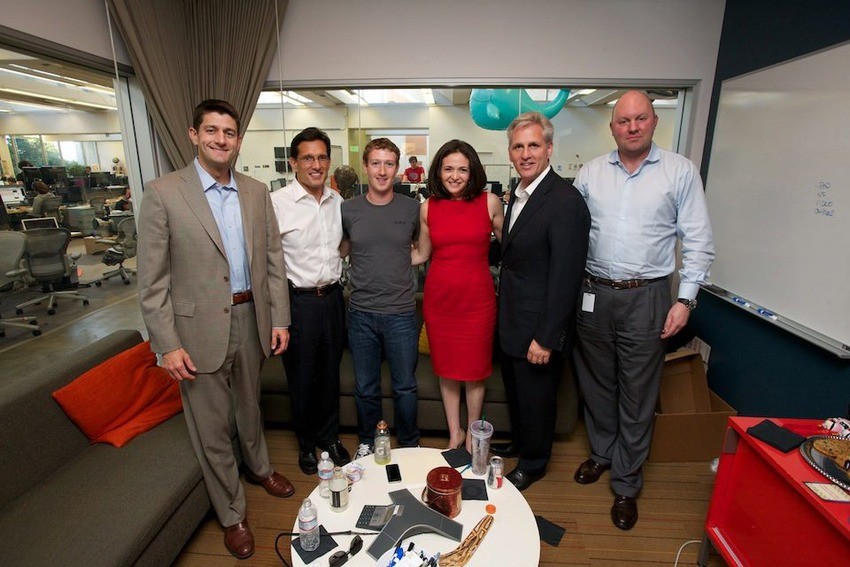 During a public "Facebook Live" discussion moderated by Sandberg, the 'Young Guns' praised Facebook and social media for allowing Americans to bypass the spin of corporate media. As The Hill reported at the time:
The lawmakers said communicating through Facebook, Twitter and other websites allows them to bypass the mainstream media and discuss the issues that they believe really matter.
"[Social media] takes the spin out," McCarthy said. Cantor added:
We would like to see this kind of innovation everywhere, and we certainly would like to see this kind of innovation take hold in Washington, so we can then allow for a better, better performance of our government and hopefully, hopefully, begin to look at a future that really holds a space for a lot more Facebook and holds a future for the kind of limitless opportunity and unlimited inclusion that Facebook stands for.
While immigration reportedly did not come up during the public "Facebook Live" discussion, Cantor, McCarthy, and Ryan all support the expansive immigration policies pushed by Facebook billionaire founder Mark Zuckerberg and his lobbying firm FWD.us. All three 'Young Guns' endorsed the 2014 House Republican Leadership's amnesty plan, known as the "House immigration principles"  Only 19 House GOP lawmakers were willing to publicly put their names down as endorsing these principles.
Indeed, Zuckerberg's lobbying firm has even run ads boosting Paul Ryan for his position on immigration.
In 2013, an affiliate of Zuckerberg's lobbying firm ran an ad defending Paul Ryan for supporting Marco Rubio's immigration agenda. The ad, which aired on conservative talk radio, was targeted at conservative voters who oppose Zuckerberg's immigration agenda.
In the ad, the decidedly pro-amnesty lobbying group claimed that Rubio and Ryan oppose amnesty. "What we have now is a national security nightmare waiting to happen, but conservatives like Marco Rubio and Paul Ryan… [are] working on plans to change that," the ad narrators said— assuring listeners that there would be "no amnesty, period."
Politico reported that in a separate television ad aimed at Ryan's Wisconsin constituents, "the spot from the FWD.us affiliate begins with a picture of Ryan and says, 'Amnesty? Not a chance,' and goes on to say the House budget chairman is looking at a 'conservative solution' to the issue of immigration."
However, contrary to the ad, Ryan supports giving citizenship to illegal immigrants and has a  two-decade long history of pushing open borders immigration policies.
Likewise, Zuckerberg has an extensive record of lobbying for policies that would open America's borders.
Conservative thought-leader Jeff Sessions has described Zuckerberg as "the top spokesman for expanding the admission of foreign workers." In 2014, Mark Zuckerberg went to Mexico to criticize America's immigration policy and called for expanded immigration alongside Mexican billionaire Carlos Slim. In his famous "Masters of the Universe" speech on the Senate floor, Sessions delivered a swift rebuke of Zuckerberg:
Mr. Zuckerberg maybe doesn't know there is a deep American tradition — a tradition in most developed nations — that you don't go to a foreign capital to criticize your own government. I suppose he doesn't know about that. They probably didn't teach him about that when he was at one of the elite schools he attended. This is what he said in Mexico City: 'We have a strange immigration policy for a nation of immigrants. And it's a policy unfit for today's world.' Well, the 'masters of the universe' are very fond of open borders as long as these open borders don't extend to their gated compounds and fenced-off estates.
Sessions went on to note that, according to reports, Zuckerberg "'spent more than $30 million buying four neighboring houses for privacy.' […] That is a world the average American doesn't live in," Sessions said.
In 2013, Zuckerberg went so far as to liken the struggles of foreign nationals illegally residing on U.S. soil to the struggles of black Americans, who have suffered through slavery and Jim Crow laws. Zuckerberg told ABC that illegal immigration is "one of the biggest civil rights issues of our time." Zuckerberg has also given millions of dollars to provide free college to illegal aliens — even as American students are drowning under an avalanche of student loan debt. In 2014 BloombergTV interview, Joe Greene, the former president of Zuckerberg's lobbying firm, suggested that foreign tech workers are "truly great," while Americans are "just sort of okay."
Following Eric Cantor's historic ousting from Congress at the hands of now-Congressman Dave Brat, Salon wrote a piece which asked: "Was Mark Zuckerberg the kiss of death for Eric Cantor?"
At the time, Salon wrote:
Two weeks before House Majority Leader Eric Cantor lost his primary election, his challenger Dave Brat launched a campaign ad featuring Cantor with his arm around the shoulders of Facebook CEO Mark Zuckerberg. The text of the ad read as follows:

'There are 20 million Americans who can't find a full-time job. But Eric Cantor wants to give corporations another 20 million foreign workers to hire instead.'

The purpose of the ad was to link Cantor to immigration reform, a cause that Zuckerberg (and much of Silicon Valley) considers a No. 1 political priority. And while we can't say for sure whether the issue of immigration reform was the knife in Cantor's back, the subtext of the ad is intriguing: The Tea Party sees Silicon Valley as toxic. Mark Zuckerberg is an enemy of the people! […]  Silicon Valley thinks of itself as the epitome of progress, but that opinion is not shared in Virginia's 7th Congressional District. How this plays out in the midterm elections and the Republican presidential primaries will be quite illuminating.