Uber is getting love and praise from Islamic groups after announcing it has quit a White House economic advisory group to protest President Donald Trump's popular new immigration reform.
"Sending out a statement of opposition isn't enough when the President is attempting to criminalize and demonize an entire religion," said the statement from an Islamic group called Muslim Advocates. "Immigrants and refugees are suffering … If [other] companies want to be on the right side of history and the right side of their customers, they'll join Uber in stepping down from this council immediately."
In January, Trump issued a popular policy order curbing the inflow of refugees from seven of 57 Islamic countries, and also announcing that officials will exclude would-be immigrants if they carry "hostile attitudes." The excluded will be migrants who:
do not support the Constitution, or those who would place violent ideologies over American law … those who engage in acts of bigotry or hatred (including "honor" killings, other forms of violence against women, or the persecution of those who practice religions different from their own) or those who would oppress Americans of any race, gender, or sexual orientation.
Establishment media outlets, as well as Democrats, describe the popular reform as a "Muslim ban."
The Muslim activists who are leading the backlash against Trump's reform complain that the "hostile attitudes" in the reform are code words for Islamic beliefs and are intended to block Islamic immigration. However, the Islamic activists decline to debate the written Islamic doctrines that endorse and encourage such hostile and anti-women attitudes. 
Uber's exit was also praised by Islamic radical Linda Sarsour.
Uber CEO just bowed out of Trump's Advisory Board. The people have spoken. Keep organizing. It's working. https://t.co/kyXvrN7Bux

— Linda Sarsour (@lsarsour) February 3, 2017
Trump's supporters say the focus on excluding hostile attitudes meets his campaign promise to Americans that the nation will exclude Islamic jihadis, and also "Buy American and Hire American."
On Thursday, Uber's chief, CEO Travis Kalanick announced his decision to quit Trump's advisory council. "Earlier today I spoke briefly with the President about the immigration executive order and its issues for our community. I also let him know that I would not be able to participate on his economic council," said a statement from Kalanick. 
Joining the group was not meant to be an endorsement of the President or his agenda but unfortunately it has been misinterpreted to be exactly that. The implicit assumption that Uber (or I) was somehow endorsing the Administration's agenda has created a perception-reality gap between who people think we are, and who we actually are. The executive order is hurting many people in communities all across America. Families are being separated, people are stranded overseas and there's a growing fear the U.S. is no longer a place that welcomes immigrants.
On Jan. 29, Kalanick sent a message opposing what he called Trump's "wrong and unjust immigration ban," which he addressed to foreign-born Uber drivers. 
Our CEO's reaction to immigration order: "We'll compensate drivers impacted by the ban pro bono for next 3 months." https://t.co/meCT1ahEjH

— Uber (@Uber) January 29, 2017
The Muslim Advocates group hit the news in December 2015, when then Attorney General Loretta Lynch spoke at its annual fund-raising dinner, and threatened prosecution of Americans who criticize Islam's violent and anti-democratic doctrines. Lynch said:
Now obviously this is a country that is based on free speech, but when it edges towards violence, when we see the potential for someone … lifting that mantle of anti-Muslim rhetoric … When we see that, we will take action
The Muslim Advocates group also played a leading role in prodding President Barack Obama's deputies to issue a directive ordering all FBI counter-terrorism training to pretend there is no link between Islamic jihad terror and Islamic jihad teaching in the Koran and Muslim scriptures. The gag order was imposed in 2011 after the group requested the FBI stop learning about Islamic motivations.
Since Trump announced his popular immigration reform, Islamic and progressive groups — aided by the media and many Democratic Party leaders — have pressured companies to announce their opposition.
Many companies have joined the backlash, partly because the nation's very high levels of annual immigration have provided them with many cheap employers and welfare-aided customs.
Each year, the nation imports 1 million new immigrants, who compete for jobs against the 4 million young Americans who turn 18 each year. All told, immigrants now provide one in seven customers around the nation.
Uber also imports hundreds foreign white-collar contract workers for jobs sought by young American graduates. Nationwide, many companies and universities employ roughly 1 million foreign contract-workers each year. In 2013, Uber asked for visas to import eight of the foreign contract-workers. In 2016, the company asked to import 505 contract workers for a variety of jobs that could go to Americans, according to the MyVisaJobs.com website.
The company also sought Green Cards for up to 87 white-collar employees in 2016. If they get the Green Cards, they won't have to go home when their visa expires, but will remain in the United States. Each year, the federal government gives out up to 150,000 Green Cards to the foreign hires at U.S. companies.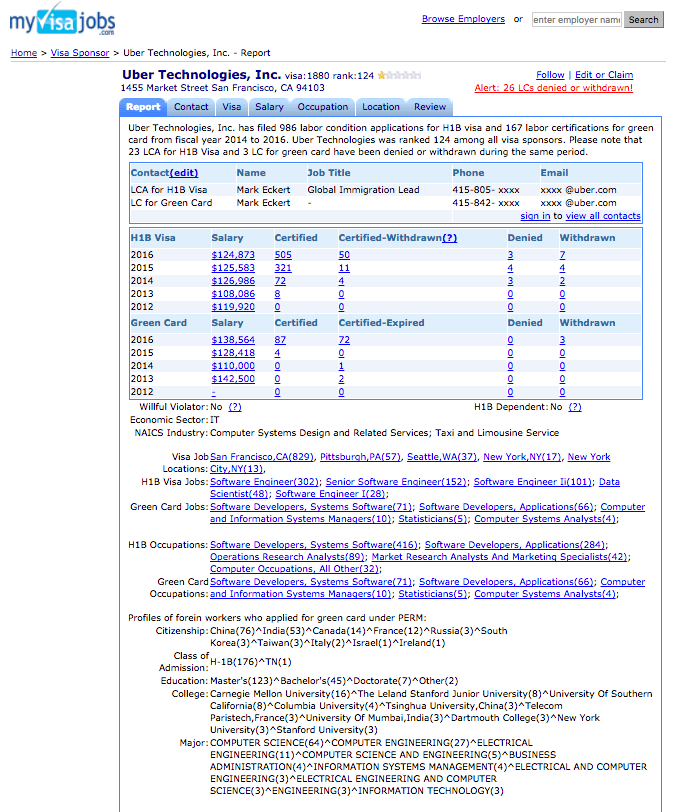 Follow Neil Munro on Twitter @NeilMunroDC or email the author at NMunro@Breitbart.com