Joseph D. Jones and Edward Schimenti, who went, respectively, by "Yusuf Abdulhaqq" and "Abdul Wali," were arrested by the FBI in Zion, Illinois Wednesday and charged with providing material support for terrorism.
The men are alleged to have become involved with two undercover FBI agents posing as fellow ISIS sympathizers and another man claiming to be an Iraqi with close ties to the brutal terrorist pseudo-state. Jones and Schimenti allegedly agreed to provide cell phones to be used as detonators for ISIS's improvised explosive devices (IEDs), and they drove one of the undercover agents to O'Hare International Airport so he could travel to Iraq and wage jihad.
Jones and Schimenti are both American citizens and residents of Zion, according to a press release from the National Security Division of the Department of Justice. The 77-page criminal complaint, unveiled at their initial appearance Wednesday afternoon, alleges years of online statements espousing fundamentalist Islam. Jones is even alleged to have used the email address "Only1Not3@gmail.com," presumably a reference to Islam's rejection of Christian trinitarianism.
Both men are alleged to have extensive histories of expressing support for ISIS and its extreme brand of Wahhabist Islam. They adopted their Arab-sounding names, Yusuf Abdulhaqq and Abdul Wali, as online social media handles. Posts from their Facebook and Google+ accounts are alleged to have included:
Brother there is no such thing as a moderate Muslim. That is the name Kaffirs [non-believers] give to weak minded material loving sellouts. The intention of these people is to put kafir in a ruling position instead of Allah.
Islamic State will control your country, matter of fact, Islam will dominate the world!!
and:
May Allah reward this fierce mujahideen who uses his life, body, and earthly might to make Allah's Law govern all, may Allah reward him for striking fear in the hearts of the taghut and the disbelievers in general.
Both defendants also are alleged to have downloaded multiple ISIS propaganda speeches, videos, and manuals, using their social media accounts to share them.
According to the DOJ press release, the men became involved in their criminal conspiracy when they came into online contact with investigators from the Chicago Joint Terrorism Task Force, a collaboration between the FBI and local law enforcement agencies. Believing themselves to have met other jihadis from the Chicagoland area, they shared pictures of themselves posing with ISIS flags and Arab keffiyeh head-wrappings at the Illinois Beach State Park, a popular tourist destination in Zion. "Support from dar ul kuffar [the land of infidels]!" read the caption.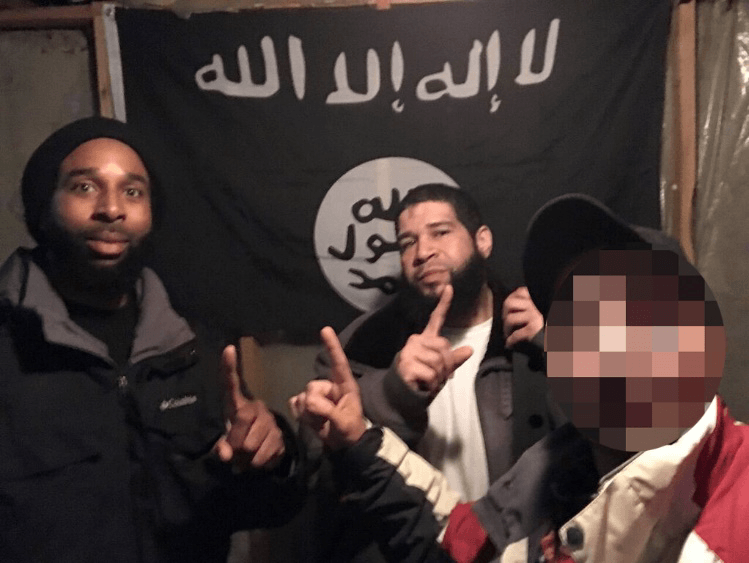 The defendants later posed with the FBI's cooperating civilian in front of an ISIS flag, all three making the one-fingered salute signifying strict-monotheism popular among Wahabist Muslims and Jihadis. The photograph is alleged to have been taken to send as a sign of solidarity to the man assisting the FBI's brother, whom Jones and Schimenti were told was an ISIS fighter.
Jones and Schimenti's relationship with investigators blossomed into a criminal conspiracy when they agreed to provide the phone-detonators and assist one of the undercover agents in reaching ISIS territory to fight for the group. It is this material assistance with which they are charged. Both men face up to 20 years in federal prison.
Wednesday's arrests are hardly the first ISIS-related charges in the seemingly unlikely American Midwest. Last year, Illinois saw one of its own National Guardsman arrested in a similar conspiracy to support the global terror network. In nearby Minnesota, ten men were convicted of trying to get into Syria to fight for ISIS. The terrorists themselves claimed in 2015 to have over 70 fighters from 15 different states.