After Melania Trump met with Pope Francis in the Vatican Wednesday, her spokeswoman confirmed that the First Lady is indeed a Roman Catholic, the first to occupy her post since Jackie Kennedy.
The last time the United States had a Catholic as First Lady was during the presidency of John F. Kennedy, whose wife Jackie Kennedy—like him—was a Roman Catholic. When Melania moves into the White House together with their son Barron this summer, she will become the first Catholic occupant of the White House since the Kennedy era.
On meeting the Pope Wednesday, Melania asked him to bless her rosary and later visited the Bambin Gesù (Baby Jesus) pediatric hospital, where she met with young patients and their families, prayed in a chapel and laid flowers at the feet of a statue of the Virgin Mary.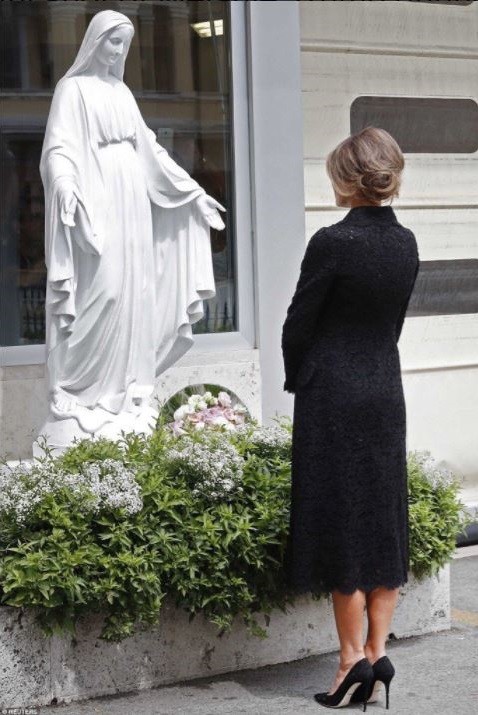 Later that day, the First Lady's spokeswoman Stephanie Grisham confirmed to DailMail.com that Melania is a practicing Catholic.
Having grown up in Slovenia, then part of the Communist and officially atheist Soviet bloc, it is unclear when Melania was baptized a Catholic. President Trump is a life-long Presbyterian, and he and Melania were married in a Palm Beach Florida Episcopal church.
Melania's father was a nominal member of the Communist Party in order to be able to obtain employment.
In February, Melania kicked off a presidential rally in Melbourne, Florida, by reciting the Lord's Prayer, beginning with the typical Catholic invocation "Let us pray."
The first lady later tweeted about the development with the hashtags "#Blessings" and "#Faith." In another tweet, she sent "blessings to all" after her audience with the pontiff, which she described as an "honor" she will never forget.
Today's visit with His Holiness Pope Francis @Pontifex is one I'll never forget. I was humbled by the honor. Blessings to all. pic.twitter.com/NiomkFQqJb

— Melania Trump (@FLOTUS) May 24, 2017
Mrs. Trump told Pope Francis at the Vatican that she was looking forward to going to the hospital "for the bambinos," a visit she later described as "very moving."
"To spend time speaking to and coloring with children who have such a positive spirit despite illness was an amazing gift," she said.
"The time I spent with the little ones in the Intensive Care Unit is something I will never forget, and I will pray for each of them daily," she said.
Follow Thomas D. Williams on Twitter Follow @tdwilliamsrome