A recent poll by the Pew Research Center found that a majority of Americans say the Democratic Party "too often sees government as the only way to solve problems."
The Pew survey, conducted this summer among a national sample of 2,504 adults 18 years of age or older, found that 61 percent of Americans see the Democratic Party as too government-centered, believing that the state should be the only recourse for solving problems in society.
Among those surveyed, even substantial percentages of those describing themselves as Democrats or liberals believe that the Democratic Party has gone too far in turning to government as the universal problem solver. Thirty-eight percent of self-identified "liberals" agreed with the statement that the Democratic Party "too often sees government as the only way to solve problems," while 44 percent of Democrats subscribed to that view.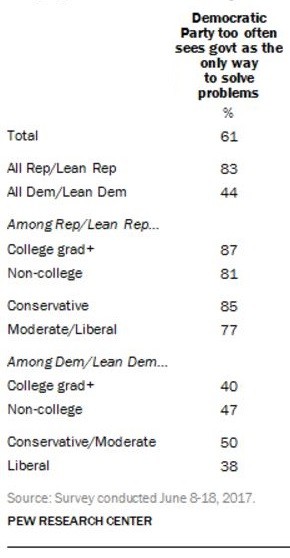 Among Republicans, the vast majority agree that the Democratic Party relies too much on government to solve problems in society, with 83 percent voicing their agreement with the above statement and a full 87 percent of college-educated Republicans agreeing.
Even Republicans who describe themselves as moderate or liberal believe that the Democratic Party is too state-centered, with over three quarters (77 percent) agreeing with the above statement.
Concern with a creeping statism has given rise to reactions of every sort, with some, like the meme below, recurring to contraposition to make a point.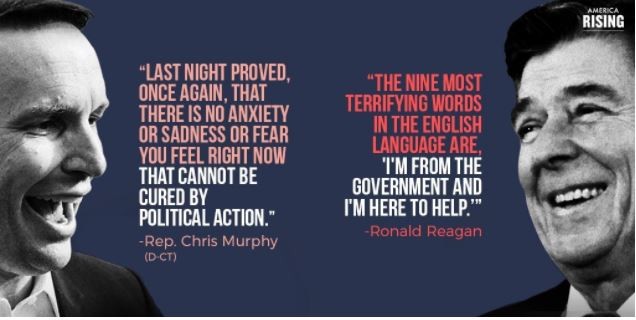 As Jay Cost wrote in an article titled "The Road to Statism Is Paved With Incompetence" in the most recent issue of the Weekly Standard, if power should swing back to the Democrats, "they will use the occasion to expand the authority of the state even more."
Limited government, and reliance on the subjectivity of society and the action of mediating institutions in order to sustain it, has been an elusive goal in America.
Oddly, both Democrats and Republicans seem to agree that the Democratic Party leans in the wrong direction on this question, with a knee-jerk reaction that if a problem needs solving, government should be the one to do it.
Follow Thomas D. Williams on Twitter Follow @tdwilliamsrome