A faulty transcript of Donald Trump's press conference published by Politico prompted outrage from several prominent journalists, artists, and authors on Twitter before they realized it was incorrect.
After Trump's combative press conference on Tuesday, Politico quickly released the transcript of it, but one wrong word sent many into a frenzy.

Trump actually said, "What about the alt-left that came charging at them," made clear by video evidence.
But that didn't stop several influential users on Twitter from expressing their outrage without checking the quote.
Washington Post: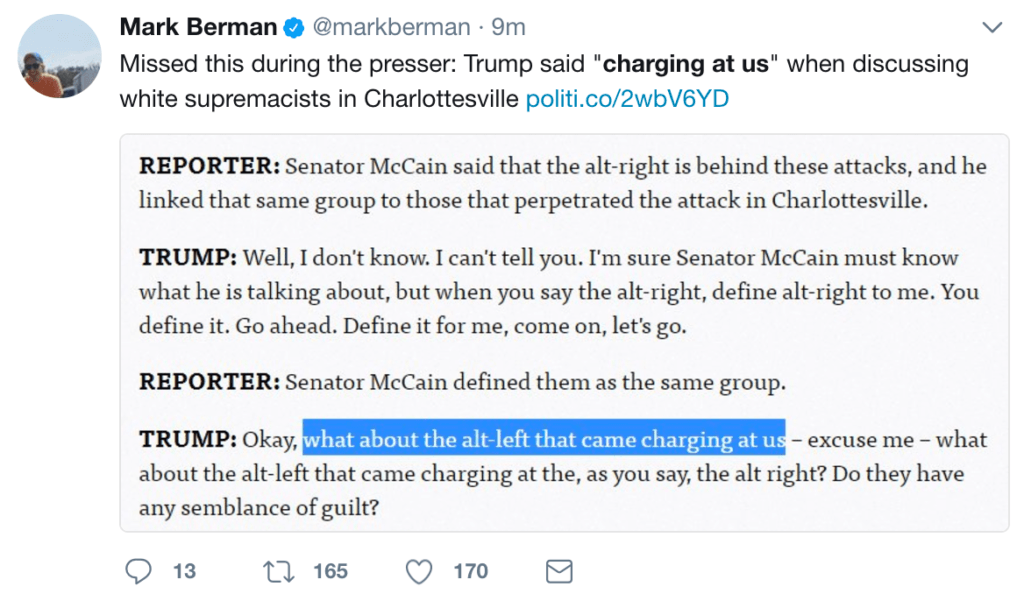 CNBC

Fox News Contributor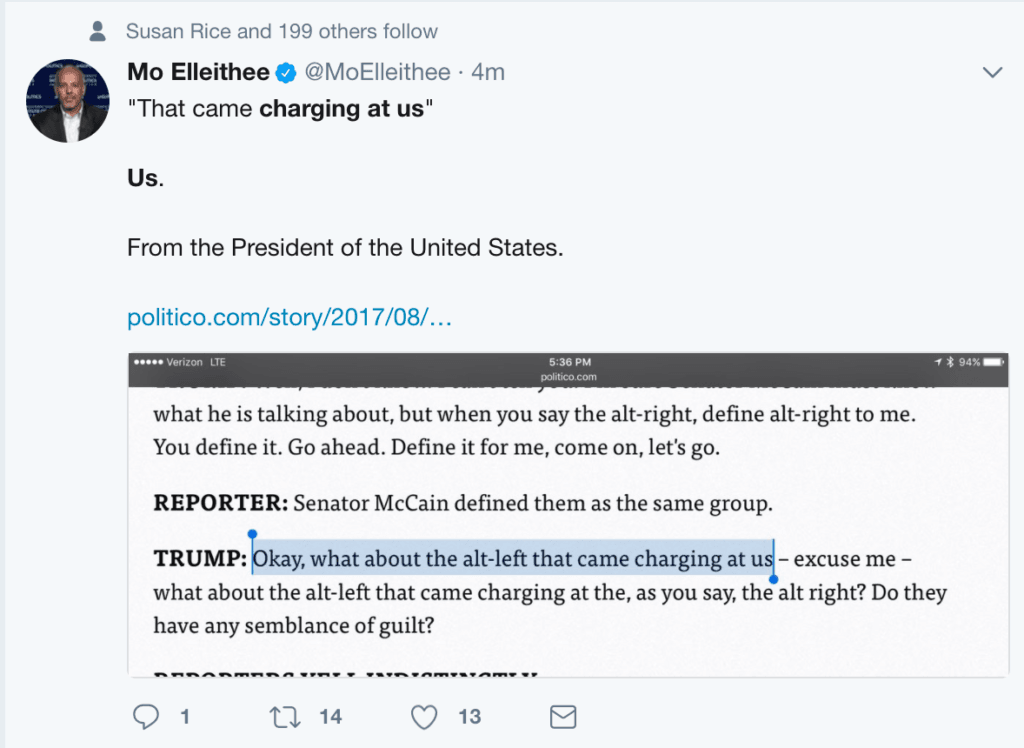 Filmmaker

Author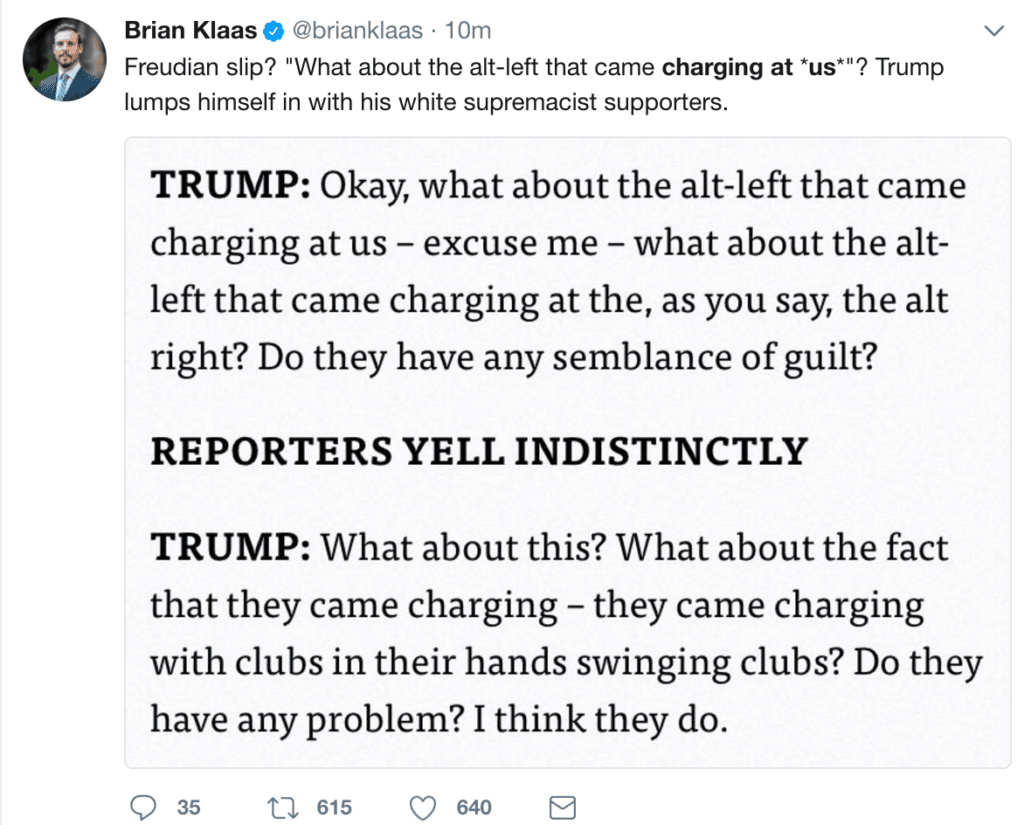 NBC producer

Photographer

Writer/producer and New Yorker writer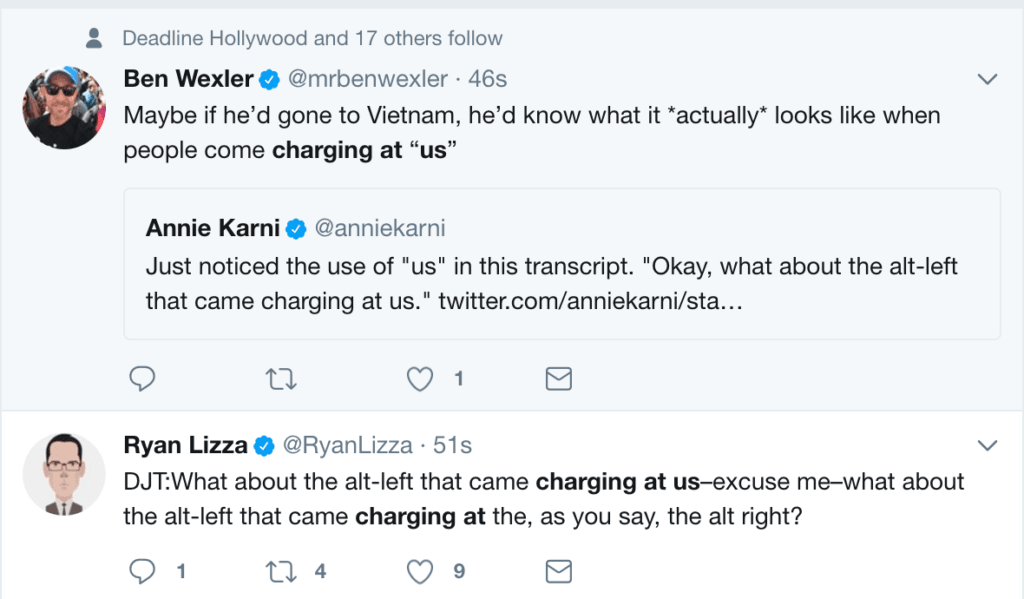 Editor and New Yorker author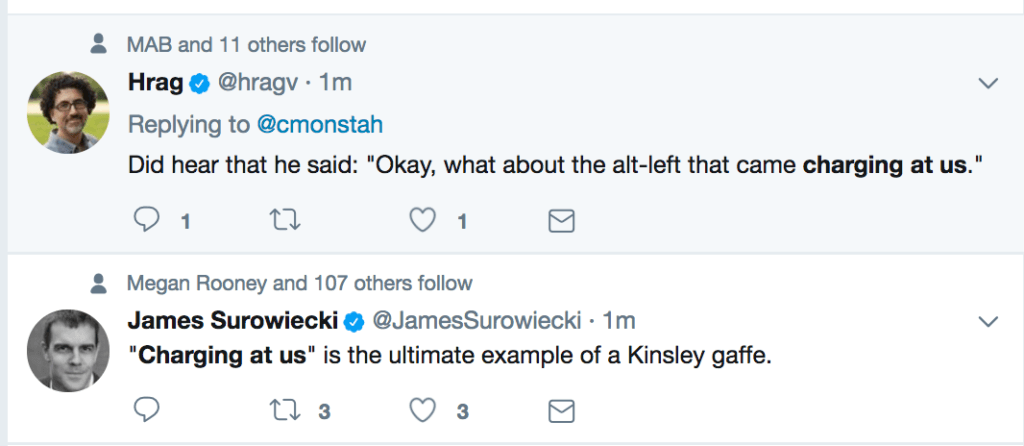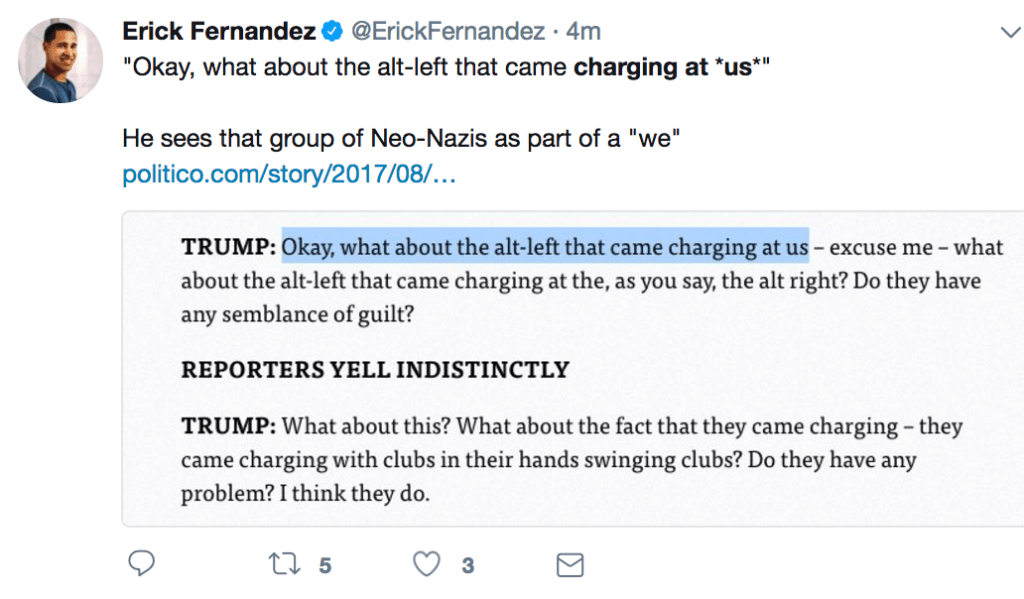 Some reporters checked the video of Trump's remarks, immediately pointing out that the Politico transcript was wrong.
That prompted some people to delete their initial tweet and apologize for the mistake.
Deleted tweet of original POLITICO transcript that had POTUS saying alt-left "came charging at us." New transcript: https://t.co/c6P04RQ1si

— Annie Karni (@anniekarni) August 15, 2017
Politico just changed their transcript to say "charging at 'em" not "charging at us" https://t.co/sa3qB6fDiX pic.twitter.com/6wR4OGkzgJ

— Brandon Wall (@Walldo) August 15, 2017
Just deleted my tweet about Trump saying the "alt-left was charging at us." Audio is unclear even though that's what the transcript says.

— Matt O'Brien (@ObsoleteDogma) August 15, 2017
But by Tuesday night, several tweets about the faulty transcript remained live on Twitter.
"Okay, what about the alt-left that came charging at us?" That's a revealing lie from the nitwit @realdonaldtrump https://t.co/A7hwsZRDG5

— Charles T. White (@charlie_white) August 16, 2017
https://twitter.com/JohnJHarwood/status/897572312626679808
"Okay, but what about the alt-left that came charging at us." Guys, he actually used the word *US* at his press conference. #NotMyPresident

— Emily Giffin (@emilygiffin) August 15, 2017
Trump said today about #charlottesville: "what about the alt-left that came charging at us?" Us?! So Trump admits he's part of alt right

— (((DeanObeidallah))) (@DeanObeidallah) August 15, 2017
"Alt-left". "charging at us". pic.twitter.com/oTEZ9biJoG

— Kevin Beaumont (@GossiTheDog) August 15, 2017
Trump says—"What about the alt-left that came charging at us"?
Thanks for admitting you're part of the white supremacists who kill Americans pic.twitter.com/UOpXJGlsU3

— Alfons López Tena #FBPE (@alfonslopeztena) August 15, 2017
"Alt-left that came charging at us." Donald counts himself as a member of the alt-right, sees neo-Nazis as members of his team.

— (@broazay) August 15, 2017
"Charging at us"
vs.
"You had…"

The president is not on your side. He is literally aligning with Nazis.

— Mitch Dyer (@MitchyD) August 15, 2017
POTUS calls Republicans "they."

Today: "TRUMP: Okay, what about the alt-left that came charging at us"

Pronouns are important. https://t.co/i503xiUfSN

— Molly McKew (@MollyMcKew) August 15, 2017
"Okay, what about the alt-left that came charging at us."

Note: "Us" https://t.co/SeatnoiWHc

— Samantha J. Gross (@samanthajgross) August 15, 2017