MCINTOSH, Alabama — Conservative Judge Roy Moore, the GOP frontrunner ahead of Tuesday's U.S. Senate primary runoff here in Alabama, spent Saturday night rallying with conservative evangelical Christians here in Washington County at a bluegrass music festival. The judge wore a cowboy hat and boots, and rolled into the event with the local sheriff and all his deputies.
Elroy Chestang, the man whose house the 15th annual bluegrass music festival was held at, told Breitbart News that he's a strong supporter of Roy Moore for the U.S. Senate.
"This is my home," Chestang told Breitbart News. "This is the Chestangs' 15th Annual Bluegrass Gospel Singing. We do it every year. We play bluegrass music, and bluegrass gospel music. Bluegrass gospel music in Washington County has been very prevalent. There was a family that played it here for over 60 years. My son learned how to play fiddle when he was six years old—bluegrass just grew in my family, in my home. In 2003, my oldest daughter was turning 18 and my baby girl—there's almost 17 years difference in their age—she was turning 1. There was milestones in both their lives. My baby was turning 1, my oldest daughter was turning 18. So we planned for months, and had a great big bash with bluegrass music. So we decided to make it an annual event. About 5 years into it, my baby girls says 'Daddy, this ain't no birthday party no more this is a bluegrass festival—now you've got to have me a birthday party!' So, bluegrass music, this bluegrass festival, we've been doing it like I said for 15 years. I support [Judge Moore] for the senate. I support him for what he believes in, and what he stands for and he told us here tonight and the values and the Constitution. That's what needs to be done. This country was built on Christianity, and I've been reading and studying some of that myself—I'm not a scholar—but I have been reading and studying on the Constitution, got some videos, got some stuff that's teaching about it, and that's what Judge Roy Moore is trying to get the message out there. If you'll learn what the Constitution is about, you'll learn your rights—you'll learn your rights as a Christian."
Chestang added that while he is "not really all that political," he is not a fan of the fact that Strange was a lobbyist. "Luther Strange, I really don't know a lot about him," Chestang said. "I'm basing my opinion on what Roy Moore stands for and what he's saying about the Constitution, about the laws of God, and about how this country was built on the laws of God. Everybody's excited: We're looking forward to having him as our U.S. Senator."
"We're Christians and we believe in Christian values," Chestang told Breitbart News. "We love bluegrass music. We love God. We just incorporate it all in one big thing here."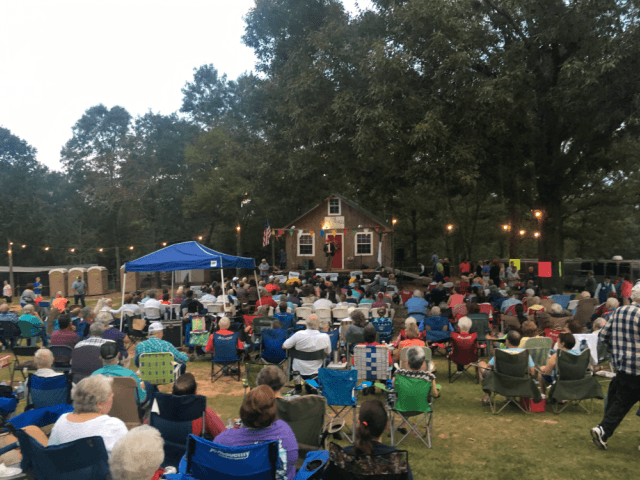 Chestang also strongly supports President Donald Trump.
"I am, I am," Chestang told Breitbart News when asked if he is a supporter of the president, even though Trump may have mistakenly endorsed Luther Strange in this senate race.
Chestang is hardly the only one who supports Trump and Moore.
Chu Green, a strong supporter of Trump and Vice President Mike Pence, told Breitbart News "I love them and everything they do up until except the Senate race."
"I don't trust [Luther Strange]," Green told Breitbart News when asked why she opposes the man appointed by now former Gov. Robert Bentley into the U.S. Senate seat vacated by now U.S. attorney general Jeff Sessions earlier this year.
"I have questions about him and the appointment from Gov. Bentley," Green added regarding Strange, who was investigating Bentley for a sex and corruption scandal as Alabama's attorney general that cost Bentley his position after he appointed Strange into the Senate.
"He was investigating Bentley," Green continued. "And suddenly it stopped, and suddenly Bentley appointed him to his seat. He hasn't been a friend to us. What's going on with that?"
Green says she's voting for and supporting Judge Moore because he has "high morals," and supports the Constitution. "He doesn't mind standing up and fighting for the right thing," she added. "So that's what we like in Judge Moore."
Omer Oglesby, another Trump supporter who strongly backs Moore, told Breitbart News here that Moore "does what a good Christian would do" and he is a "good Constitution guy and he is a Christian regardless."
"He got thrown out for the Ten Commandments," Oglesby added, referencing how Moore lost his spot as the Chief Justice of the Alabama Supreme Court the first time he was elected since he refused to take down a 2.5-ton monument of the Ten Commandments he ordered erected in the Supreme Court building. "And he got thrown out because he knows the Bible is the word, not the Supreme Court."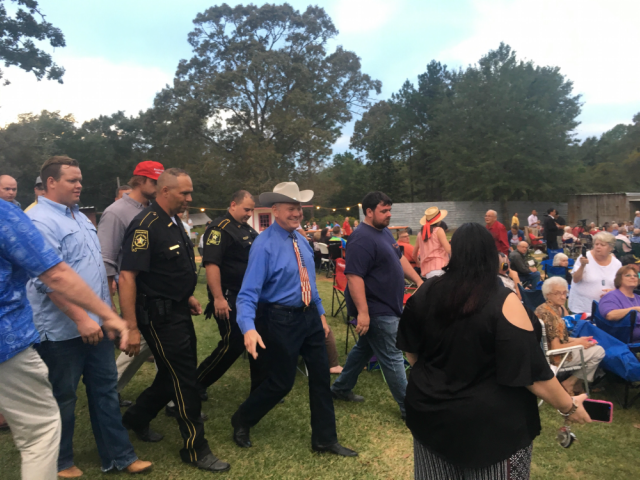 That second time he was thrown out of his Alabama Supreme Court Chief Justice position was when he refused to follow U.S. Supreme Court orders after the U.S. Supreme Court legalized gay marriage.
"Absolutely," Oglesby added when asked if he supports President Trump as much as he supports Judge Moore. But, Oglesby said, he believes Trump only backed Strange in this contested primary because "I don't think he had all the information he needed."
"I think if for no other reason, I think President Trump would have went with the people of Alabama," Oglesby added. "Not with what Mitchell [McConnell, the U.S. Senate Majority Leader], or any of the rest of them, said. I love Donald Trump and everything he does. I support him and hope he can keep some of his campaign pledges that he made like the wall, immigrants, and all of that. All of the people that are standing in his way need to get out of his way and let him go to work."
Oglesby also does not like Strange because of the murky circumstances surrounding the appointment from Bentley.
"I do not like Luther Strange because it's kind of like you've got a murderer on trial and you are the defense attorney and you go to dinner with the murderer—and he just turned Bentley loose," Oglesby said. "He just turned him loose. I don't know what's going to happen to him but I personally believe Big Luther and Bentley are in trouble before it's all said and done."
Mark Lockett, another conservative from Mobile, has a message for President Trump, Vice President Pence, Senate Majority Leader McConnell, and House Speaker Paul Ryan, saying, "Their rich donors can buy all the TV ads that tell lies about this gentleman that's going to be here tonight they want, but if you look out here, this is the grassroots and these are voters. This is the hope of America right here."
"I am praying that is the case," Lockett told Breitbart News when asked if the millions upon millions of dollars in television ads are not working and Moore will win on Tuesday.
"Unfortunately, being the dealmaker that he [Trump] claims to be, he wants somebody that he can manipulate," Lockett added. "And, Luther Strange is somebody who is clearly manipulatable because he was manipulated to make sure our Governor did not get impeached. This gentleman, Roy Moore, is not manipulatable. Frankly, I would prefer President Trump stay out of Alabama's business. This senator is supposed to represent all of Alabama: That's our business."
The festival featured plates of homemade southern barbecue food, a variety of bluegrass bands on stage and hundreds of people gathered from miles around to hear the music and Judge Moore's pitch. Another feature here in Washington County unusual to the coastal elites in Washington: this county is a dry county, and does not allow alcohol. On the trees around Chestang's property were homemade signs saying: "No Profanity. No Alcohol. No Smoking."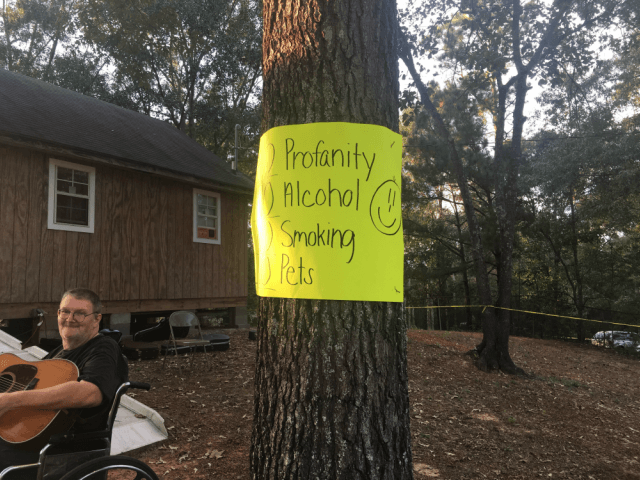 When asked about Trump's comments in Huntsville on Friday night, where the president rallied for Strange but said he may have made a mistake in endorsing Strange and said he would campaign for Moore if and when Moore wins, Chestang told Breitbart News he is proud of the president for admitting he may have made a mistake to move forward with Moore in the Senate.
"We're capable of making mistakes," Chestang said. "We support Donald Trump and his agenda. Donald Trump says the same things we say. We didn't really understand why he was going in that direction, but we disagree with that. But simply we just disagree with what he's done. If the man is willing to say 'I made a mistake,' I mean what do you do? You move forward."
Chestang added he looks forward to seeing President Trump hit the campaign trail again for Judge Moore after Tuesday before the general election, should the judge win as expected.
"Donald Trump is, to me, now this is my opinion—he's a down to earth guy, he knows what's going on here," Chestang said. "He wasn't a politician to start with. He was a successful businessman, and we supported Donald Trump because when Donald Trump started to campaign my brothers and I and the community here—we're real active in our community—my brothers and I say 'well he's been saying the same things we've been saying.'"
Dean Young, a former congressional candidate who was in the runoff against now U.S. Rep. Bradley Byrne (R-AL), spoke on behalf of the Moore campaign here on Saturday night and also spoke during his own runoff a few years ago at the Chestangs' bluegrass festival.
When Young took the stage to back Moore while wearing a red Make America Great Again hat, he told the audience that he's "very thankful that our president came last night and that he was honest and he said he may have made a mistake."
"You got to give it to President Trump because at least he is man enough to say that he may have made a mistake," Young said from the stage. "I was glad to hear that last night. I was also glad to hear that when Judge Moore wins on Tuesday, the president said he's going to come back down and he's going to help Judge Moore."
The crowd went wild.
"The people who will elect Judge Moore on Tuesday are the exact same people who voted for you, Mr. President," Young continued, with more raucous applause in tow. "That's the truth. You people are the people who will make a difference. You're taking on the most powerful people in the world. You're taking on the most powerful organization [the Senate Leadership Fund] which spent $30 million to stop someone. The national media, world media, I will say this to all of you tonight: If they can beat Judge Roy Moore in Alabama with $30 million then they can beat anybody anywhere anytime. So you keep asking me why this is so important? This is why this is so important: There are no more Judge Moores. We've got a champion."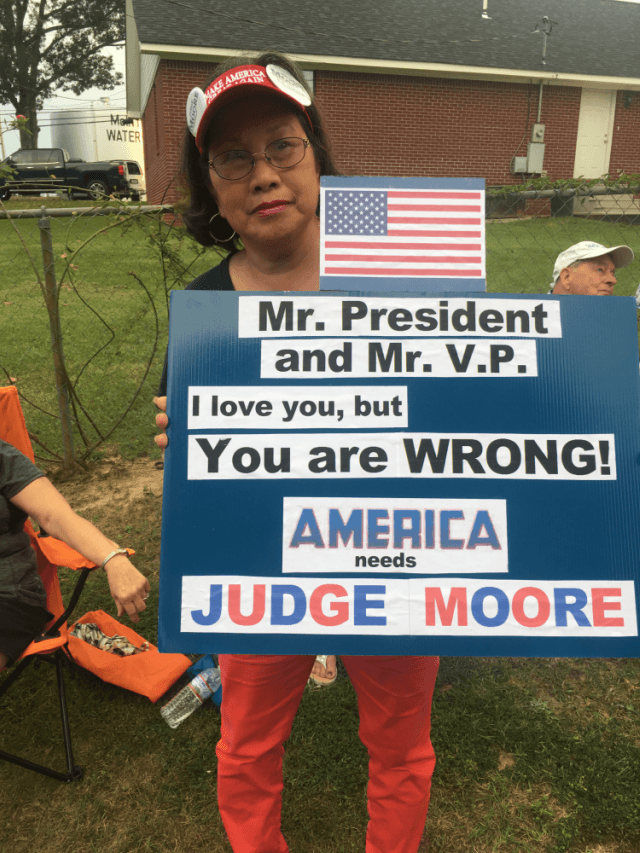 The Judge himself was brief on Saturday night, speaking for under 10 minutes with a clear message peppered with applause from the hundreds in attendance and thank yous for the local Sheriff and the Chestang family and all those in attendance.
"This has been a very hard time for me, for my family, for my wife to suffer through," Moore said of the campaign after introducing a veteran who served during the Bataan Death March in World War II. "They spent $30 million, according to MSNBC, of negative ads, attacks, that basically were untrue, simply because they want to buy the people of Alabama. Well, I'm here to tell you the people of Alabama are not for sale. And you have here today a national media waiting to see if the people of Alabama will give them their vote to an establishment in Washington that does not want to move this country forward, that does not want to make progress, does not want to stop illegal aliens, does not want to stop socialized medicine, that wants to keep things just like it is so people in Washington can hold on to their prestige and their position. I want the people of Alabama, and I trust the people of Alabama to stand up and say: 'NO!' This important election is so watched in Washington, D.C., that every Congressman in the House, every senator, the United States President and Vice President, and all the staffs are watching this—plus the people across this country—because this election determines the course of politics in America, whether we're going to let the Washington establishment come down into the states of Mississippi, Texas, Florida, Nebraska, wherever, and buy the people. If they fail here, they have failed—and they know it. And they know that other people—other younger men, women—will come and stand up for the values which we want to take to Washington. I promise you when I get to Washington, they are going to hear about the Constitution of the United States."
The crowd cheered loudly.