As I wrote on Wednesday, the biggest media hoax going right now is this sudden contrition over the shielding of Bill Clinton for 25 years against numerous allegations that ranged from sexual harassment to flat-out rape.
There are two reasons we know this is just another fake news wave of media BS. The first is that this very same media is right now shielding Democrat Senator Bob Menendez from the allegations he had sex with underage prostitutes. The second is creepy Joe Biden, the serial young girl-toucher.
For just one moment set aside your personal political beliefs and imagine the media reaction if President Trump, or any Republican, was photographed doing this: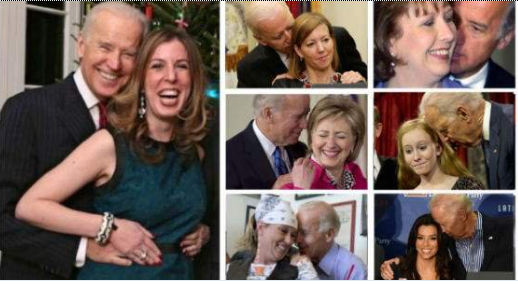 The reason Biden is allowed to get away with wildly inappropriate behavior involving young, and even underage girls (as you will see below), is because, duh, he is a Democrat and is therefore allowed to do so whatever he wants with young girls.
Also a factor is that our corrupt media sees Biden as their best chance to bring back the glory of the Obama-era by defeating Trump in 2020. And as we have seen with Ted Kennedy and Bill Clinton, and are seeing right now with Bob Menendez, when it comes to the media's Cause, women and girls are expendable.
Anyway, the good news is that the media will never get away with covering up Biden's disgustingly creepy behavior, not in this age of New Media. And if Creepy Joe does decide to run in 2020, the political ads using these videos and photos will be the stuff of legend.
With thanks to Richard Armande Mills and Ace of Spades, who did a great job compiling these, I present to you…
The Adventures of Creepy Joe Biden: Serial Young Girl-Toucher.
It's time to talk about former Vice President Joe Biden, the open sexual predator. A thread/moment…

— Richard Armande Mills (RAM) (@RAMRANTS) November 13, 2017
"America shouldn't tolerate Biden being Biden." pic.twitter.com/03t0sq3mkj

— Richard Armande Mills (RAM) (@RAMRANTS) November 15, 2017
The media tried to warn folks about Joe Biden's creepiness, but people wouldn't listen.

Even with a headline like "America Shouldn't Tolerate 'Biden Being Biden'…" 🙃 pic.twitter.com/CGRDK0NIIT

— Richard Armande Mills (RAM) (@RAMRANTS) November 15, 2017
While there are unfortunately many, MANY more disturbing clips like what has been previously witnessed, this last clip with Senator Joni Ernst concludes the video portion of this thread. Observe everything Biden says or does that leads to an uncomfortable laugh from Ernst. 😅 pic.twitter.com/gWFQ1IzdSE

— Richard Armande Mills (RAM) (@RAMRANTS) November 15, 2017
In this clip filmed by a random Sacramento family, former Vice President Joe Biden repeats the "keep the boys away from your sister" line. Then he tells the family a strange story about how his daughter at "about age 12 & a half or 13", "wakes up, there's a snake in the bed." pic.twitter.com/RHJfubccyh

— Richard Armande Mills (RAM) (@RAMRANTS) November 15, 2017
In this clip, Senator Cantwell introduces former VP Biden to her nieces, who all look visibly uncomfortable in his presence. The former Vice President then says "it's ripe" while whisper-speaking with Cantwell's young nieces. What on earth does he mean by that? pic.twitter.com/EGqYx8SG1a

— Richard Armande Mills (RAM) (@RAMRANTS) November 15, 2017
During this confirmation swear-in ceremony, the senator involved loudly (and intentionally?) reminds Biden of his position by saying "this is the Vice President of the United States." Hair sniffing and eery whispers by Biden make an comeback in this clip. pic.twitter.com/9RSV1fOGoT

— Richard Armande Mills (RAM) (@RAMRANTS) November 15, 2017
Do you hear when the woman in front literally says "I'm asking for permission to leave the room." I wonder why she would say that, and so firmly. https://t.co/dVwYz0mAdS

— Richard Armande Mills (RAM) (@RAMRANTS) November 15, 2017
Visibly perturbed family members seem to be a running theme at these Biden led swear-ins. During this one, a family member almost looks as if she's using the prop she's holding to mask Biden's roaming hands, which are on her younger female relative. pic.twitter.com/o2fVhe5hda

— Richard Armande Mills (RAM) (@RAMRANTS) November 15, 2017
In this exchange, Senator Sullivan himself wonders if the picture-taking (& likely Biden being around his kids) is over. During the picture-taking, Biden physical moves Sullivan's daughter towards him, clutching onto her side. She even calls out for her father twice in confusion. pic.twitter.com/9voIJ10mG9

— Richard Armande Mills (RAM) (@RAMRANTS) November 15, 2017
One awkward moment after another. The mother's discomfort is clearly noticeable when Biden meets and poses with the children in her family. She strangely asks if picture taking is over early. Biden tells the kids "keep the boys away from their sisters." Sons called "protectors." pic.twitter.com/Esa0SEWyze

— Richard Armande Mills (RAM) (@RAMRANTS) November 15, 2017
After strangely asking 6 y.o. Billy if she was 17, telling her she can do "whatever she wants," former VP Biden proceeds to have an awkward exchange with Kelly, stroking Billy to the point it almost seems Kelly asks her son about the "cameras" intentionally.

You decide. pic.twitter.com/pzA2jN3aM4

— Richard Armande Mills (RAM) (@RAMRANTS) November 15, 2017
The footage from former Senator Kelly Ayotte's swearing-in was one of the most awkward encounters. I've broken it into 2 parts. In this clip, Ayotte's daughter Billy impatiently enters the staging area ahead of schedule. Former VP Biden notices.

"Who's that beautiful child?" pic.twitter.com/oGdQyt7s8g

— Richard Armande Mills (RAM) (@RAMRANTS) November 15, 2017
Think about it.

"You're turning 11. You're beautiful. Just remember: No dates till you're 30."

Is it a joke? A rule. A requirement. A demand?

Why shouldn't a young women be able to date until she's well-past maturity?

Former VP Biden has said it so much, a montage exists. pic.twitter.com/SdWqn8mSIa

— Richard Armande Mills (RAM) (@RAMRANTS) November 15, 2017
Former VP Joe Biden has a quote he tells practically every girl he met during those taped confirmation hearings.

"No dating till you're 30."

In this clip, he asks a little girl if she remembers what he told her the last time they interacted together. What do you think he said? pic.twitter.com/tykYacaI85

— Richard Armande Mills (RAM) (@RAMRANTS) November 15, 2017
Follow John Nolte on Twitter @NolteNC. Follow his Facebook Page here