The 33 GOP legislators urging a DACA amnesty are refusing to tell their constituents how they will raise taxes on Americans or cut spending for Americans to fund the multi-billion dollar cost of welfare benefits for 'dreamer' illegals.
The silence from legislators is a recognition of the proposed amnesty's unpopularity, which was emphasized Friday when the House passed a short-term budget deal without the amnesty. Most of the 33 GOP representatives who had earlier asked for the amnesty voted for the amnesty-free budget deal.
The cost of the proposed amnesty was highlighted December 15 when the bipartisan Congressional Budget Office estimated the DREAM Act amnesty would cost $25.9 billion during the first ten years. An amnesty is covered by the pay-as-you-go budget procedures, so legislators would have to identify offsetting spending cuts or tax increase if they pass an amnesty.
Of the 33 GOP legislators who asked for a DACA amnesty in a December 5 letter to House Speaker Paul Ryan, only the office of Washington state Rep. Daniel Newhouse responded to questions from Breitbart News. Newhouse co-organized the business-backed letter to Virginia GOP Rep. Scott Taylor, whose office remained silents amid growing public protests against his pro-amnesty shift.
Rep. Mark Amodei spoke to Breitbart News, saying he signed the pro-amnesty letter to jump-start a debate because the two parties have not been able to develop a compromise. He continued:
Nobody wants to give up anything, and so why don't you want to put things on the floor straight up and invite Democrats to vote against a Republican [vesion of the] DREAM Act? … Start with the [Recognizing America's Children] Act and put whatever you want on it.
The RAC Act was drafted by Rep. Carlos Curbelo, and would provide an amnesty to roughly 2 million migrants. The Democrats' DREAM Act would put 3.25 million illegals on a fast-track to welfare, citizenship, voting an the ability to get green cards for their parents and chain-migrant relatives. 
"We can't find our collective rear with both hands," Amodei said, downplaying the substantial policy differences between the pro-American groups and the various, business-backed, pro-amnesty groups. "In terms of how it plays in the district, I'd rather be criticized for attempting to do something than [for doing] nothing."
There were no answers from the other legislators
The legislators who signed the request for an amnesty are:
Rep. Mike Coffman (CO-6), Rep. Carlos Curbelo (FL-26), Rep. Illeana Ros-Lehtinen (FL-27), Rep. Jeff Denham (CA-10), Rep. Mimi Walters (CA-45), Rep. David Valadao (CA-21), Rep. Mike Simpson (ID-2), Rep. Rodney Davis (IL-13), Rep. Adam Kinzinger (IL-16), Rep. Susan Brooks (IN-5) Rep. Bruce Poliquin (ME-2), Rep. Fred Upton (MI-6), Rep. Frank LoBiondo (NJ-2), Rep. Tom MacArthur (NJ-3), Rep. Chris Smith (NJ-4), Rep. Leonard Lance (NJ-7), Rep. Peter King (NY-2), Rep. John Faso (NY-19), Rep. Elise Stefanik (NY-21), Rep. John Katko (NY-24), Rep. Mark Amodei (NV-2), Rep. Glenn T. Thompson (PA-5), Rep. Ryan Costello (PA-6), Rep. Pat Meehan (PA-7), Rep. Brian Fitzpatrick (PA-8), Rep. Charles Dent (PA-15), Rep. Joe Barton (TX-6), Rep. Will Hurd (TX-23), Rep. Chris Stewart (UT-2), Rep. Mia Love (UT-4), Rep. Scott Taylor (VA-2), Rep. Dave Reichert (WA-8) and Rep. Dan Newhouse(WA-4).
The letter was also signed by the GOP-affiliated delegate from Puerto Rico, who has limited voting rights in the Congress.
Newhouse's office provided a response that did not answer Breitbart's request for proposed tax increases or spending cuts. The response said:
Like most of my GOP colleagues, I have consistently opposed a 'clean' Dream Act. President Trump has indicated that increased border security and immigration enforcement, which I support, are required in a DACA deal to win his signature. I support a compromise that meets the President's requirements to be signed into law; we need to keep all options on the table, including additional border security, interior enforcement, ending the visa lottery program, and tougher vetting of immigrants.
An amnesty is likely to provide a short-term benefit to Newhouse's district which includes many agriculture companies which lower their operating costs by hiring cheap illegal labor.
The likely cost for a DACA amnesty of roughly 690,000 DACA-approved illegals would be lower than the estimated $25.9 billion cost of the larger DREAM Act.
The $25.9 billion cost estimate for the DREAM Act was provided in a December 15 report by the non-partisan Congressional Budget Office, which noted that "pay-as-you-go procedures" require legislators to designate offsets for planned amnesty expenditure.
The costs of any amnesty are high because the vast majority of the DACA or 'dreamer' illegals are unskilled, and many cannot even speak English, so their earning potential is low. In fact, the CBO report notes the DREAM Act amnesty will reduce the federal government's income-tax revenues by $4.3 billion once employers claim tax credits for legally employing the low-wage former illegals.
In turn, the DREAM Act amnesty would push up federal spending on many welfare programs, according to the CBO report:

Over the first decade, assuming that only 2 million out of 3.25 million possible recipients sign up for the amnesty, the spending increases would include $2.3 billion for food stamps, $5 billion on Medicaid, $920 million on Supplemental Social Security and $11.8 billion for Obamacare subsidies, plus $5.5 million for Earned Income and Child Tax Credits.
Several legislators have drafted rival amnesty bills.
Democrats have united behind the DREAM Act, while some GOP legislators are backing the SUCCEED Act, developed by GOP Sen. Thom Tillis and GOP Sen. James Lankford.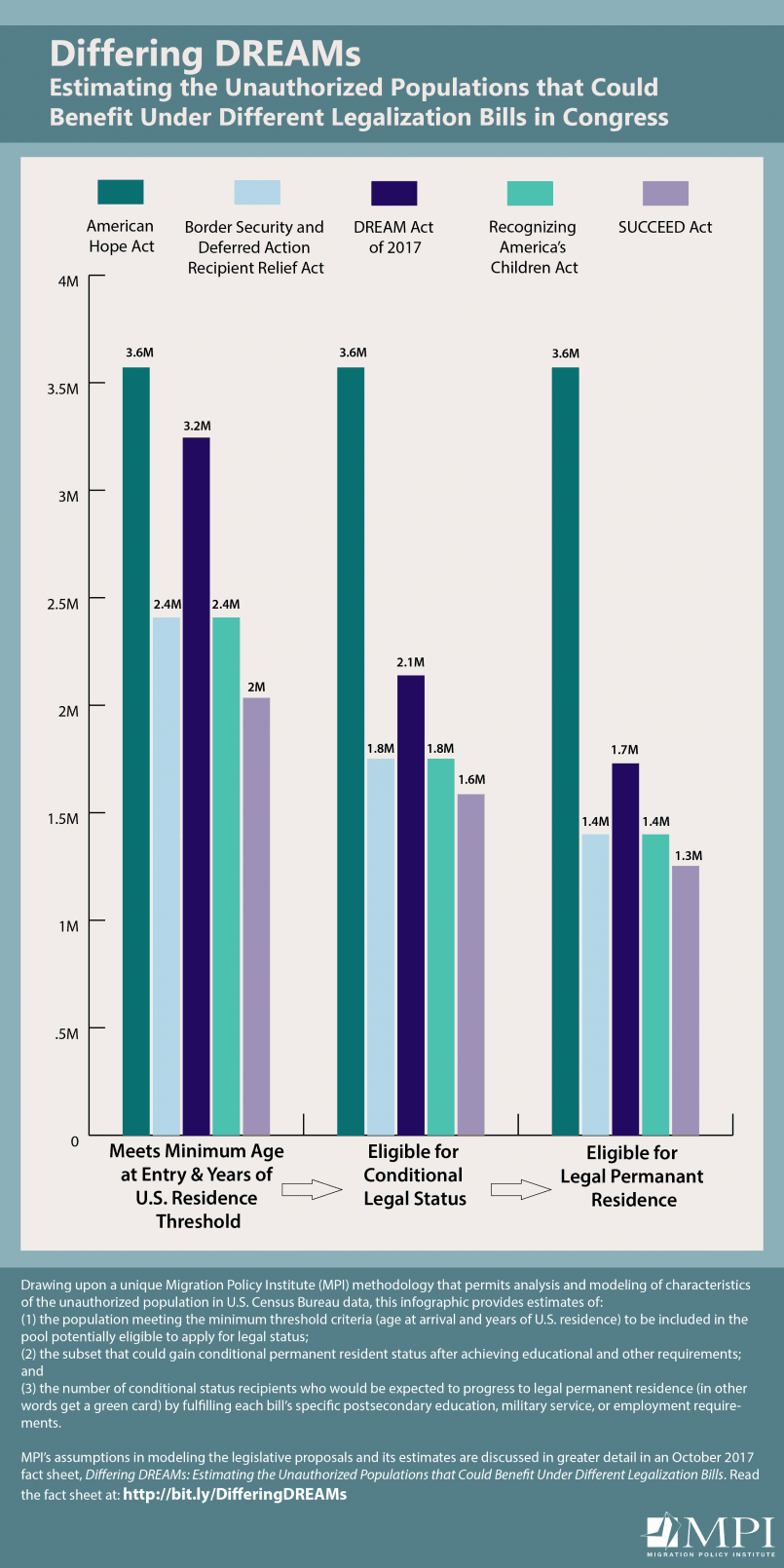 The BRIDGE Act is the weakest of the amnesty proposals because it would only provide three more years of work permits — but not green cards or citizenship — for the 690,000 DACA illegals.
The BRIDGE Act has been included in the SECURE Act, developed by GOP Sen. Chuck Grassley.
GOP leaders in the Hosue and Senate have said they expect an amnesty debate in January.