Proclaiming it a total fraud, the Republican National Committee has weighed in on the salacious new anti-Trump book by bomb-throwing author Michael Wolff.
In a Friday email entitled, "the reviews are in," the RNC cited negative assessments of the new book, Fire and Fury, Inside the Trump White House, as stated by a list of Never Trumpers and liberal members of the media.
The RNC left no illusions about how it is characterizing the explosive book.
"Michael Wolff's lies in his phony book are being eviscerated by reporters and commentators across the ideological spectrum. Here's just some of what they're saying," the email says before adding an image containing reviews of Wolff's work by such Trump haters such as John Podhoretz and Maggie Haberman, as well as negative comments from CNN, Business Insider, Politico, National Review, and others.
The quotes reveal that though the book eviscerates President Trump and nearly everyone he has working for him at the White House, even liberals in the media think the book and its author are untrustworthy.
For instance, well known Trump hater Maggie Haberman of The New York Times has said that Michael Wolff "gets basic details wrong" in his shocking tell all. In another example, Never Trump conservative John Podhoretz called Wolff's work "blithe ignorance."
Others agreed that the book is suspect. Liberal CNN commentator Brian Stelter added that "real factual errors… makes you wonder about the overall content," while CNN colleague Alisyn Camerota said the book was "sloppy."
Meanwhile, the RNC noted that Politico's Michael Calderone warned that there needs to be "a broader skepticism among journalists over the veracity of certain details" of Wolff's book.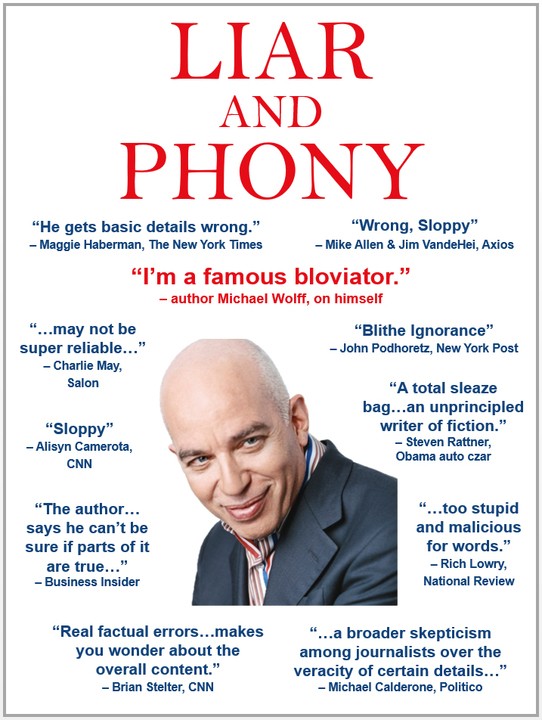 In all, the RNC cites ten journalists from both left and right who have warned that the wild stories about Trump's White House as related in "Fire and Fury" are not to be trusted.
Follow Warner Todd Huston on Twitter @warnerthuston.