Reducing the overall number of illegal and legal immigrants flooding into the United States every year is the second biggest priority for Republican voters.
A new poll by Harvard-Harris shows widespread support for President Trump's "America First" immigration agenda, which strives to reduce legal and illegal immigration to raise the wages and quality of life for America's working and middle class, who have suffered under decades of poor job growth, stagnant wages, and increased public costs to offset the importation of millions of low-skilled foreign nationals.
According to the Harvard-Harris poll, 16 percent of Republican voters said reducing overall immigration levels to the U.S. should be a top priority for Trump and Congress.

This makes reducing immigration a bigger priority for Republican voters than repealing and replacing Obamacare, destroying ISIS, and passing an infrastructure bill.
The only issue that outpaces reducing immigration levels as the biggest priority for Republican voters is stimulating American jobs, which can be directly tied to immigration.
Likewise, 18 percent of Trump voters said reducing overall immigration levels to the U.S. should be a top priority for Trump and Congress. For Trump voters, reducing immigration to the country is more important than repealing and replacing Obamacare, passing tax reform, and even building a wall along the U.S.-Mexico border to help stem illegal immigration.

The Harvard-Harris poll is in step with last month's immigration polling data from the firm, which found overwhelming support for Trump's reduce-immigration-to-aid-Americans agenda.
For example, last month's poll found that more Americans support zero immigration to the U.S. than they support current legal immigration levels, whereby between one to 1.5 million mostly low-skilled legal immigrants are admitted to the country every year.

The poll found that about 12 percent wanted legal immigration levels increased beyond the current rate of immigration to the country, while the majority of Americans, about 81 percent, said they wanted legal immigration levels reduced to between zero and less than one million legal immigrants a year.
Likewise, nearly 80 percent of Americans said they supported Trump's plan to change the country's immigration system to one based on merit, skills, and English proficiency, rather than the current system where foreign nationals with family members living in the U.S. are given priority.
The poll also revealed that black Americans are the most supportive demographic group of drastically reducing legal immigration levels, as Trump and his allies like Sen. Tom Cotton (R-AR) and Sen. David Perdue (R-GA) have proposed.
When asked, "In your opinion, about how many legal immigrants should be admitted to the U.S. each year," 48 percent of black Americans said they would like to see between one and 250,000 legal immigrants brought to the U.S. a year.

Under Trump's efforts to ramp up interior immigration enforcement — where in Fiscal Year 2017 deportations of illegal aliens living throughout the U.S. increased by nearly 40 percent, have been beneficial to America's working and middle class.
For example, the strict immigration enforcement thus far has led to historic wage increases for American workers in the construction industry, the garment industry, for workers employed at small businesses, and black Americans.
A reduction in immigration would potentially mean even higher wages for American workers who would see less competition with cheaper, foreign workers and a less saturated labor market where there are more workers than there are U.S. jobs.
Opponents of reducing immigration levels include the establishment media, the billionaire GOP mega-donors the Koch brothers, the Democratic Party, the Republican establishment, the Bush dynasty, corporate interests, and the open borders lobby.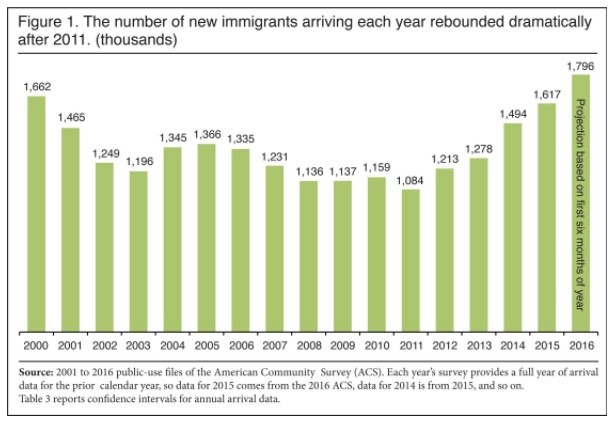 Every year, the U.S. admits more than 1.5 foreign nationals, with the vast majority deriving from family-based immigration known as "chain migration." In 2016, the legal and illegal immigrant population reached a record high 44 million. By 2023, the Center for Immigration Studies estimates that the legal and illegal immigrant population of the U.S. will make up nearly 15 percent of the entire U.S. population.