Breitbart News is hosting a live town hall event—"Masters of the Universe": Big Tech vs. Free Speech and Privacy—in Louisiana tonight. Breitbart News Editor-in-Chief Alex Marlow will moderate the event, which will begin at 8 p.m. ET.
Watch the live stream of the town hall (#BigTechExposed) here.
The town hall, held at Andrea's restaurant in Metairie, will feature some of the country's most influential thinkers in politics, Big Tech, and media, including:
• Ann Coulter, political commentator, author, syndicated columnist, and lawyer
• Peter Schweizer, President of the Government Accountability Institute and best-selling  author of Clinton Cash and Secret Empires
• Robert Epstein, Senior research psychologist at the American Institute for Behavioral Research and Technology
Breitbart News is holding the town hall event a week before Facebook CEO Mark Zuckerberg is scheduled to testify before Congress about various privacy-related issues.
Free Our Internet (freeourinternet.org), a non-profit organization that advocates for free speech and online freedoms for all internet users across the United States, is sponsoring the event.
Stay tuned to Breitbart News for live updates.
All times eastern.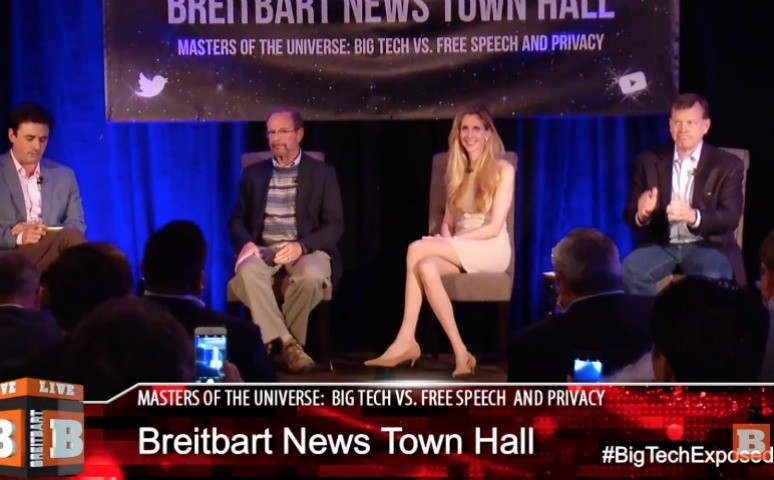 9:30: Marlow says as awful as the establishment media are, they are no longer the biggest threat to freedom of speech…the biggest threat to freedom of speech/expression are the Big Tech "Masters of the Universe."
9:27: Questioner asks why the media have been silent about the genocide of white farmers in South Africa. She says she is so glad she got asked this question. Coutler says that nobody under 50 is getting the news from the mainstream media anymore…she says during a recent speech at Boulder, all the questions were about South Africa, Brittany Pettibone… she says the Internet is so important for getting news…and is ecstatic that she has more proof that more people under 50 are not getting news from traditional outlets.
Coulter says if Trump doesn't act on immigration, that's going to be the United States in two generations so "get used to it."
9:25: Schweizer says some suggestions re: regulation have included making Google's algorithm a public good or "truth in advertising" laws. He says Google has been dishonest about its algorithms for years. Epstein says algorithms by nature are not transparent. He says we have to be very creative in coping with the problem and traditional ways we have dealt with "big bullies" and oligarchs will not cut it this time.
9:08: Epstein says Google is the most "powerful mind control machine" that has ever existed. He suggests getting rid of Gmail, getting rid of Chrome, and getting rid of Android.
Did you know @gmail copies and stores every email you receive and send, including emails you decide to delete instead of sending! #FreeOurInternet #BigTechExposed pic.twitter.com/aH2DUOVpaq

— Free Our Internet (@Free_Our_Net) April 6, 2018
9:03: Epstein: "Free is not freedom." He says we have this illusion that everything is okay because we have all of this free stuff and it works so well. Epstein says we don't know what these companies are doing with our data and then asks how many people in the room use Gmail. He says all Gmails–incoming and outgoing–are all recorded, analyzed. He says every detail is put into your personal profiles–even Gmails in "drafts" that you have erased or decided to not send.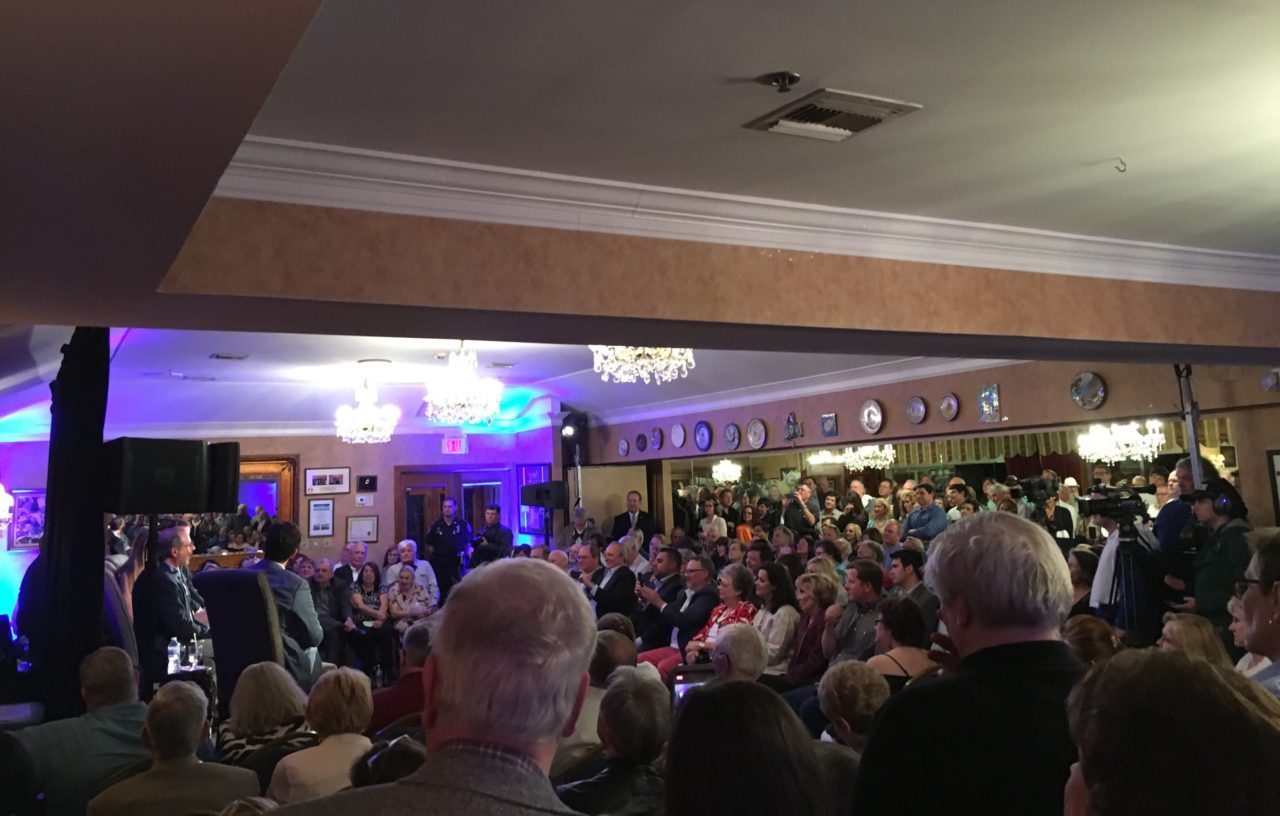 Epstein says all of the major news companies use Google, and he points out that even journalists who are investigating Google are actually sharing all of their work product with Google by using Gmail. Epstein says Breitbart may be the only media source that doesn't run its email through Google.
A great plug! Epstein says Schweizer has rapidly become one of his favorite people and encourages people to buy his great books.
8:58: Coutler says Big Tech companies held back in 2016 because they could not imagine that Trump could win and now we are going to see what they are capable of. Epstein: "They held back… they will never hold back again."
Coulter, in response to a question about whether Google, Facebook needs some competition, says you can't compete with Google, etc… they are natural monopolies.
8:55:  Marlow cites the biased entries against Breitbart in Wikipedia and points out that Wikipedia is edited by mostly retired leftist academics… he says the definition of Breitbart is basically what a bunch of oligarchs want to define it as.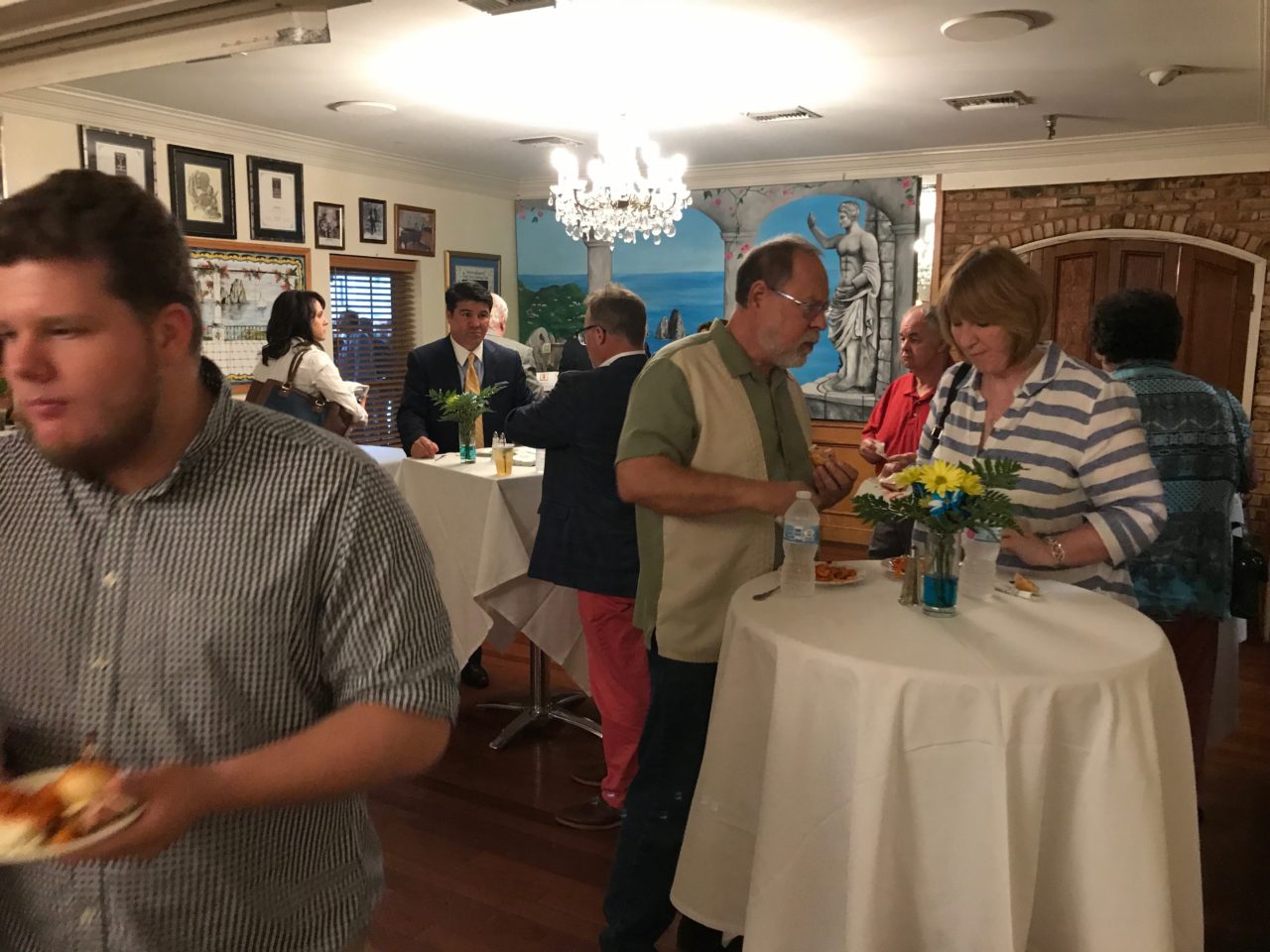 8:51: Schweizer says Americans can determine media bias in five minutes while watching the mainstream media. But with companies like Google, we don't know what we don't know because Google makes it seem like they are giving us the best search results, etc. without any agenda when that's not the case. Schweizer says we need to know what they are feeding the algorithms and what they are feeding us. He says that without that transparency, "we are just flying blind."
https://twitter.com/amandaleehouse/status/982057777848778752
8:50: Schweizer says we always have to keep in mind what Google's goals and ends are. He says there has always been lurking this "utopian sense of social mission" that Google has. Schweizer says there is no question Google is manipulating us… the question is why. He notes that Google thinks the "perfect search engine" will "resemble mind of God." Schweizer asks, "what does that mean?" Schweizer says Google wants us to embrace ideas they think are important and suppress certain ideas they disagree with.
Standing room only #BigTechExposed pic.twitter.com/MJgTlBYQ9V

— Breitbart News (@BreitbartNews) April 6, 2018
8:46: Epstein says the government and the intelligence agencies have been working very closely with the tech firms, and the intelligence community has data about Americans without their knowledge, etc. He says when the government wants to do surveillance, they need court orders and are accountable to us. But when the government teams up with the tech companies, there are no limits and they can just vacuum up all the information they can get their hands on and are not accountable to anybody.
https://twitter.com/AmandaLeeHouse/status/982062502774214656
8:40: Epstein says his team found that Google search results favored Hillary Clinton in all ten positions on the first page in the six months leading up to the election. He says that could influence 3 million votes without anyone knowing. His team also found that it was nearly impossible to get negative information about Hillary Clinton when typing "Hillary Clinton is…" He says "Hillary Clinton is winning" and "Hillary Clinton is awesome" came up on Google when people were wondering whether Hillary Clinton was sick or dying. He says you are being manipulated from the very first character you type in their search bar, and the more Google knows about you, the easier it is for them to manipulate you.
Google tried to manipulate the 2016 election by providing favorable search results for Hillary Clinton according to @DrREpstein. Watch live on @BreitbartNews ! @AnnCoulter @peterschweizer pic.twitter.com/I81LKihshN

— Free Our Internet (@Free_Our_Net) April 6, 2018
From Boyle: Crowd laughing as Epstein details all the rigged search terms for Hillary Clinton in search engines.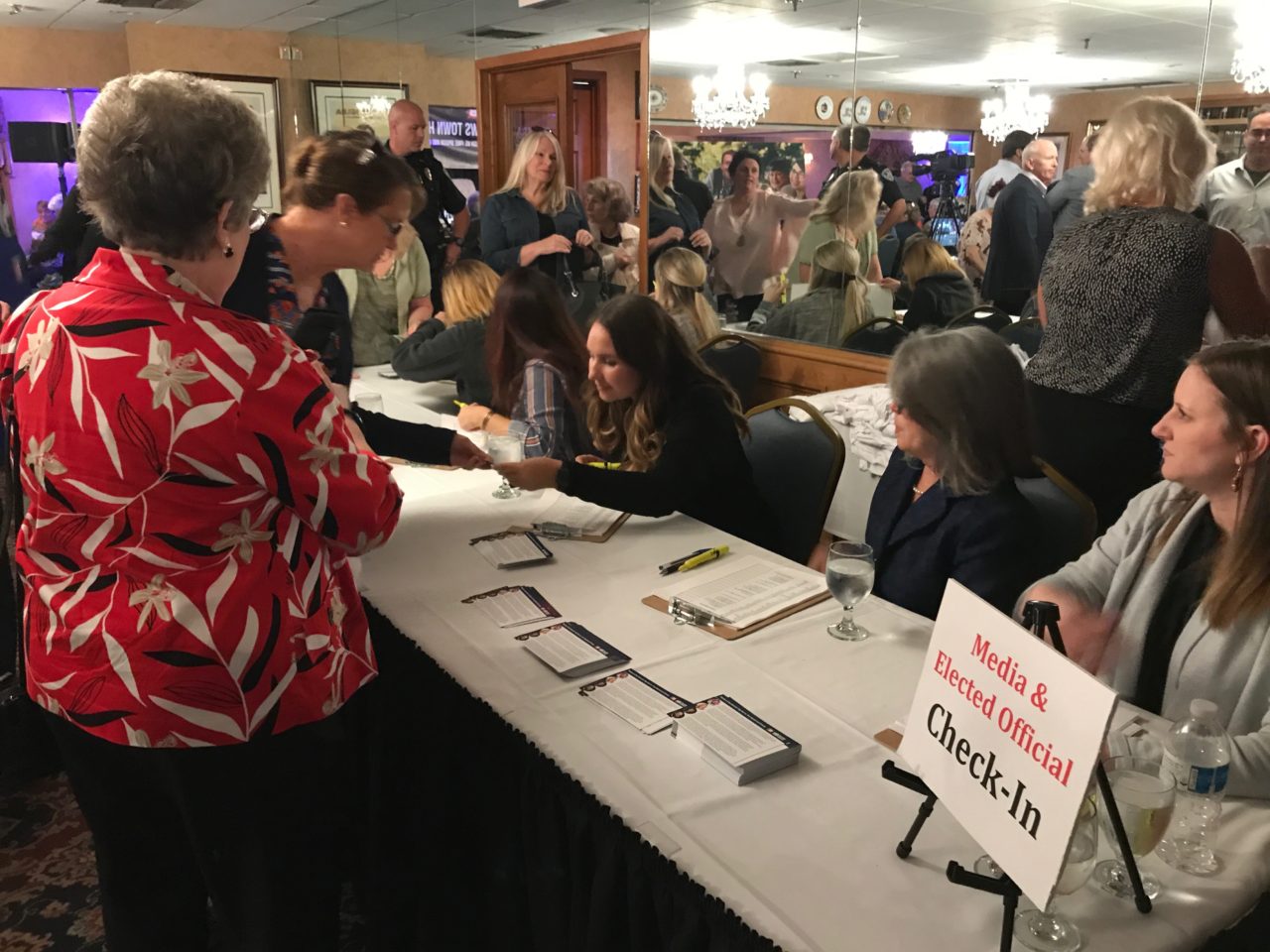 8:38: Coulter emphasizes that she has been fighting the "fake news" that remains the news in the legacy media. She points out the work she did re: the media's lies about Joe McCarthy with great conservatives Stan Evans and Allan Ryskind at Human Events.
8:35: Marlow says the left invented fake news to shut down the right.
From Boyle:
Crowd agrees with Marlow's and Coulter's comments about "fake news." When Marlow said everyone would have a different definition there were general murmurs of agreement throughout the standing room only restaurant. Then when Coulter said she thinks Trump is right on fake news and the media, one man yelled from the back of the room: "Hell yeah!"
Crowd goes wild when Coulter notes she suspects most people can't have their votes influenced by social media manipulation.
Crowd laughs when Epstein explains the people most easily manipulated are moderate Republicans.
8:32: Schweizer says Google and Facebook have more power than companies have ever had in history. He says they are not just internet companies. They are also media companies, opinion companies… and they steer the national debate in ways that are unimaginable. He says the question is: "What are we going to do about Google and what are we going to do about Facebook? He says it is very encouraging that people are paying attention because Google and Facebook think people are sheep that can be nudged.
8:26: Epstein now talking about manipulation and how tech companies can shift our attitudes, beliefs, purchase, votes, etc.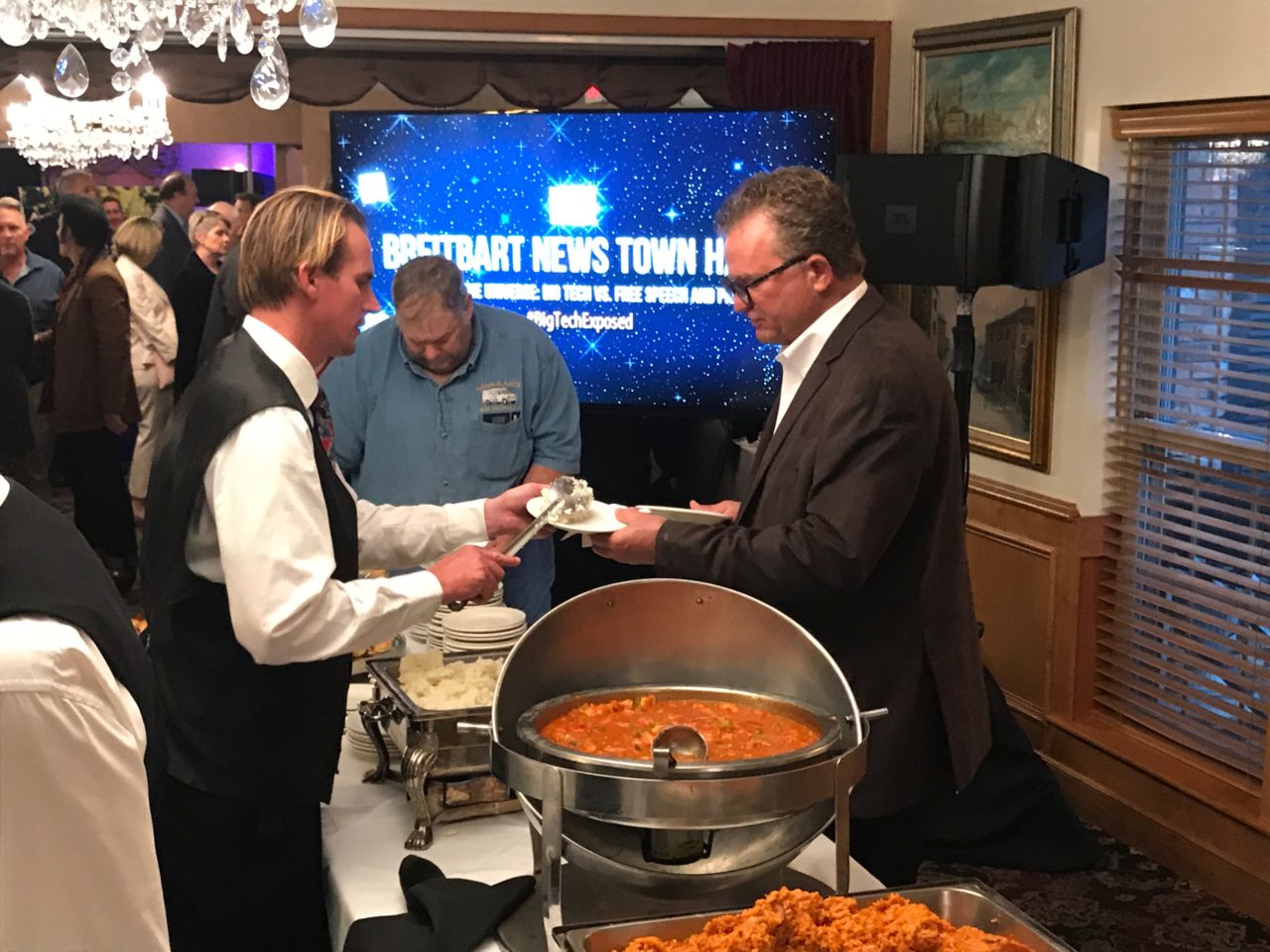 8:25: Epstein says big-tech companies can determine what we can and cannot see. He says big-tech companies can suppress political views they don't like, and it's not just political views on the right. Epstein says big-tech companies will censor some progressive views if they don't like them. He says it is a joke how tech companies can determine what they think are " fake news stories" and suppress them.
"We don't know what rules they are applying," he says.
8:21: Epstein says he is not a conservative, but he's here because he loves America and freedom. He talks about "shadow banning" on Twitter–Twitter can determine the reach of Ann Coulter's tweets. Epstein says Google can monitor us when we are online and offline. He explains that Google can use its home device, which it is trying to get into every home,  to always listen and record Americans.
From Boyle: Crowd let out an audible gasp when Robert Epstein informed the audience he is not a conservative.
8:20: Coulter says she has spent much of her life debunking the mainstream media's fake news–Alger Hiss, race hoaxes, etc.
8:15: Marlow says Coulter is the ultimate free speech warrior.
Coulter points out that she has been worried that she would wake up one day and not be able to go to breitbart.com or the Drudge Report.
Coulter says the left has the schools—they even teach "white privilege" in preschool—and all the institutions, and that's why the the Internet was the greatest thing to happen to conservatives, and that's why the left now has to shut it down and censor it. Coulter says it is actual censorship and it is "terrifying."
8:14 PM: Breitbart's Matt Boyle, who is on the ground in Louisiana, says the turnout is more than 1,000 people. From Boyle:
More than a thousand people here. The crowd is fired up. Notables in the crowd include Louisiana State Republican Party Chair Louis Gurvich, Gator PAC founder and two time US Senate candidate retired Air Force Col. Rob Maness, Louisiana Republican National Committeewoman Lenar Whitney, staff for Louisiana Attorney General Jeff Landry including communications director Millard Mule.
8:13 PM: Marlow asks how many people have sent Facebook or Google any money? Few people raise their hands, and Marlow asks how did these companies make billions of dollars… someone in the crowd yells, "selling our info." Marlow points out that the users are in fact the product. Marlow says this is the preeminent free speech issue of our times.
Excited to welcome such a great crowd here in Metairie with @BreitbartNews #freeourinternet pic.twitter.com/hLVSneSSI4

— Free Our Internet (@Free_Our_Net) April 5, 2018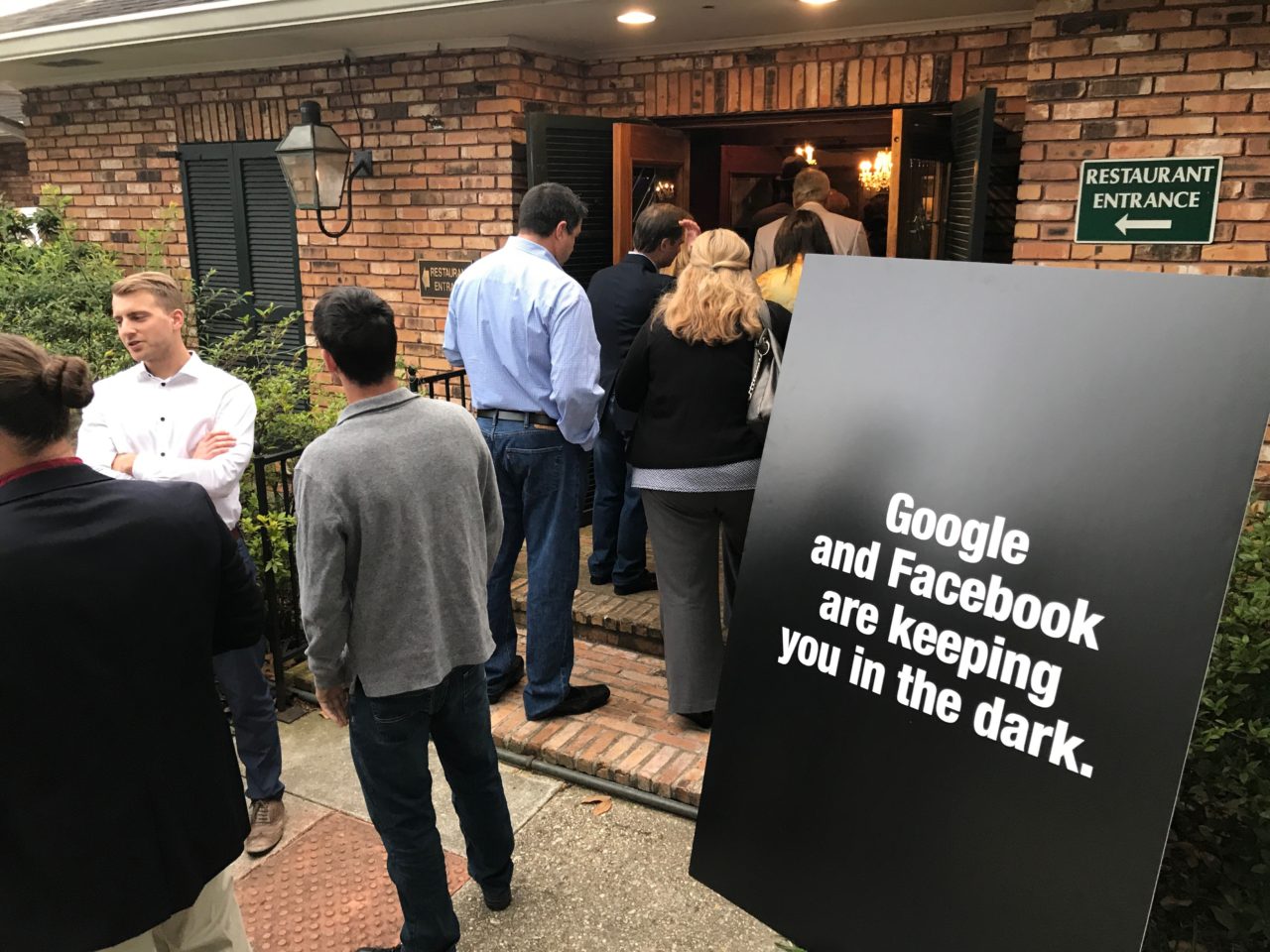 8:11 PM: The town hall is about to get started. Marlow says New Orleans is special to Breitbart News because the late Andrew Breitbart graduated from Tulane University. He says Breitbart used to yell "who dat" at random times. He says he's very happy to be away from the Swamp. The crowd cheers when he says that Breitbart's populism is legit.
Packed crowd expected in Louisiana for the town hall event. The line to get in is around the block:
https://twitter.com/amandaleehouse/status/982040552819609600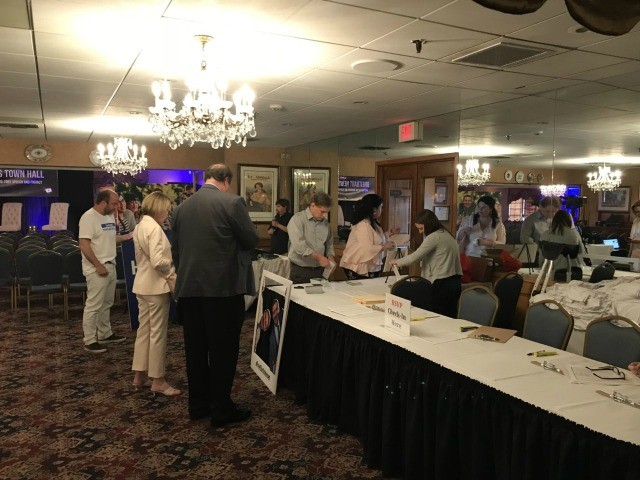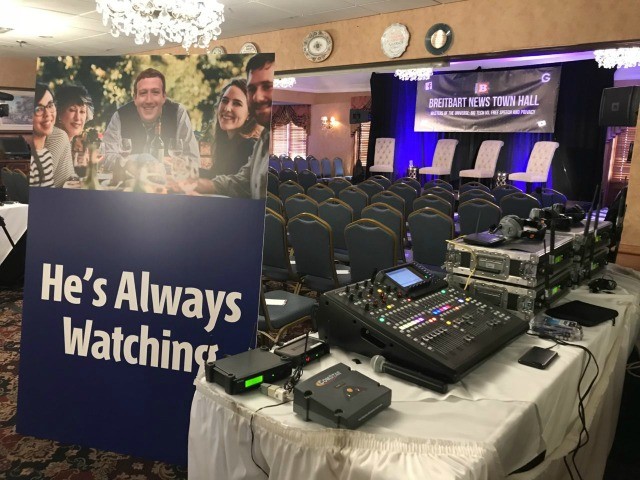 A preview of the town hall event:
Masters of the Universe Town Hall Preview: Robert Epstein Asks 'Who Made Google the Guardian of the Internet?'
via @lucasnolan_https://t.co/Mh26ODuUiy pic.twitter.com/akxcWVs0IZ

— Breitbart Tech (@BreitbartTech) April 5, 2018