Jewish Americans and Christians gathered on the grounds of the U.S. Capitol on Tuesday to encourage Jews to abandon the Democrat Party for its failure to condemn members of Congress who have made antisemitic remarks and criticized U.S. support for Israel.
The rally was to launch what organizers are calling the #JEXIT movement and speakers called on the House to "repeal and rewrite" HR 183, the resolution initially crafted to respond to antisemitic remarks made by Rep. Ilhan Omar (D-MN) but was eventually issued to condemn all forms of hate.
They also called on House Speaker Nancy Pelosi (D-CA) to remove Omar for the House Foreign Relations Committee and to call out others who have supported Omar's stance or have questioned U.S. policy toward Israel, including Reps. Rashida Tlaib (D-MI) and Alexandria Ocasio-Cortez (D-NY).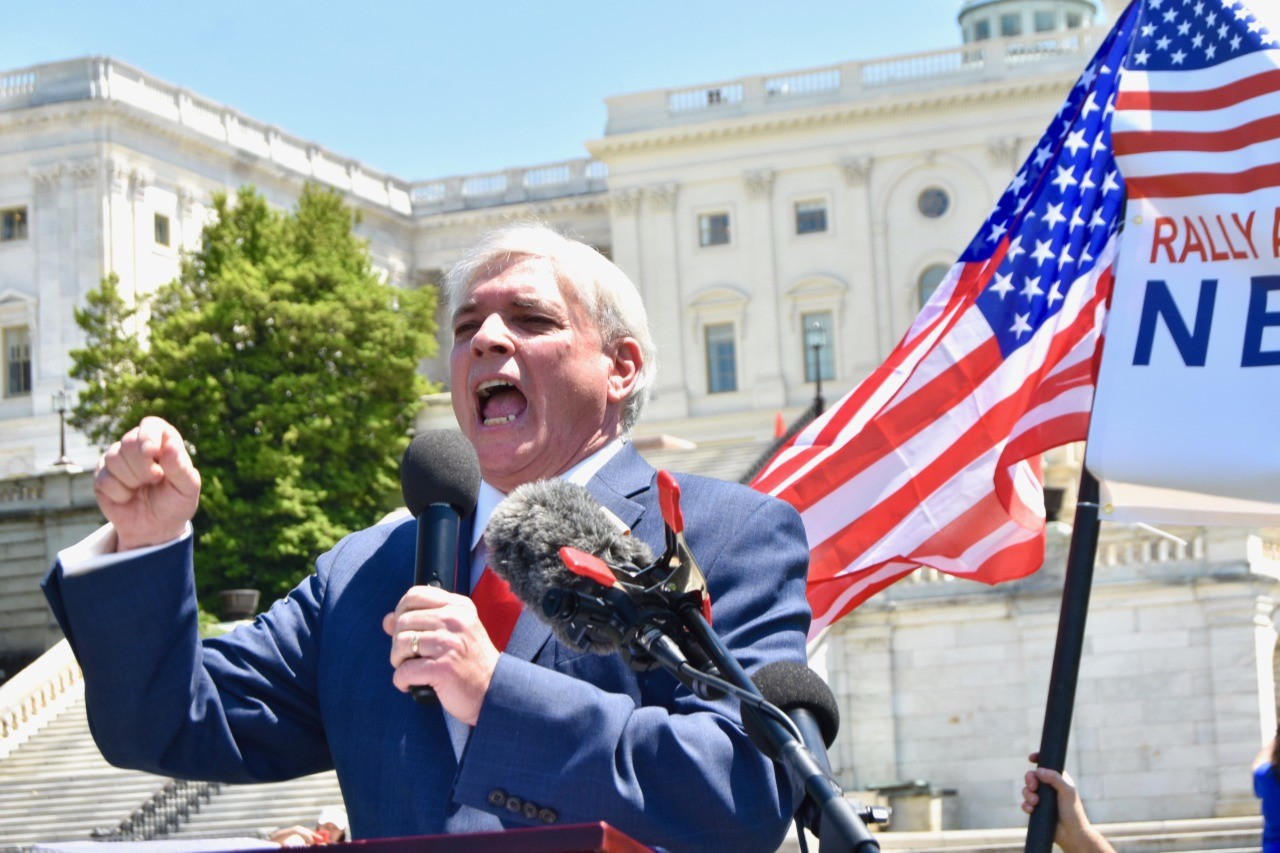 Steven Rogers, who is on President Donald Trump's 2020 campaign advisory board, spoke at the #JEXIT rally at the Capitol on Tuesday. (Penny Starr/Breitbart News)
"It is time to rise across this country with strength, with vigor, with unity to fight not only the evil message of hate but to fight the evil messengers of hate," said Steven Rogers, president of the America Winning Coalition and a member of President Donald Trump's 2020 advisory board.
 "Messengers like Representative Ilhan Omar and her cohorts in this building of the United States Congress," Rogers said. "Americans all over this land as rising up to the call on those whose graves still scream — never again."
"Representative Omar know this," Rogers said. "The United States of America, indeed, will never become a socialist country and we will never turn our backs on Israel."
Vice President of #Jexit Calls on House Speaker Nancy Pelosi to Strip Re… https://t.co/fAvVOgct1Q via @YouTube

— Donna Cornellier (@DonnaCornellie3) May 8, 2019
A rabbi and pastor also spoke at the event.
"If some claim we are racists for condemning hatred because of the quote-unquote identity of the hateful speaker, you, our all-knowing God, know it is those who attack us that are the racists," Rabbi Yaakov Menken said. "They ignore the ugly history of anti-semitism, disregard Jewish knowledge of hate and disenfranchise decent Americans from their right to speak up against it."
"We will rejoice today for Jexit knowing that we are taking a stand against any entity or anything that would want to spread anti-semitism across this nation and around the world," said Leon Benjamin, the senior pastor of New Life Harvest Church in Richmond, Virginia, who has also served as an adviser to Trump.
Scott Newmark, an attorney who serves as the vice president of #JEXIT, also preached to the pro-Israel and pro-Trump crowd.
"Omar and Tlaib not only support terror, they are Hamas propagandists, and it's becoming clearer and clearer every single day," Newmark said. "Israel's antagonists have launched a political assault on pro-Israel Americans."
Newmark said "new radical Democrats" in the House of Representatives "have embraced the evil of anti-semitism and they have demonized Israel."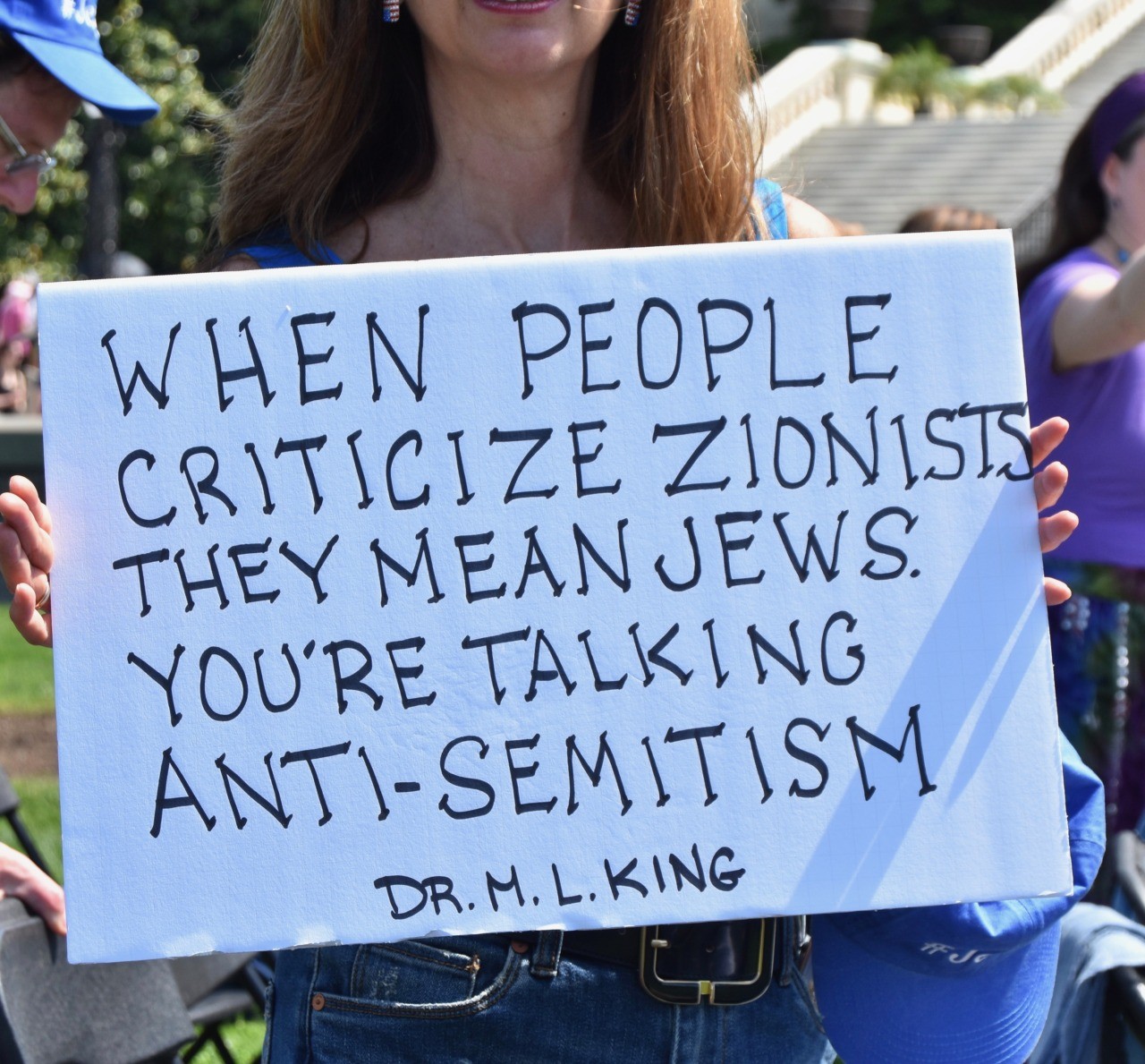 Michelle Terris, director of Americans for Trump, founded the #JEXIT movement. 
"It is our mission to have our voices heard and let it be known through Washington, DC, and our beautiful country that there is no place for this kind of behavior," Terris said. "The anti-semitism that we see brewing inside of our government is not only a threat to the Jews and Christians in America; it is a threat to all Americans because our histories are interconnected."
Jody Steinlauf, who helped organize the rally, took the stage with Terris and said the rally was the first of many that would work to "educate the American people on how the hateful rhetoric and these anti-semitic remarks can spread like cancer if we don't eradicate it now."
"We are living in perilous times and cannot allow this hate to continue," Steinlauf said.
#Jexit! It's Time! https://t.co/wcuQxJIs4s via @YouTube

— Alexandra Levine (@AlexandraLevi20) May 8, 2019
Another rally organizer, Alexandra Levine, reached out to young Americans in her remarks.
"As a young Jewish millennial, I'm tired of listening to the lies and having people in Congress that stand with terrorist organizations, spew out hateful rhetoric and there aren't any consequences for their atrocious actions," Levine said. "The young people need to the know the truth, and that's why Senator Tim Scott and Senator Bob Casey have put together a bill combating antisemitism on college campuses, and Congressman Dan Crenshaw has written a bill making it mandatory that all states in the nation teach the Holocaust in school."
"Currently, it's only mandatory in seven states," Levine said. "The Holocaust was real and young people need to know at an early age that when one or two people start hating on someone that they feel isn't like them, turmoil and genocide can happen."
Follow Penny Starr on Twitter