Most Americans, including three in ten Democrats, think the trio of indictments against former President Donald Trump are "an attempt to stop" his 2024 presidential campaign, according to a CBS/YouGov poll. 
The poll released Sunday asked respondents about how they perceive the indictments and investigations against Trump. When asked if they feel it is "an attempt to stop Trump's 2024 campaign," 59 percent of the respondents said "yes," while 41 percent said "no." 
A deeper look shows that 31 percent of Democrats and 63 percent of independents believe the indictments and investigations against Trump are an effort to hinder his campaign, and 86 percent of Republicans feel the same way. 
However, majorities of the respondents also believe the investigations are "upholding the rule of law" (57 percent) and "defending democracy" (52 percent). Conversely, 43 percent do not think the investigations and indictments are maintaining the rule of law, and 48 percent do not believe they defend democracy, including 3 in 4 Republicans.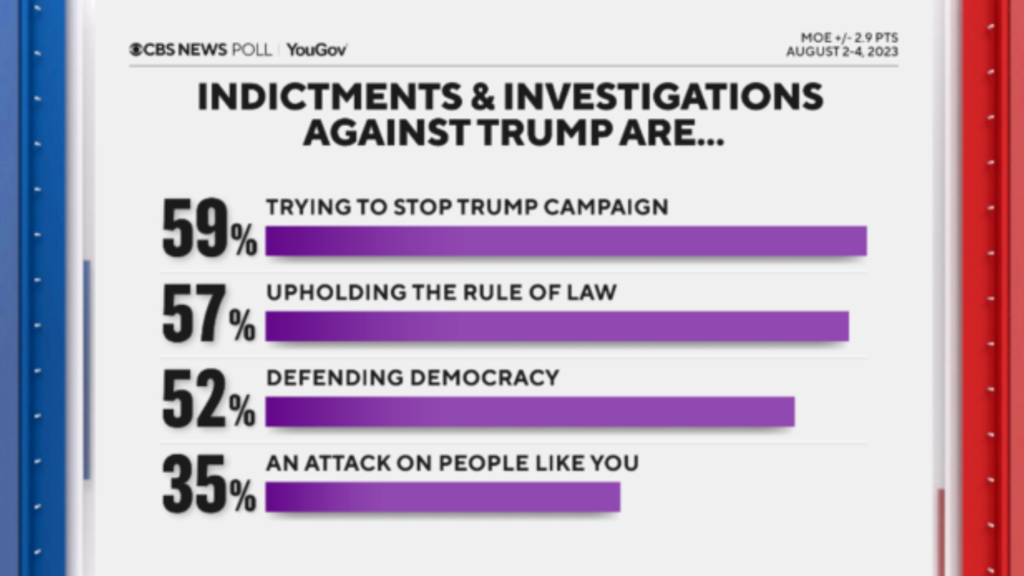 Over a third of respondents perceive the indictments to be "an attack on people like [them]." This includes 56 percent of Republicans and 63 percent of Trump 2020 voters. 
The poll also asked respondents which concerns them more: "That Donald Trump tried to overturn a presidential election" or, "That the charges and indictment against Donald Trump are politically motivated."
RELATED VIDEO — Exclusive: Trump Lays Out Vision for Country Upon Return to Office in Long-form Video Special:
Matthew Perdie / Breitbart News, Jack Knudsen / Breitbart News
The results show 38 percent of Americans are more concerned the charges are politically motivated, while 38 percent are more worried he allegedly attempted to overturn the election. Another 24 percent are equally concerned that Trump allegedly tried to overturn the results and that politics are driving the indictment.
More independents are worried the indictment is "politically motivated" than are concerned about what the allegations against Trump detail at a ratio of 41 percent to 38 percent.
The poll also found that 51 percent of respondents believe Trump "planned to stay in the presidency through illegal and unconstitutional activities," while 49 percent either think he planned to remain in office "through legal and constitutional processes" or that he "did not plan to stay in the presidency beyond the end of his term." 
YouGov sampled 2,145 adults from August 2-4, and the margin of error is plus or minus 2.9 percentage points.