China expert Steven Mosher joined Friday's edition of SiriusXM's Breitbart News Tonight to discuss the revelations in Peter Schweizer's new book, Secret Empires: How the American Political Class Hides Corruption and Enriches Family and Friends, concerning the Chinese government's influence peddling via "sweetheart deals" with family members of prominent American politicians.
Mosher, the president of the Population Research Institute and author of Bully of Asia: Why China's Dream is the New Threat to World Order, explained how Schweizer's new book documents a form of "officially sanctioned corruption" that is deeply rooted in Chinese political culture. He detailed how the Chinese regime purchases political influence in America via the cultivation of economic relationships with prominent politicians' family members, including, as Schweizer's book reveals, the son of Joe Biden, the father- and sister-in-law of Senate Majority Leader Mitch McConnell (R-KY), and the son-in-law of President Donald Trump.
In his interview Friday with Breitbart Senior Editor-at-Large Rebecca Mansour, Mosher praised Schweizer's past work, as president of the Government Accountability Institute, in exposing government corruption.
"I have to say that Peter Schweizer — who I've known for many years and I regard as a friend — is just a bulldog when it comes to this kind of thing," Mosher said. "He does his research, he's gone into the Chinese language websites of some of these firms and translated them into English and made accessible to us information that we would never otherwise know. It's an amazing piece of research."
Mansour and her guest co-host, actress and author Sam Sorbo, detailed the revelations in Schweizer's book concerning the Chinese government's influence peddling in America, including the close ties between the Chinese regime and the family shipping business founded by Elaine Chao's father. Elaine Chao is Mitch McConnell's wife and President Trump's Transportation Secretary. McConnell's sister- and father-in-law both sat on the board of China State Shipbuilding Corp. (CSSC), a state-run shipbuilding company described by Schweizer as "a state-owned defense conglomerate … at the heart of the Chinese government's military-industrial complex."
Mansour further noted that, according to Schweizer's research, the Chinese government-controlled Bank of China appointed McConnell's sister-in-law, Angela Chao, to its board of directors "shortly after President Trump was elected."
"The bank's board of directors up until that point included all senior Chinese officials and one lone Dutch banker," said Mansour, before sarcastically remarking, "Now, I'm sure it was all based on [Angela Chao's] qualifications, and she was the most qualified member of Mitch McConnell's family to get that position. So I don't think we have anything to worry about."
Mosher described China's influence peddling as a "reverse King Midas effect," drawing on the Greek mythological figure's ability to turn things to gold with a touch. The Chinese, he said, held gold in their hands as they sought to purchase influence from various figures and companies. He further explained how corrupt influence peddling is deeply rooted in Chinese political history.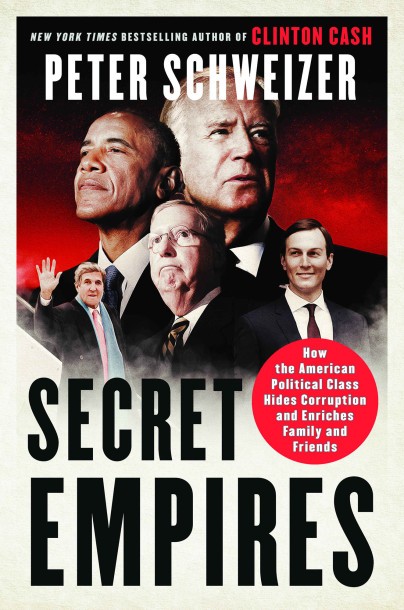 "What we see in China is kind of a reverse King Midas effect," said Mosher. "We all remember the Greek story of King Midas, who whenever he touched something it turned to gold. Well, whenever the Chinese communists touch anything, they have gold in their hands and they want to pass it along to the person or company they're dealing with, so it really is all buying influence. This has a long history in China, by the way, going back a couple of thousand years."
Mosher explained, "When Chinese officials were appointed to govern a province or …. a county, the emperor who appointed them did not give them a budget, he just gave them permission to go to that county [or] province and extort, accept bribes, accept fees of various kinds, and tax the people into poverty. They were expected to raise their own money [and] budget to support themselves, their households, and all their employees in the official government residence…. They would be on the take from the get-go. That's what was expected of them, so it was officially sanctioned corruption."
"The political culture of China from the beginning has been based on this kind of corruption of officials using their authority [and] power to make money [and] to use money to make even more money," said Mosher. "What we now see on the international stage is this whole Chinese gold play that happens inside of China — it's happened for hundreds of years — now it's being exported to other parts of the world like the United States, and again, the reverse King Midas effect, how they're corrupting everything they touch including the family members of American politicians who actually may not be that hard to bring around to the Chinese point of view."
"What did China get in exchange?" Mansour asked Mosher.
"I think there's no question that China wants something in exchange," replied Mosher. "These are not free gifts. This is not a market-based investment, for example, into the Rosemont Seneca firm that was set up by Hunter Biden [and] Devon Archer, as [Peter Schweizer] reports. This was a calculated effort to buy influence with the son of the vice president of the United States. … Had you or I walked in with the same proposal, we wouldn't even have gotten past the receptionist. These people were able to get in because of their parents [and] their family connections to see very high-level officials who consciously wanted to ink a deal in order to rope them into the Chinese way of seeing and doing things."
Mosher explained the revelation in Schweizer's book concerning a billion-dollar investment firm established by Hunter Biden — Joe Biden's son — and the state-run Bank of China.
"In [Peter Schweizer's] account that was published in the New York Post, it's very clear that one of the consequences of this one-billion dollar investment fund that was set up and guaranteed by China — by the way, so you can't lose money, again, it's not a market-based decision; if the Chinese government is guaranteeing the fund then it's a no-lose proposition — and they went out and bought an American company that had a dual-use technology that was useful in not just a commercial sense, but in a military sense, as well, and for some reason this sale, which should have been blocked, was approved," related Mosher. "So, I think you can see how it works."
In 2015, the Obama administration approved a Chinese state-owned company's 51-percent-majority purchase of Henniges, an American "dual-use" parts manufacturer involved in the production of "anti-vibration" automotive technologies with possible military applications. The deal was approved by the the Committee on Foreign Investment in the United States (CFIUS), speculated Mosher, in part due to a Biden-linked firm's purchasing of the remaining 49-percent-minority stake in Henniges.
Sorbo noted how Thornton Group —  a "politically connected consultancy firm" connected to Rosemont Seneca — documented its meeting in China with Hunter Biden on the Chinese-language side of its website, but omitted such details from its English-language website.
"On the Chinese side, they were happy to brag about how they had managed to win influence and buy friends in the United States, and yet their American partners were much more reticent to reveal exactly what was going on," stated Mosher. "I wonder why."
Sorbo framed Chinese purchasing of political influence as a function of a self-serving domestic political class: "This is what you get when you get a political class, an elite class, and they feel that they're untouchable, and they're using their political power and their access to their own benefit."
"It's influence peddling of the worst kind," concurred Mosher. "Going back a hundred years, Warren G. Harding got in trouble because his energy secretary was dealing in oil leases. This is far worse than the kind of scandals and corruption we've seen in American history because it deals with a selling out America to a hostile foreign power. China does not wish us well. China wishes to replace us on the world stage, and they're buying influence and buying companies and stealing technology piecemeal. But they have a plan. This is not happening just by chance. They're targeting the family members of powerful influential American politicians, offering them sweetheart deals knowing that once the deal is inked that they will have that family not in their pocket necessarily, but they'll certainly get a sympathetic hearing on any China issues that comes up."
Mosher didn't question Joe  Biden's patriotism, but noted that when the company or firm of a politician's family member receives "enormous benefits from these sweetheart deals… it has to soften their views on America's stance towards China."
Sorbo challenged Mosher's assessment of Biden's intentions: "I might have a bit of a harder line than you on this, because my understanding is that Biden flew over [to China] for meetings and brought his son. So he's the one parading his son around saying, 'Look at my fine young man. Can you do anything for him?'"
Mosher also noted China's efforts to influence Jared Kushner, Trump's son-in-law and senior advisor, by offering him $600 million towards an outstanding debt on a Manhattan property owed by Kushner's family business.
"The Chinese came in and offered [Jared Kushner] $600 million to prop up his loan for the 666 Fifth Avenue building, which is heavily in debt," said Mosher. "He turned down the offer, but you can see how the Chinese are playing this game. They pick targets of opportunity. Sometimes they succeed. Sometimes they don't, but every time they succeed they chisel away at American resolve to confront what is, after all, I think a mortal danger to the American republic, a mortal danger certainly to the rule of law in the world and the current world order."
Peter Schweizer's new book Secret Empires will hit bookstores nationwide on Tuesday, March 20.
Breitbart News Tonight airs Monday through Friday on SiriusXM's Patriot channel 125 from 9:00 p.m. to midnight Eastern (6:00 p.m. to 9:00 p.m. Pacific).
LISTEN:

Follow Robert Kraychik on Twitter @rkraychik.