The realtor behind the initial, cancelled venue for Lucian Wintrich's upcoming pro-Trump art show, Sam Reznitsky, is threatening to sue after claiming that he didn't know the event would be in favour of Donald Trump, despite writing down on paper that it would be.
Text messages, and a screenshot of the agreement signed by Reznitsky, show that the realtor had marked the event down as a "Trump Gallery Show", despite his recent claims that Wintrich had failed to tell him it was a Trump-related show.
"You told us numerous times it's not a Trump show" claimed Reznitsky in a text message sent to Wintrich, where he tried to blackmail the Twinks4Trump creator into paying the realtor fee, despite the fact that the venue had cancelled last minute and threatened to donate the funds to the Hillary Clinton campaign.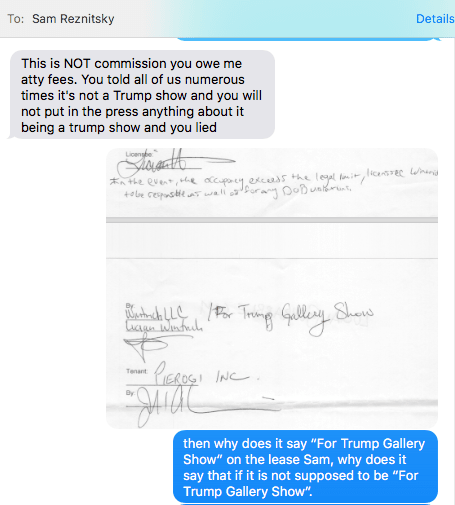 "If I don't have a check at 5pm I'm going to make you lose all credibility in the art world" warned Reznitsky in his series of threatening text messages. "Think about your next step carefully."
Wintrich, when asked for comment about Sam's threats to his reputation, said "Ruin what reputation? He obviously hasn't read what art publications already say about me."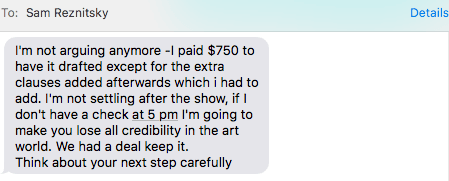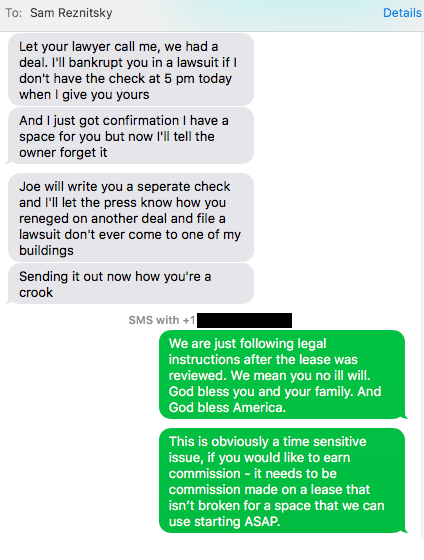 Reznitsky then continued to make lawsuit threats, warning "I'll bankrupt you in a lawsuit if I don't have the check at 5pm today."
The Boiler, a Pierogi Art Gallery-owner venue in Brooklyn, New York, cancelled the show at their location just days before the event, which is to take place at another venue this Saturday. The new venue is located in Manhattan, and will be announced shortly. Tickets are still available via IndieGoGo.
Claiming that he believed the art show was satirical, the venue owner Joe Amrhein threatened to send the funds to the Clinton Campaign, before cancelling the event at his location altogether.
The cancellation came just days after a Death and Taxes writer contacted hundreds of New York journalists, requesting that they ignore Wintrich's art show.
Left-wing news outlet Mic then continued to pressure a gay military charity into rejecting any donations from the fundraiser that Wintrich had planned for the event.
Breitbart News contacted Reznitsky, but he refused to comment on the record.
Milo Yiannopoulos, Martin Shkreli, and Gavin McInnes have all contributed art pieces for the event, which will also exhibit Wintrich's signature Twinks4Trump photoshoot.
The art exhibit is still scheduled to take place, and will be moved to a new location in Manhattan, to be announced soon. You can purchase tickets for the show on Saturday, and donate to the event at IndieGoGo.
Charlie Nash is a reporter for Breitbart Tech. You can follow him on Twitter @MrNashington or like his page at Facebook.