Indiana Pacers 2010 first-round draft choice Paul George experienced what could best be described as a Joe Theismann moment during a Team USA basketball scrimmage when he suffered a horrific tibia-fibula fracture on Saturday. Don't look.
George, in pursuit of a racing Rocket James Harden, jumped to block his shot and collided with the stanchion, snapping in half the lower part of his leg. USA Today reported that Indiana Pacers president Larry Bird commented on the injury saying, "This is an extremely unfortunate injury that occurred on a highly-visible stage, but could also have occurred anytime, anywhere."
Unfortunate indeed. Given the extent of the fracture, the likelihood is great that George will miss the 2014-15 season. This is a substantial blow to the Pacers because the versatile shooting guard/small forward averaged 21 points a game last season.
**WARNING GRAPHIC IMAGE**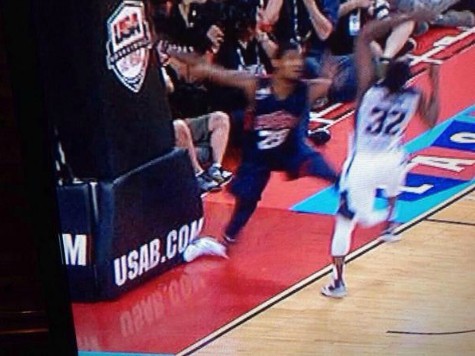 The incident that occurred at UNLV's Thomas & Mack Center spotlights a controversy surrounding just how far stanchions should be placed from the baseline of the basketball court. In this case it was a mere three feet and eleven inches away. The NBA minimum is four feet from the basket but, according to Forbes, many teams tend to add another foot or two of space.
Adding fuel to the debate is the line of photographers and media members that crowd the courtside of NBA basketball arenas. Often, they interfere and in some cases cause collisions with players, as was the case with Blake Griffin in a NBA game in March. Moreover, Nikola Vucevic of the Orlando Magic sprained his ankle last season when he accidentally stepped on the foot of a courtside photographer.
Erik Sigurdson, the founder of Courtsports, a company that designs and maintains basketball courts and has worked for hundreds of NBA and NCAA teams, says, "After Paul's injury [Friday], portable hoops are going to need to be changed to prevent injury." He added, "The gap at the bottom [of the stanchion] will need to be closed and the distance from out-of-bounds will need to be increased to a minimum of five-to-six feet…. This will require modifications on the seating in many arenas and possible lost seats."
Can courts just simply jettison the portable basket configurations and suspend them from arena ceilings? It is possible, but it would be impractical, contends Sigurdson, considering the great height of the ceiling at the arenas. "It would require a vast amount of engineering to make the system stable," he explained. 
In Sigurdson's mind, the problem with the nearby cameramen and media is more problematic than the proximity of the stanchions. "Media members are allowed to sit six feet from the out-of-bounds line on NCAA courts and even closer on NBA courts," Sigurdson said. "This is more of a concern to me than the hoops."