BOSTON–The Only Game That Matters really, really mattered this year.
A full house of 31,062 at Harvard Stadium, $30 tickets peddled for $120 by guys in track suits boasting neither Harvard nor high school degrees, and ESPN's College GameDay trekking from Bristol to Boston all acknowledged as much. So did the Ivy League, whose championship Yale and Harvard desperately battled for on Saturday afternoon.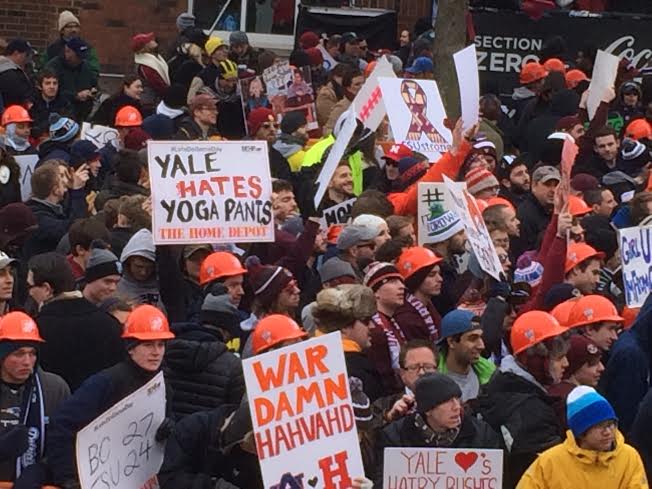 "This one is historic," offered Peter Coppinger, a former Harvard football captain. "It's a game where both teams get up for it, particularly this year. You have an 8-1 team against a 9-0 team–a lot of history, lot of tradition. It's really quite a show." He maintains that playing actually beats tailgating at the 139-year-old event.
The Game, perhaps the best since Harvard's 29-29 victory over Yale 46 years ago, lived up to its billing. Lee Corso and company brought the Saturday-morning excitement–dampened somewhat by the ESPN prognosticator donning a Bulldog head to indicate his prediction as much as the home team's lack of a mascot. The spectators did their part in the spectacle, too. Determined to transform an athletic event into an intellectual exercise, the Ivy Leaguers played anthropologists toward America's Game. The football fans reciprocated by playing Margaret Mead toward the natives.
"Football is an American sport," one Cantabrigian announces. "Americans aren't smart." An animated discussion erupts about the peculiar pronunciation the word "defense" (D-fence) enjoys in relation to sports. Crimson fans marvel that a receiver has just "scored a point" in the end zone and offer full-throated "Go the D" shouts when Yale possesses the ball.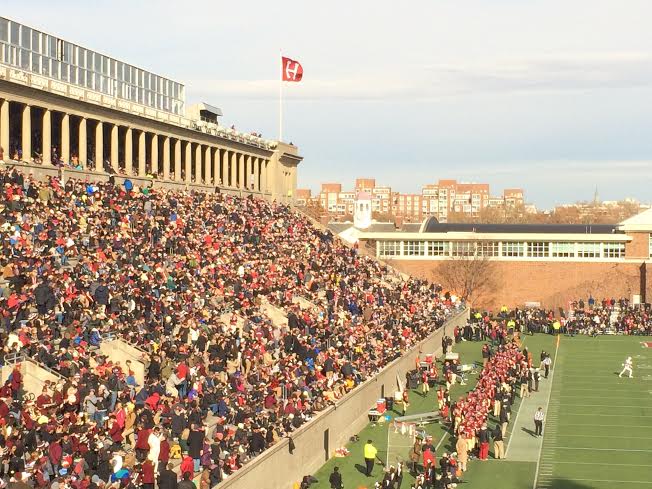 The sports crowd instills conformity on its peculiar parts, enticing back-and-forth "Yale sucks!"/"Harvard sucks!" chants that remind that a football game on an Ivy League campus remains a football game. But the Harvard Men remember themselves by offering a more clever rebuttal–"Safety school! Safety school! Safety school!"–toward their New Haven nemeses. Hipster intentional irony pervades. A Harvard coed targets Yale with a "U So Bad at Football" sign and the throng mockingly erupts in several spontaneous "USA! USA!" chants. Even when they get in on the football fun, they remain on the outside poking fun.   
Harvard University, perhaps in deference to its Puritan forefathers, forgoes serving beer to the throngs. Flasks, half-pint whiskey bottles, and Keystone Light cans (the slumming, one surmises) suggest the students prefer 17th-century Harvard President Increase Mather's assessment of alcohol as "a good creature of God" to President Drew Faust's current Carrie A. Nation approach to it. One student declines to treat his classmates to the concession stand. "I didn't intern at Goldman this summer," he explains. Another, finding the stadium fare of hot dogs, hamburgers, and pizza unhealthy or inedible or immoral, demonstratively munches on giant leafs of lettuce that he equitably shares with his classmates. He then dines on carrots after methodically scraping them of earthen remora. To complete the vegan feast, he devours an avocado.
On the field, Harvard breaks open a hitherto nondescript game by scoring three straight touchdowns in the third quarter. As though comprehending the difficulty of capturing this tough crowd's attention, they do so by turning an end-around into a receiver-to-receiver 40-yard bomb to paydirt and a rollicking 90-yard pick six by linebacker Connor Sheehan. The show compels the eggheads to embrace the athletes with enthusiasm.
The Bulldogs enter the fourth quarter down 24-7. Knowing just what the situation requires, Yale's student body reveals its student bodies. In Section 15 just above the south end zone, Yalies disrobe en masse as the mercury flirts with freezing. At least one courageous undergraduate, captured in the buff in blurry glory below, lifts his team's spirits by dropping his drawers. He stands around nude for several minutes. Badged Big Brothers don't bother him. Mother Nature eventually does. "Things are desperate for the Yalies," a Harvard Man informs of the naked New Havenite. "They have to try anything they've got."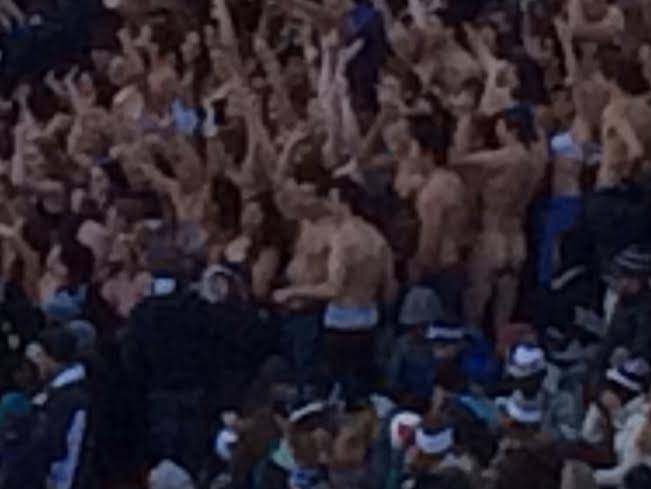 What they got doesn't appear to be a lot. But the public nudity proves a win-one-for-the-Gipper moment for the Bulldogs. Inspired by the student's stand against prevailing mores and polar-vortex winds whipping off the Charles, Yale rattles off 17-straight points to stalemate the game at 24. You could almost hear Yale head coach Tony Reno implore his troops to win one for the naked guy. Alas, with less than a minute remaining, Crimson receiver Andrew Fischer takes a 35-yard Conner Hempel pass into the end zone. Harvard 31, Yale 24.
When the moment calls for more bare flesh, the Yalies revert to stiff, monocle-wearing Whiffenpoofs. The team needs Animal House. The fans give them Dead Poets Society. Their clothes, suffocating the fuel that catalyzed Yale's comeback, remain on–dooming the Bulldogs to remain down. Trailing 31-24, Yale quarterback Morgan Roberts marches the Bulldogs down the field with just 55 seconds at his disposal. At the Harvard 32, Roberts can see the end zone and that the scoreboard allows for probably two shots at it. But Harvard defensive back Scott Peters takes his shot and takes a Roberts ball out of the air.
The clock ticks its last, and the mad rush of humanity scales the barriers between competitors and spectators. Even Yalies, merely momentarily depressed by the outcome, storm the field in an acknowledgment that The Only Game That Matters doesn't matter so much to fans accustomed to attending this contest but no other.
Daniel J. Flynn, the author of The War on Football: Saving America's Game (Regnery, 2013), edits Breitbart Sports.