It wasn't easy but Dustin Johnson overcame yet another rules controversy to win the U.S. Open and his first major championship.
His unparalleled driving of the golf ball separated him from the field and he was able to overcome a four-stroke deficit to Irishman Shane Lowry. DJ's one-under 69 was good for a three-stroke win over Scott Piercy, Jim Furyk, and Lowry.
The controversy ensued on the fifth hole as Johnson lined up over a putt but never grounded his putter. He then backed away and motioned for a rules official as he saw his ball had moved slightly. No penalty was assessed as it was originally deemed by the walking official that he did not cause the ball to move. Later at the 12th hole, USGA officials approached DJ and warned that they may give him a penalty for causing the ball to move. They had looked at video and thought Dustin was the cause of the slight movement of the ball.
The relevant rule in question is 18-2/0.5 which states that "the weight of the evidence must be evaluated to determine whether you are ultimately responsible for the movement." In DJ's case the evidence shows that his putter being in close proximity to the ball most likely caused it to move.
Why else would the ball move at that exact point?
Twitter then erupted with armchair rules officials and golf journalists calling the USGA stupid and incompetent. They're not. They're actually very professional as shown in this video.  I assume people get confused by seeing professionalism these days and it causes them to make uninformed comments on social media. In the video above, you see a man under intense pressure who answers every question intelligently and reasonably.
Johnson was assessed the penalty after the round but thankfully it never mattered as he was rock solid down the stretch and won comfortably even capping the round off with a magnificent birdie on the 18th hole.
This was not DJ's first brush with controversy in a major. In the 2010 PGA championship at Whistling Straights, he grounded his club in a sandy hazard on the 18th hole and went from leading by a stroke to 3rd place after a two-shot penalty. He was apparently unaware of the local rule about sand hazards even though they had posted numerous notes around the clubhouse informing the players and caddies. It was a mistake you would never see a prominent golfer make under any circumstance.
Johnson has also failed to close out a number of major championships and was clearly the best player to have never won a major, until Sunday night. Among the near misses:
The 2010 U.S. Open at Pebble Beach: DJ took a three-stroke lead into Sunday but immediately gave it away with a triple bogey on the second hole and a double bogey on the third.
The 2011 British Open: He was 2 shots behind the leader Darren Clarke when he inexplicably hit a 2 iron out of bounds to take a double bogey and fall out of contention.
The 2015 U.S. Open: Who can forget the 3 putt from 15 feet? In fairness, he did hit one of the best drives and approach shots you'll ever see but nobody remembers that.
Those failures can all be forgotten now that he finally won his country's national championship.
This win was also redemption for DJ on a personal level. He had developed a reputation as a partier and lothario on the PGA tour. With a drug suspension and numerous rumors of him messing around with other players' wives, he wasn't exactly following in the straight-arrow path of a Jack Nicklaus. He has now transformed from golfing degenerate into loveable rapscallion. See what winning can do?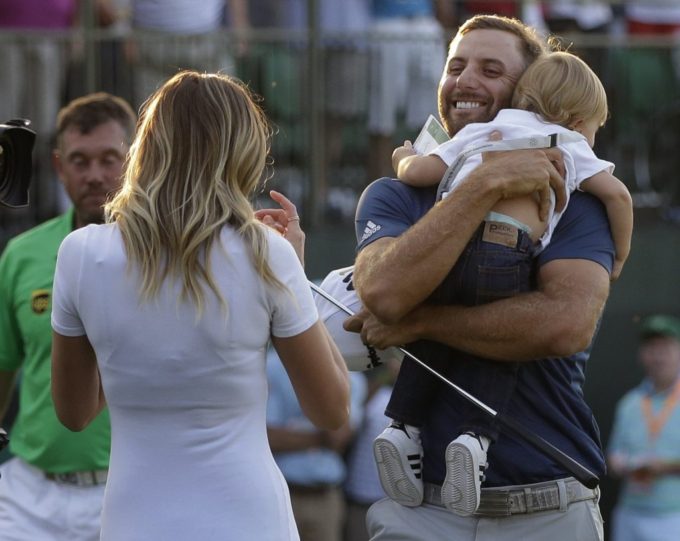 While he has yet to make an honest woman out of Paulina Gretzky, they looked smitten after the win with their toddler Tatum in tow. Paulina was clearly relishing the spotlight and had to be thinking: Finally, I get to enjoy my moment in the sun….I coulda been with Jordan Spieth all this time you know. The Oakmont crowds were chanting "DJ! DJ!" as he walked up the 18th hole and it looked like this historic win was well worth the long wait.
Follow Daniel Redmond on Twitter: @danfromdc.