Twitter users are claiming the social media platform censored the #StopIslam hashtag after it began trending in the wake of the terrorist attacks in Brussels earlier today.
Users tweeted with the tag to express their frustration with another terrorist attack as well as the politicians who refuse to link the extremism with Islam, and the hashtag spawned a huge wave of tweets from around the world.
Christianity must be disempowered and demonized.

Islam must be empowered and promoted.

This is what Leftwingers actually think #StopIslam

— EscapeVelocity (@EscapeVelo) March 22, 2016
#StopIslam is trending worldwide, there will never be peace in the Western world until Islam is gone

— David Jones (@DavidJo52951945) March 22, 2016
I'm gay. This is why I want to #StopIslam https://t.co/8DWdYUndyO

— Milo Yiannopoulos ✘ (@Nero) March 22, 2016
#StopIslam is trending. pic.twitter.com/nOYbhGn6Ni

— Cant Stump the Trump (@CantStumpTrump1) March 22, 2016
So many attacks in the west from these Buddhists, Hindu's, Sikhs, and Christians. Definitely not just Islam. #StopIslam

— Charlie Nash (@MrNashington) March 22, 2016
Tell me again… which party is "fear mongering"? #Brussels #StopIslam pic.twitter.com/mhFmDovAtA

— Steven Crowder (@scrowder) March 22, 2016
Due to Twitter's notorious history of censoring and removing things that are against the platform's political agenda, user's started to joke that it was only time before the hashtag was removed.
Let's see if we can make #StopIslam trend high enough that twitter is forced to censor it. pic.twitter.com/Oq5vvYZpCO

— D.C. Diamond Dogs (@BenedictKMiller) March 22, 2016
Well #StopIslam is trending. To be followed shortly by Twitter artificially stopping #StopIslam from trending.

— Caleb Howe (@CalebHowe) March 22, 2016
And then it disappeared for some users; it is no longer trending in the "Worldwide" or United States trend lists, though the hashtag is still at the top of the list of trending topics for many European countries including the UK, Germany, France, and Belgium.
#StopIslam is gone for me. Just vanished out of thin air. pic.twitter.com/Cy95pRY4sK

— Charlie Nash (@MrNashington) March 22, 2016
Oh look #StopIslam isn't trending now, just like that.

— Chris Pur (@Crisprtek) March 22, 2016
How can #StopIslam be #1 UK trend yet vanish from USA? Surely not Twitter censoring the hashtag? pic.twitter.com/xNBBipG0jc

— Martin Daubney (@MartinDaubney) March 22, 2016
Twitter has censored the #StopIslam hashtag. It is no longer appearing in trending topics.

— Milo Yiannopoulos ✘ (@Nero) March 22, 2016
Yes, #StopIslam is censored. See, this is why I do not like this site anymore. They censor the truth. #RIPTwitter

— The Trigger Man (@fedupwithpccrap) March 22, 2016
The commissars at the Twitter "Truth and Safety" council have now censored #StopIslam from worldwide trends. pic.twitter.com/zKyREsMcmr

— Tom Dan (@TomDanTheRock) March 22, 2016
@twitter @Support just censored the #StopIslam hashtag, which was trending in the USA.

— Swanson Nation (@SwansonNation) March 22, 2016
Twitter may have attempted to incorrectly auto-complete the hashtag when it is searched or typed, some users have highlighted.
.@MrNashington Charlie – I just saw this. They have changed the #StopIslam autocomplete to a typo. pic.twitter.com/FXl1PtgSew

— Lyle Yiannopoulos (@Lyde15) March 22, 2016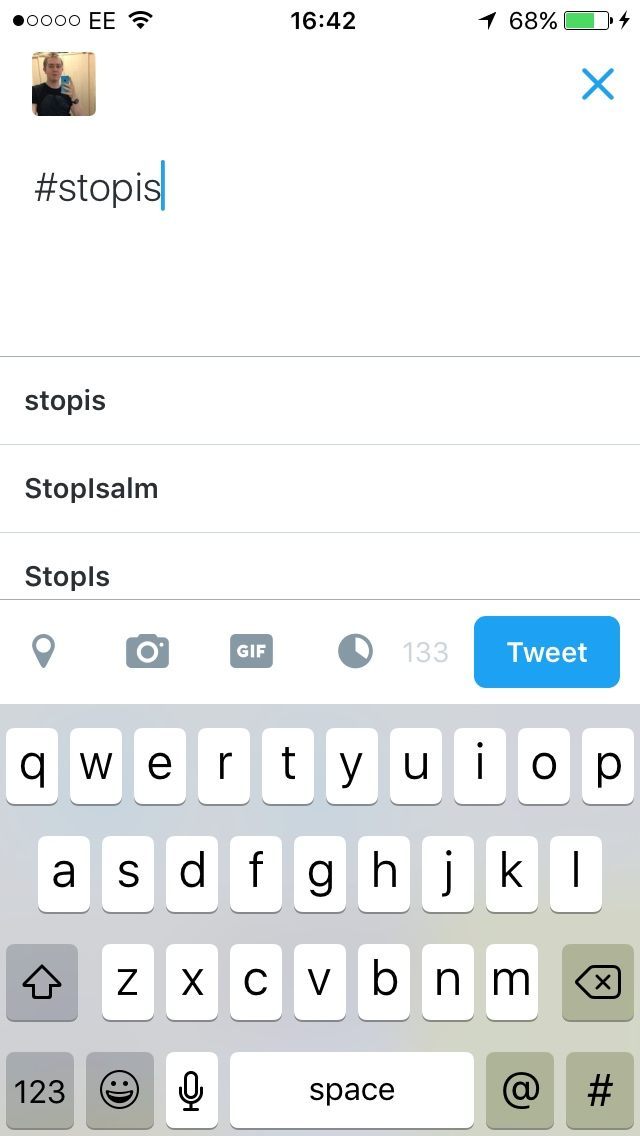 This is a common trick used by Twitter to quickly slow down and diminish a hashtag, and has been used with numerous controversial hashtags before. The result is users being tricked into using a completely separate misspelt hashtag that means the original hashtag gets cut off from new additions without the mistake being entirely noticeable to the poster. In this case Islam has been auto-changed to Isalm, a subtle difference.
Journalist and Broadcaster Martin Daubney also highlighted the fact that Twitter's display of "top tweets" for the hashtag weren't actually the top tweets. Only tweets that fit the political narrative were displayed at the top.
The "top tweets" on #StopIslam aren't actually the top tweets, but the ones that fit the narrative pic.twitter.com/MANIAmwIuf

— Martin Daubney (@MartinDaubney) March 22, 2016
As of writing this story, the hashtag has since returned to its number one position for "Worldwide" trends. This may intersect with Daubney's discovery that tweets expressing condemnation of the hashtag are practically pinned to the top whenever you search for it, regardless of how many likes less they have than their pro-#StopIslam counterparts.
Twitter has become so erratic and unpredictable, with their frequent censorship and anti-free speech rhetoric, that it is causing users to distrust the platform. They're afraid to be shadow banned for displaying the wrong political affiliation, and they're afraid of being suspended for making innocuous jokes to the wrong person. Users are even afraid about what features Twitter will introduce, regardless of whether anyone wants them, because as evident in the past CEO Jack Dorsey has not been entirely truthful with his userbase. There is no trust anymore, and they're spending their time making birthday "like" animations instead of addressing these problems.
Charlie Nash is a frequent contributor to Breitbart Tech and former editor of the Squid Magazine. You can follow him on Twitter @MrNashington.