Establishment media received a massive boost in Facebook engagement this month, following the social network's January 11 algorithm change, while conservative media declined, according to independent social media analysis.
Social media analytics service NewsWhip reports that the top ten most-engaged sites on Facebook are now all establishment, mainstream media outlets. Far-left establishment media outlet CNN now has the most engagement (likes, shares, comments) of all sites on Facebook.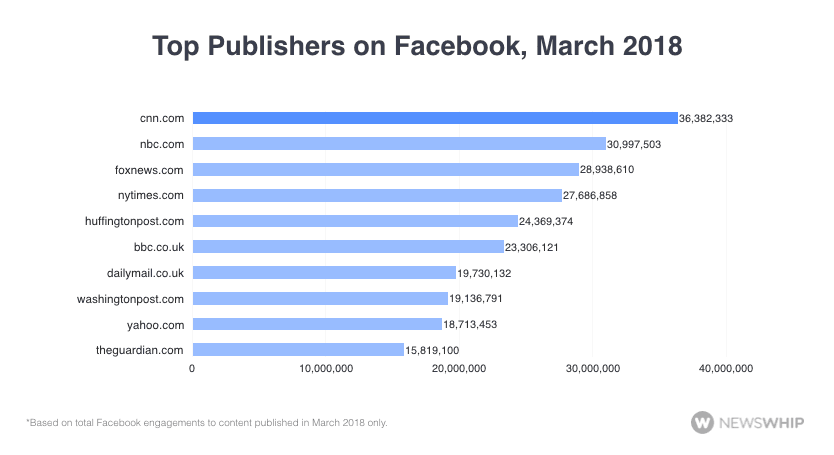 NewsWhip notes that CNN's "remarkable 30.1 percent increase" in engagement did not follow the usual pattern for a website, in which a small number of viral articles give them a short-term boost in the rankings. Instead, NewsWhip notes that average engagement across all CNN articles went up.
While the site did have some very popular stories (66 of 5,597 stories published in March saw over 100,000 Facebook interactions), there seems to have also been a general lift in interactions for stories further down the chain. CNN's average engagement per article in March was 7,010, up from 4,982 in February.
NewsWhip notes that the rest of corporate media has also been soaring up Facebook's rankings.
NBC and Fox News also consolidated their positions in second and third place, with increases of a few million interactions.

The New York Times also saw major growth, up 9.3 million to 27.3 million interactions.

…

Elsewhere, it was an interesting month for major news sites generally, with the BBC, the Washington Post, and the Guardian all posting particularly impressive gains.
The biggest drops in March were to non-legacy conservative media. NewsWhip notes that The Daily Wire saw a loss of 1.5 million engagements this month, while the Western Journal's position in the rankings fell by almost half, from 12th to 22nd. Breitbart News is now 21st in the rankings, compared to 9th in December.
What changed? NewsWhip states the obvious:
It seems highly likely that these changes are predicated on the ongoing news feed algorithm changes, which took effect around the end of January. It's not clear whether these increases have resulted in more traffic for the sites concerned, and it's not to say that all sites will have benefitted.

Reflecting on changes in social publishing at the end of 2017, we noted that the biggest winners in a difficult year of much change appeared to be established news organisations:

"A broad pattern of consolidation amongst some strong (largely legacy) publishers has emerged, such as Fox, the New York Times and NBC, with the occasional newcomer scoring a breakout month of interest before sliding back down."
At the time of the algorithm change, Zuckerberg's stated goal was to promote "high-quality news" that "helps build a sense of common ground." His focus is on implementing what he calls the "trusted sources" ranking.
This is the narrative that Zuckerberg has repeated in public, recently telling Vox's Ezra Klein that Facebook aims to promote "high-quality journalism" and "good trustworthy journalism."
One of Zuckerberg's examples of "good trustworthy journalism" was the New York Times.
We are now seeing the results of Zuckerberg imposing his personal values on Facebook's algorithm. Establishment media are the winners, while their new media rivals are left by the wayside.
Allum Bokhari is the senior technology correspondent at Breitbart News. You can follow him on Twitter, Gab.ai and add him on Facebook. Email tips and suggestions to allumbokhari@protonmail.com.