Facebook was stopping users from posting links to Breitbart News and New York Post articles this week, claiming they count as "spam" and don't follow "Community Standards." The company later apologized, calling it a "bug."
Breitbart News reporter Warner Todd Huston received several notifications from Facebook which claimed his posts featuring links to Breitbart News articles had been removed for "spam."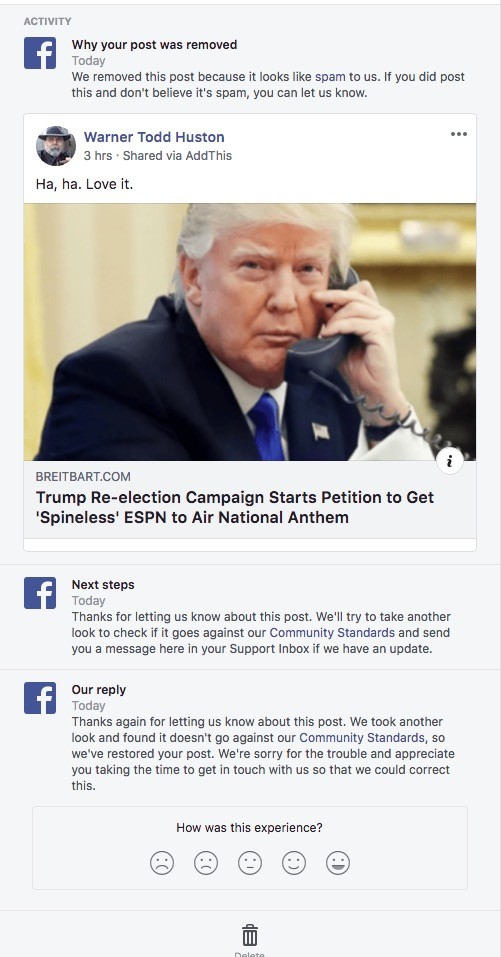 The posts were only restored following an appeal made to the company.
Readers of Breitbart News also reported the same problem.  One contacted a Breitbart News employee to say "I can confirm that Facebook is now deleting posts. I shared 3 posts of Breitbart articles this morning. They were deleted within 2 minutes."
New York Post reporter Salena Zito also claimed that her article about supporters of President Trump had been placed on Facebook's spam list.
So this is interesting…@facebook took down my post of my reporting for the @nypost — I've received nine separate messages from readers telling me the same thing has happened to them. 'sup @facebook ?https://t.co/dCwG9HQiJI

— SalenaZito (@SalenaZito) August 23, 2018
Facebook eventually apologized for the treatment of these articles, blaming a "bug." The company communicated to the Post's Salena Zito that "a bug caused some posts to be incorrectly marked as spam and removed. We've fixed the issue and restored the posts. We're really sorry this happened.
Regarding my story being taken down on my Facebook page (as well as many others) and marked as spam or not up to Community Standards Facebook has responded approximately 14 hours after I inquired as to why.
It was a bug. https://t.co/BValETmIyQ

— SalenaZito (@SalenaZito) August 24, 2018
This week, it was reported that Facebook CEO Mark Zuckerberg, his wife Priscilla Chan, and Facebook co-founder Dustin Moskovitz are pouring "millions into midterm initiatives" through the Chan Zuckerberg Initiative, where former Obama Campaign Manager David Plouffe works as the head of policy and advocacy.
The Chan Zuckerberg Initiative previously donated millions of dollars to a program which pledged to give college scholarships to illegal immigrants, while in October it was revealed that Zuckerberg plans to "influence American politics for generations to come."
Facebook also employs 36 individuals who previously worked for former President Obama, and nine individuals who worked for failed Democratic presidential candidate Hillary Clinton.