Breitbart Texas traveled to the Mexican border cities of Reynosa and Matamoros to recruit citizen journalists willing to risk their lives and expose the cartels silencing their communities. The writers would face certain death at the hands of the Gulf Cartel if a pseudonym were not used. Breitbart Texas' Cartel Chronicles are published in both English and in their original Spanish. This article was written by Matamoros' "JA Espinoza."
MATAMOROS, Tamaulipas—Speaking about this border city one talks about the northernmost part of Tamaulipas, where Matamoros has become a synonym of violence, drug trafficking, human trafficking, and kidnapping. It also means talking about fierce gun battles that have left their mark here in recent years. The scars throughout the city act as a reminder of the many figures that worked for drug cartels.
A conflict that has transformed the image of the city and fights to change that which has damaged so much the area's community and economy. The border city of Matamoros now has a lengthy history of cartel gunmen wearing body armor and riding in convoys while taking part in shootouts, high speed chases, and blockades.
These events occurred and continue to occur in this city's main avenues, where border residents have witnessed first-hand the shootouts between rival cartel members and as well as shootouts between gunmen and Mexican soldiers.
Now, years after the shootouts began, the main avenues in this border city are covered with crosses and flower arrangements – silent reminders of the out-of-control violence.
In the makeshift altars throughout the city streets, relatives and friends have placed crosses, floral arrangements, rosaries, and even personal items of cartel members who died in those very streets.
Many of the gunmen died riding in SUVs as part of cartel convoys involved in rolling shootouts with authorities or their rivals.
The markings along those avenues bear the names of the cartel members and some of them even bear the rank of commander and the decedent's nickname, which is a term commonly used among cartel members to single out group leaders and is seen as a sign of respect among criminals.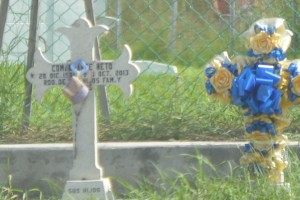 The crosses and makeshift altars dot the same roads that have seen most of the violence in this city. On the East side of the city, Cantinflas Avenue, Tarahumara Street, Praderas neighborhood, Palo Verde Avenue, Juarez Avenue, Tecnologico Avenue and many others have the altars in place.
On the city's East side makeshift altars also dot the main crossings on the city's West side such as in Sendero Nacional Highway, May First Street, Puerto Rico neighborhood and many others.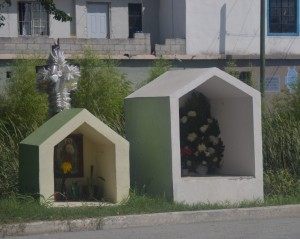 All those makeshift altars don't include the ones placed in rural communities called ejidos, where access to those areas remains dangerous for those who are not locals. In those ejidos in addition to the makeshift altars, sources state that there are hundreds of clandestine grave sites where rival cartel members have been killed and buried.
Currently traveling through those avenues reveals a glimpse of the hidden history of Matamoros as it serves as a grim reminders of what happened there with a date and name of criminals killed fighting for drug territories.
The ongoing violence in this region has resulted in the U.S. Department of State posting regular consular warnings in an effort to keep travelers safe. Using Twitter and Facebook, consular officials will at times post information about shootouts and gun battles as to warn individuals going into Mexico.
From 2010 until now, authorities or scholars have been able to compile neither true statistics about the scope of the violence in this area nor an accurate count of those killed by the fierce cartel gun battles.
Nonetheless makeshift altars and crosses serve as grim reminders of the violence that the Tamaulipas government has not documented or purposely overlooked in an effort to minimize the carnage that the altars allude to.