MATAMOROS, Tamaulipas — The infighting for control of the Gulf Cartel in this border city has led to the kidnapping and likely execution of a long time cartel boss and founding leader of Los Zetas. It appears his family met the same fate.
Rogelio Rolando Gonzalez Pizana better known as Kelin or Z-2 was one of the original founding members of the fearsome Los Zetas. While a body has not been found and Mexican authorities have remained silent about the case, Breitbart Texas has consulted with multiple sources in and out of law enforcement in the Mexican state of Tamaulipas. They all stated they have received information that points to Gonzalez's kidnapping and execution at the hands of his rivals within the Gulf Cartel.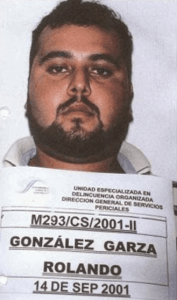 KELIN AND LOS ZETAS
What became known as one of Mexico's most ruthless and violent cartels, Los Zetas started as a group of highly trained bodyguards and enforcers loyal to then Gulf Cartel boss Osiel Cardenas Guillen. Unlike most of the original Zetas, Gonzalez was not former military. He did have federal police credentials; however, it remains unclear if he actually served in the police force.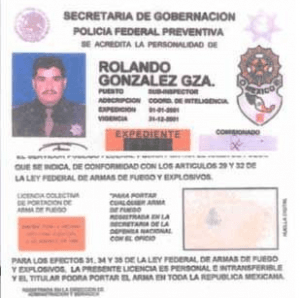 After Guillen's arrest and the death of Arturo (Z-1) Guzman Decena, Gonzalez headed Los Zetas and a section of the Gulf Cartel. His reign was a short lived one.
On October 29, 2004, Mexican military and federal police forces attempted to arrest Gonzalez at a strip club called La Covacha in the border city of Matamoros. The arrest rapidly escalated into a fearsome gun battle with several casualties on both sides. Authorities were finally able to arrest El Kelin and send him to Mexico City to stand trial.
Gonzalez remained in prison until he was finally sentenced on January 2014 to a 16-year prison term, Breitbart Texas reported. El Kelin's term in prison meant that he missed the betrayals, murders and executions that led to the barbaric war between the Gulf Cartel and Los Zetas.
KELIN BACK ON THE BORDER
In August 2014, a Mexican federal judge changed his sentence to six years in prison and had him immediately released. The release upset U.S. law enforcement agents since they had a drug trafficking indictment against him.  At the time, cartel members had leaked a news release claiming that Gonzalez was preparing to take over the Gulf Cartel and would remove the younger wilder leadership in order to quiet down the border area.
Breitbart Texas spoke with various sources that confirmed that for several months, Gonzalez had been working to garner support in order to take over the Matamoros plaza for the Gulf Cartel. That effort came to an end when he was kidnapped along with his family and apparently executed by the gunmen loyal to current plaza boss Odon "Gordo Cherry's" Azua Cruces. Authorities believe that the bodies have been disposed off and will likely remain another missing persons case. Breitbart Texas has checked in Matamoros to see if there have been any private funerals or wakes that the family would have held. No events have been held since according to Tamaulipas law enforcement officials and no bodies have been found.
As reported by Breitbart Texas, Gordo Cherry's recently took over Matamoros after the arrest of his boss, Angel "El Orejon or Ciclon 7" Prado Rodriguez. Since taking over the area, Gordo Cherry's has brought a wave of terror as the Gulf Cartel switched tactics and began to kidnap innocent people for ransom. Many of the victims have not been returned alive, Breitbart Texas reported. Mexican authorities have not been able to curb the kidnapping wave of terror.
It remains unclear if the murder of Gonzalez spells further violence for this border city as the various leader of the Gulf Cartel continue to be at each other's throats. In addition to the internal strife, Mexican authorities continue to hunt down various leaders resulting in almost daily firefights.
Ildefonso Ortiz is an award winning journalist with Breitbart Texas you can follow him on Twitter and on Facebook.