Breitbart Texas traveled to the Mexican States of Tamaulipas and Coahuila to recruit citizen journalists willing to risk their lives and expose the cartels silencing their communities.  The writers would face certain death at the hands of the various cartels that operate in those areas including the Gulf Cartel and Los Zetas if a pseudonym were not used. Breitbart Texas' Cartel Chronicles are published in both English and in their original Spanish. This article was written by Reynosa's "A.C. Del Angel." 
REYNOSA, Tamaulipas — For more than a week shootouts have become almost daily occurrences in this border city despite the many claims by government officials that security condition are is improving.
The shootouts last week primarily dealt with clashes between organized crime gunmen and Mexican authorities. As previously reported by Breitbart Texas, the nearby border city of Matamoros also saw its share of violence last week when Gulf Cartel gunmen crashed a party and started a short gun battle where various persons were shot and at least one was murdered.
The violence in Reynosa lasted all week starting on Monday and continuing until Sunday. One of the most dramatic shootouts took place last Wednesday along one of the city's main boulevards. During that shootout, Mexican authorities spotted a white pickup with multiple Gulf Cartel gunmen. Seconds later the gunmen and military troops were engaged in a rolling shootout that ended in that same boulevard when the white vehicle crashed. Multiple gunmen dropped their weapon and gear were able to run away.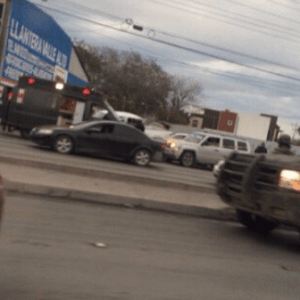 When the firefight ended, authorities set up a crimes scene perimeter as they sent out for an ambulance to care for the wounded. Bystanders silently stared at the body of a lone gunman that had collapsed near the vehicle.

The dead gunman in the street helped paint a picture about a grim reality in this city. The gunman like many of his associates who are responsible for the violence in this city was a teenager not even old enough to vote.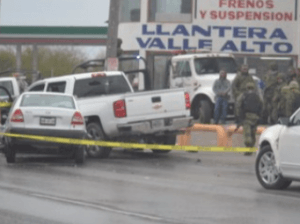 Authorities confirmed the death of two gunmen and the seizure of four assault weapons, tactical gear and the white pickup.
The violence in Tamaulipas last week was not only centered on the border cities. As previously reported by Breitbart Texas, in the state capital in Ciudad Victoria, Los Zetas cartel members carried out a brutal execution as part of an internal struggle.