Breitbart Texas traveled to the Mexican States of Tamaulipas and Coahuila to recruit citizen journalists willing to risk their lives and expose the cartels silencing their communities.  The writers would face certain death at the hands of the various cartels that operate in those areas including the Gulf Cartel and Los Zetas if a pseudonym were not used. Breitbart Texas' Cartel Chronicles are published in both English and in their original Spanish. This article was written by Ciudad Victoria's "M.A. Navarro".
CIUDAD VICTORIA, Tamaulipas — The recent violence that has taken hold of this city in the border state of Tamaulipas has been tied to internal fighting within the Los Zetas cartel. Now one of the groups fighting for control of the area is asking authorities to stay out of the fight.
The fighting for control of the territories has resulted in shootouts and executions that have created fear among the residents in this city. From the start of the internal conflict towards the end of last year, the city has seen a spike in violence whoever the political elites in the state have focused their efforts in minimizing the fighting in an effort to promote peace and tranquility.
While Ciudad Victoria is small, its geographic location places it along the route used by Los Zetas to move drugs. The route spans from the Mexican State of Veracruz to the Texas border.
Just last week, one of the Zeta factions know as "Grupo Bravo" hung a series of banners signed by a man known as "Bravo 1" announcing that more violence was to be expected.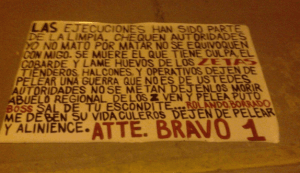 "THE EXECUTIONS HAVE BEEN PART OF THE CLEANUP, CHECK AUTHORITIES I DO NOT KILL ONLY TO KILL DON'T BE MISTAKEN ABOUT ME, THE GUILTY ONES DIE, THE COWARDS, THE (EXPLETIVE) FROM LOS ZETAS, STREET DEALERS, LOOKOUTS AND GUNMEN STOP FIGHTING A WAR THAT IS NOT YOURS, AUTHORITIES STAY OUT OF IT LET THEM DIE, GRANDPA REGIONAL LEADER OF LOS Z COME AND FIGHT (EXPLETIVE) , BOSS COME OUT OF YOUR HIDE OUT … ROLANDO, BORRADO YOU OWE ME YOUR LIFE (EXPLETIVE) STOP FIGHTING AND LINE UP,"
ATT BRAVO1
In the banner, Grupo Bravo openly challenges the Los Zetas regional leader, a man known only as Boss and ask Mexican authorities to not get involved in the territorial dispute. Little is known about Grupo Bravo or Bravo 1 who are the ones that have been placing banners around the city and appear to be the ones taking the offensive in the fight for power.